PLASTIC FREE EASTBOURNE
ABOUT - CONTACTS - DONATE - FOUNDATION - HOME - A-Z INDEX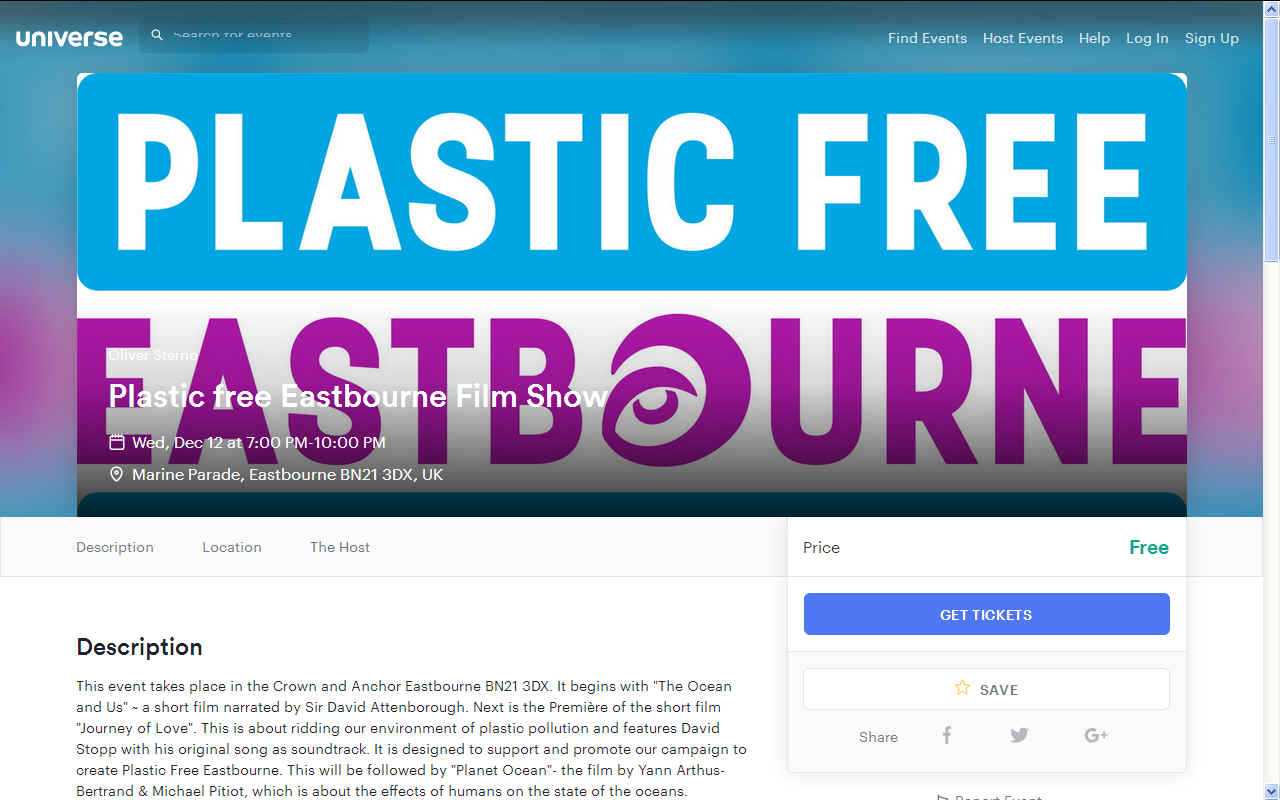 - SATURDAY 26 JANUARY 2018 - ENTERPRISE CENTRE, EASTBOURNE
This is a free to attend event on two levels at the Enterprise Centre in Eastbourne from 10:00am and all are welcome, though space is limited, hence it could be cozy at peak times. Mayor of Eastbourne Councillor Gill Mattock has kindly agreed to open this event with the official launch of 'Refill Eastbourne' @ 11:00am. The fun continues until around 13:00pm or a little later, with your host Oliver Sterno as the master of ceremonies and singer/songwriter David Stopp soothing us with his song - yearning for a day when beaches will be clean again - if only we can all work together to make that happen.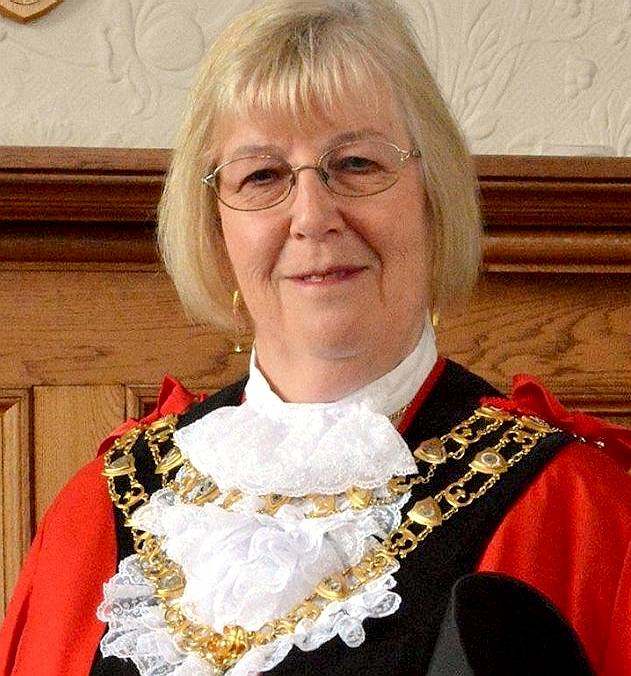 COUNCILLOR GILL MATTOCK - Longstanding Liberal Democrat councillor Gill Mattock is the Mayor of Eastbourne. Gill is also the deputy leader of Eastbourne council and the lead for financial services. She has served as a councillor for St Anthony's ward since May 2007. Gill moved to Eastbourne in 1971 to study at the Eastbourne Teacher Training College where she qualified as a teacher and met husband Alan in her final year.
BOUTIQUE SHOPPING - The Enterprise Centre is situated next to the main railway station in Eastbourne, and directly off the main A22 road into Eastbourne. Enterprise Shopping Centre,Station Parade, Eastbourne, EastSussex, BN21 1BD

Telephone: 01323 639504 Email: info@enterprise-centre.org
There will be publicity stalls and the 1/20th scale (proof of concept) model of SeaVax will be on display, which the local charity - Cleaner Ocean Foundation - is developing to be able to remove debris from our oceans.
"Plastic ocean" ~ their art exhibition will be on display. There will be 8 "Chilly's" bottles ~ each worth £20 ~ as prizes for the winners of a guessing game.

REFILL is an award-winning campaign to prevent plastic pollution at source by making it easier to reuse and refill your bottle instead of buying a new one.
The campaign works by connecting people looking for water with thousands of Refill stations across the UK via a location-based app. Anyone can download the free app and find Refill Stations where they can refill for free on the go.

Participating cafes, bars, restaurants, banks, galleries, museums and other businesses simply sign up to the app and put a sticker in their window – alerting passers-by that they're welcome to come on in and fill up their bottle.

With more than 15,000 Refill Stations and over 80,000 app downloads, we've proven that Refill has the power to create a tipping point and normalise carrying a reusable bottle and reducing plastic pollution at source. If all our Refill stations are used just once a day, we're stopping around 5 million plastic bottles at source in a year.
City to Sea, a not-for-profit organisation headed by entrepreneur Natalie Fee, launched the award-winning Refill Scheme in 2015. She says: "We've seen a huge appetite for our Refill campaign across the UK, from individuals wanting to make a difference in their community to national chains keen to offer free refills to their customers. Our Refill app puts the power to stop plastic pollution in people's hands – and now thanks to the water industry we'll be able to help everyone, from local communities to airports, to provide free refills on the go."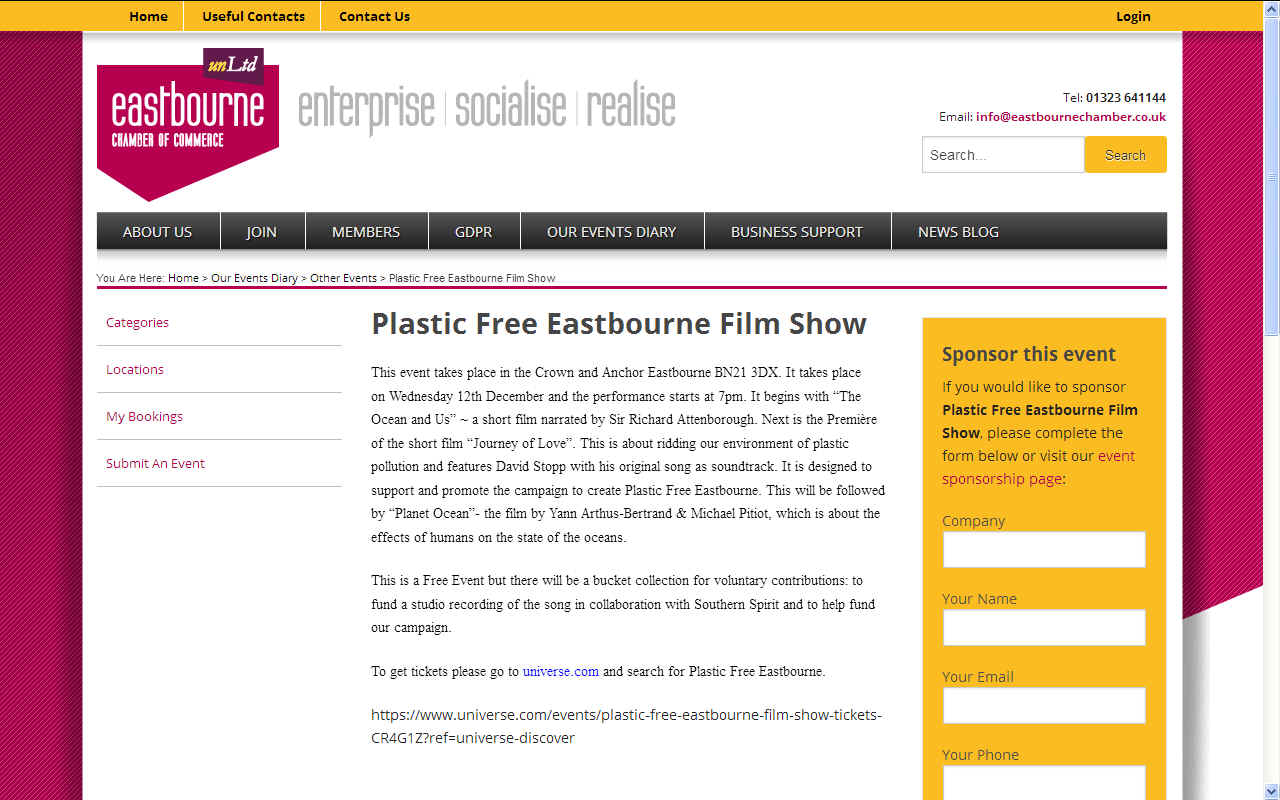 WEDNESDAY 12 DECEMBER 2018 - CROWN & ANCHOR PUBLIC HOUSE, EASTBOURNE
This event takes place in the Crown and Anchor Eastbourne BN21 3DX. It begins with "The Ocean and Us" ~ a short film narrated by Sir David Attenborough. Next is the Première of the short film "Journey of Love". This is about ridding our environment of plastic pollution and features David Stopp with his original song as soundtrack. It is designed to support and promote our campaign to create Plastic Free Eastbourne. This will be followed by "Planet Ocean"- the film by Yann Arthus-Bertrand & Michael Pitiot, which is about the effects of humans on the state of the oceans.

This is a Free Event but there will be a bucket collection for voluntary contributions: to fund a studio recording of the song in collaboration with Southern Spirit and to help fund our campaign.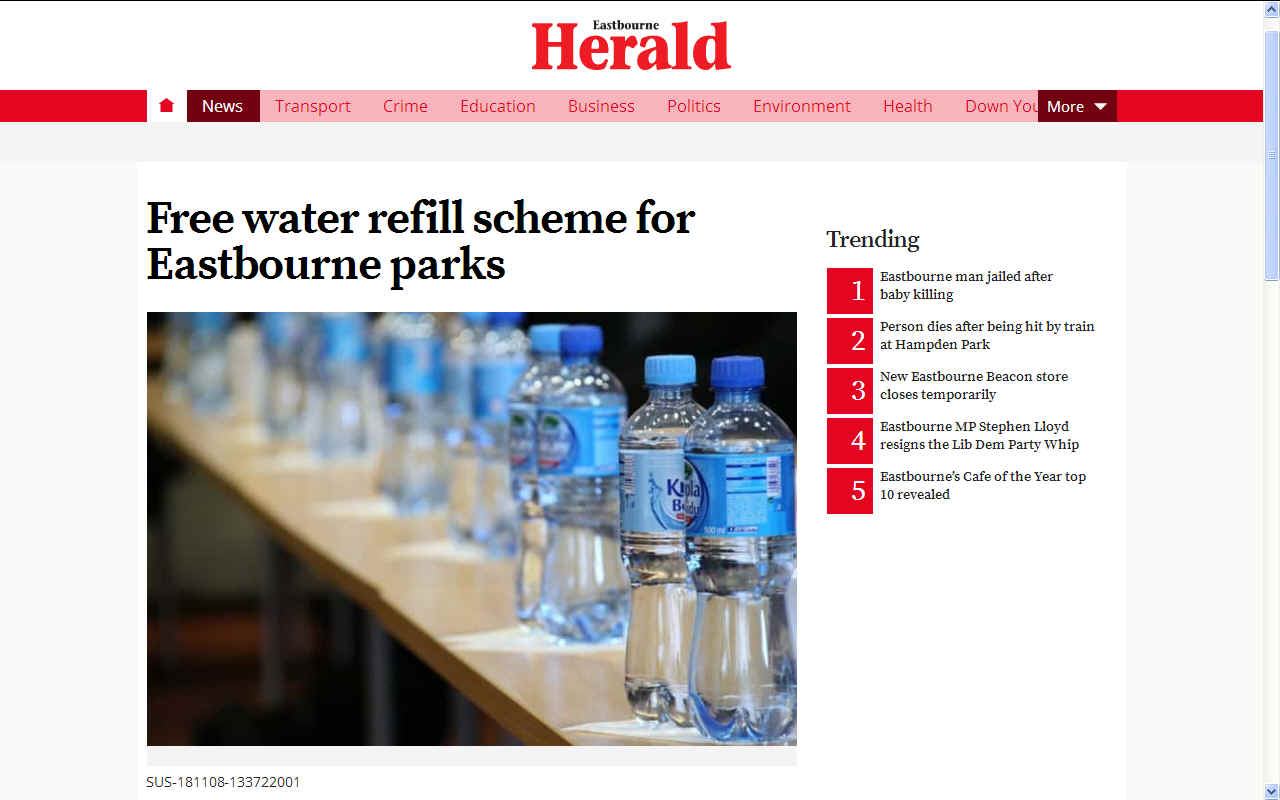 EASTBOURNE HERALD SEPTEMBER 5 2018

Free drinking water could be provided within parks and public places in Eastbourne.

The council is supporting the environmentalist group Refill scheme, which allows people to refill bottles with free tap water at businesses and says a scheme within the authority's own parks could become a reality as part of a bid to reduce single use plastic and prevent pollution in the sea.

Participating cafes, bars, banks, shops, galleries and other businesses put a sticker in their window alerting passers-by to the fact that they are welcome to come in and fill up their bottle for free.

A council spokesperson said, "The provision of more drinking water facilities within Eastbourne would help to provide free and accessible tap water to those who need it, whether or not they have a reusable bottle on them, reducing the need to purchase potentially less healthy drinks in single-use containers, on the go. This will support the aims of the council to reduce single-use plastics in our community.

"As a first step to this project officers will conduct a desk-based study to assess the potential for drinking water installations in parks and other locations where there is a council-owned and managed water source available, for example at public toilets.

"As a guide, a typical stainless steel water fountain retails at around £500 but a simple push tap would be even easier to install and maintain. A £3,000 budget is available for this project within the 2018/19 year.

The installations would need to be supported in parallel by the community-led national Refill campaign, which EBC can encourage and support. This work will be largely conducted and driven by volunteers alongside access to council owned refill points, such as putting drinking water facilities at the Bandstand toilets onto a Refill App." By Annemarie Field
LINKS & REFERENCE
https://www.eastbourneherald.co.uk/news/free-water-refill-scheme-for-eastbourne-parks-1-8625030
http://www.eastbourneunltd.co.uk/events/plastic-free-eastbourne-film-show/
https://www.universe.com/events/plastic-free-eastbourne-film-show-tickets-CR4G1Z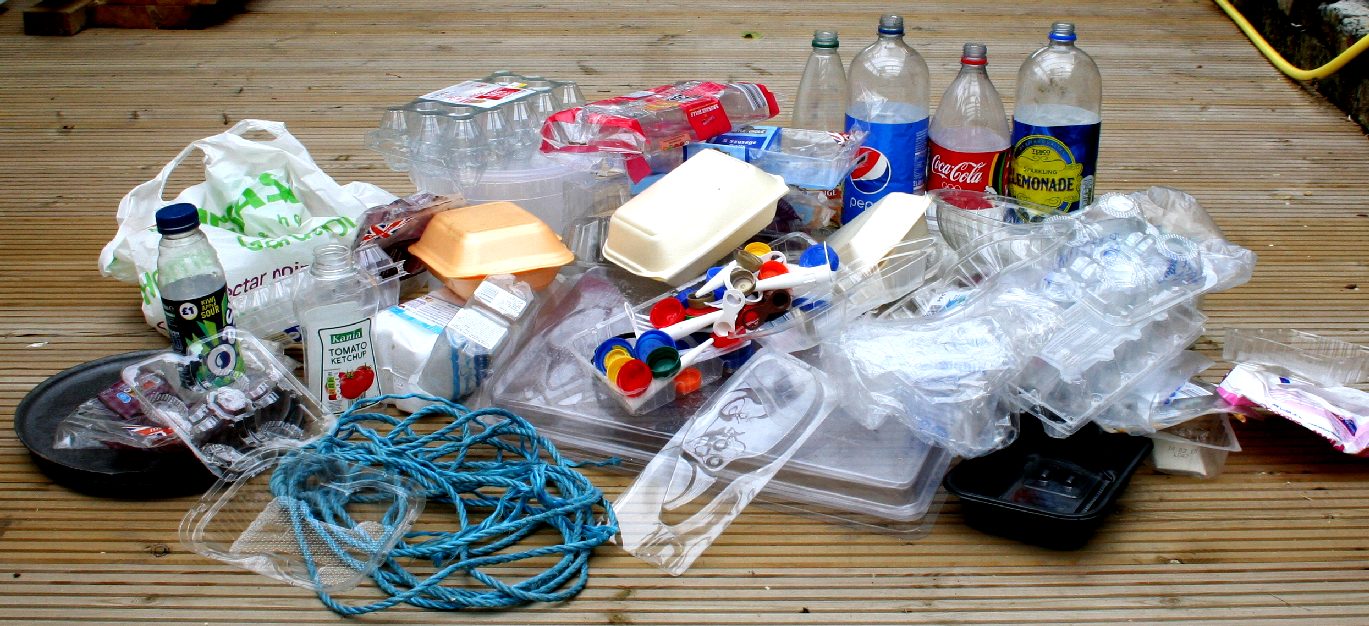 SINGLE USE PLASTICS - This is just a small sample of the plastic packaging that you will find in retails stores all over the world. A good proportion of this packaging - around 8 millions tons a year, will end up in our oceans, in the gut of the fish we eat, in the stomachs of seabirds and in the intestines of whales and other marine mammals. Copyright photograph © 22-7-17 Cleaner Ocean Foundation Ltd, all rights reserved.
FOAM & BOTTLES - Expanded polystyrene is used to package household electrical goods, while soft drinks and water is sold in PET plastic bottles by the billions every year. The numbers are staggering. It's no wonder then that some of this plastic will end up on our plate in one form or another, potentially as a toxin carrier. Copyright photograph © 22-7-17 Cleaner Ocean Foundation Ltd, all rights reserved. Animals do not recognize polystyrene foam as an artificial material and may even mistake it for food. Polystyrene foam blows in the wind and floats on water, due to its low specific gravity. It can have serious effects on the health of birds or marine animals that swallow significant quantities.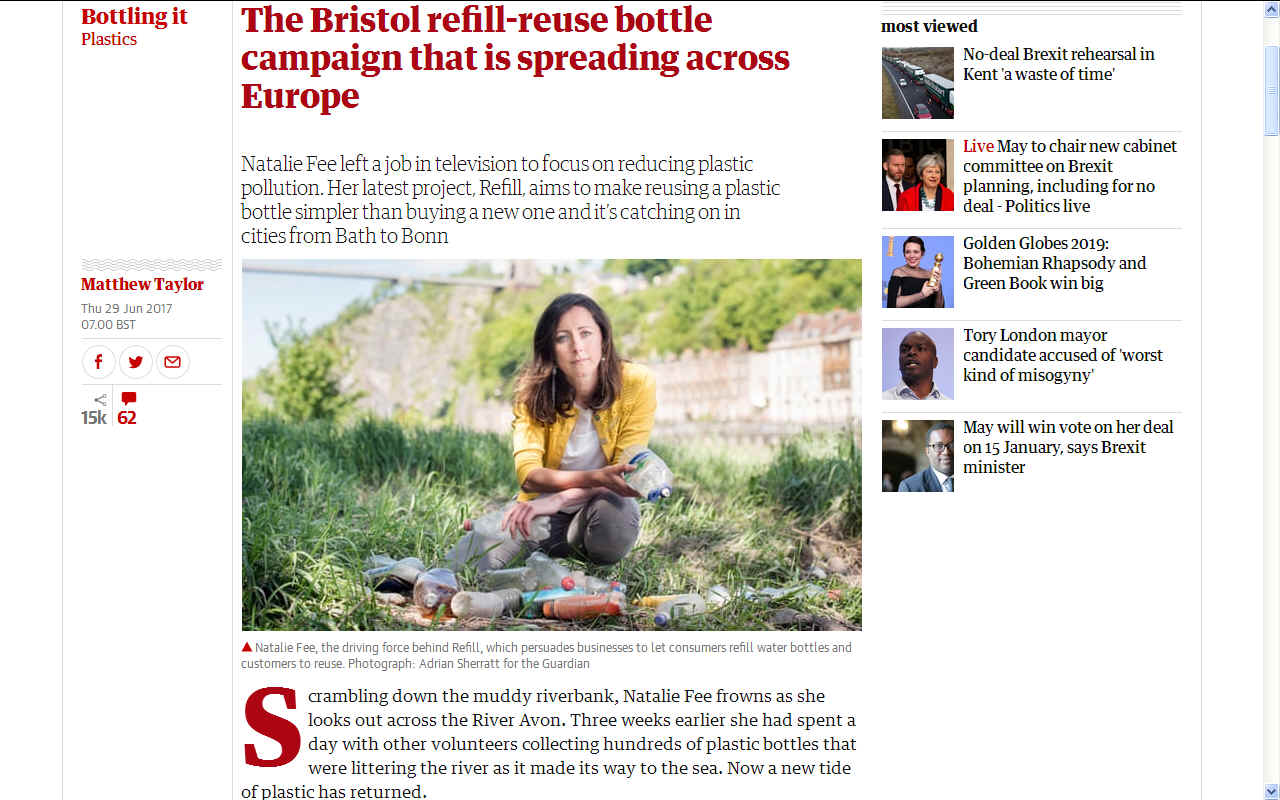 OUR OCEANS ARE IN DANGER - There are many ways that an organization can contribute to the health of our oceans. Helping people to reduce their plastic footprint and disposing of waste thoughtfully is vital awareness work.
The Cleaner Ocean Foundation assimilates the information that has been gathered by others and looks at alternatives to solutions that exist, in the hope of bringing something new to the table. SeaVax has been identified as a platform with potential for many uses aiming towards ocean salvation, including: 1. responsible fishing vessels, 2. plastic waste collection and 3. oil spills containment. Finally, the SeaVax is solar and wind powered and may help to pave the way for zero emission cargo and passenger vessels of the future.
A-Z - ABS - BIOMAGNIFICATION - BP DEEPWATER - CANCER - CARRIER BAGS - CLOTHING - COTTON BUDS - DDT - FISHING NETS
FUKUSHIMA - HEAVY METALS - MARINE LITTER - MICROBEADS - MICRO PLASTICS - NYLON - OCEAN GYRES - OCEAN WASTE
PACKAGING - PCBS - PET - PLASTIC - PLASTICS - POLYCARBONATE - POLYSTYRENE - POLYPROPYLENE - POLYTHENE - POPS
PVC - SHOES - SINGLE USE - SOUP - STRAWS - WATER
This website is provided on a free basis as a public information service. copyright © Cleaner Oceans Foundation Ltd (COFL) (Company No: 4674774) 2019. Solar Studios, BN271RF, United Kingdom. COFL is a charity without share capital.