UN - CLIMATE CHANGE CONFERENCES
ABOUT - CLIMATE CHANGE - CONTACTS - HOME - OCEAN PLASTICS
PLEASE USE OUR A-Z INDEX TO NAVIGATE THIS SITE
COP THAT - The United Nations Climate Change Conferences are yearly conferences held in the framework of the United Nations Framework Convention on Climate Change (UNFCCC). They serve as the formal meeting of the UNFCCC Parties (Conference of the Parties, COP) to assess progress in dealing with climate change, and beginning in the mid-1990s, to negotiate the Kyoto Protocol to establish legally binding obligations for developed countries to reduce their greenhouse gas emissions. From 2005 the Conferences have also served as the "Conference of the Parties Serving as the Meeting of Parties to the Kyoto Protocol" (CMP); also parties to the Convention that are not parties to the Protocol can participate in Protocol-related meetings as observers. From 2011 the meetings have also been used to negotiate the Paris Agreement as part of the Durban platform activities until its conclusion in 2015, which created a general path towards climate action. The first UN Climate Change Conference was held in 1995 in Berlin.
With the advent of the UNCCCs in 1995 the world finally had a forum to deal with climate change to attempt to negotiate international agreements in a manner that is likely to yield results. So far it has not been COP-tastic, it has been a COP-out as the greedier nations exterminate life on earth systematically as the kleptocrats milk the defenseless member nations mercilessly to build their coffers amid melting icecaps, ocean level rise, deforestation and forest fires gone crazy.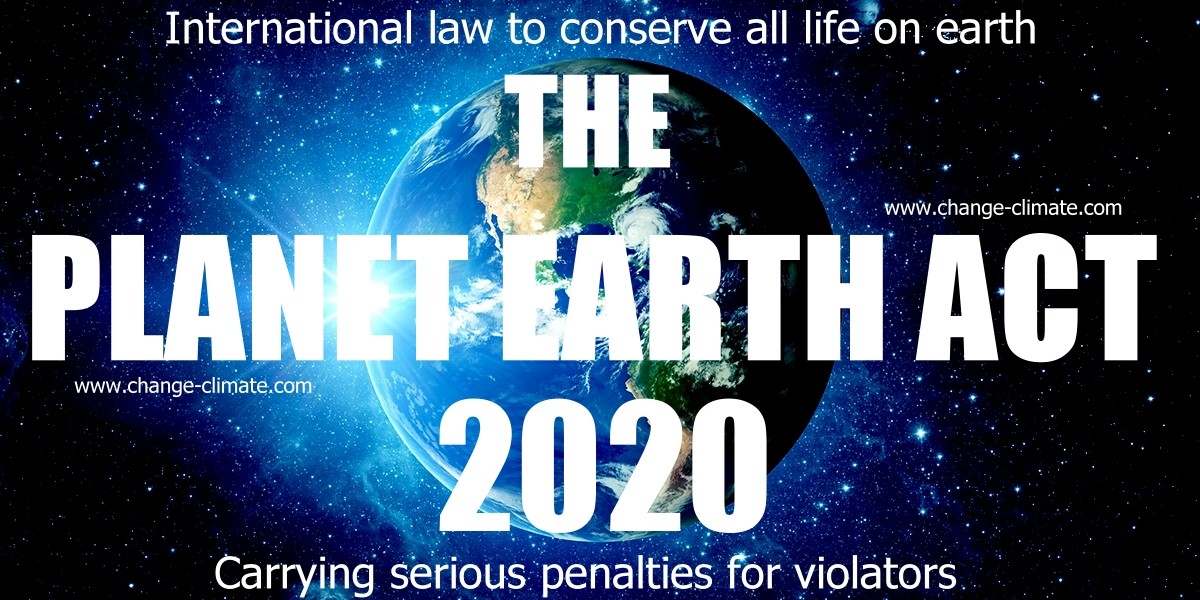 TALK IS CHEAP - COP 25 was another COP OUT in 2019. We need new legislation to outlaw anti earth profiteering. We need the PLANET EARTH ACT 2020, if we are to prevent further rape of our blue paradise.
There has been a Conference every year since the founding assembly at which many important Agreements as to targets and issues were raised and resolved, though, having agreed in principle some parties have failed to follow through once they realized that economic competition could get tougher in the sacrifice for a better world. In this case a better world is a place that is sustainable for future generations.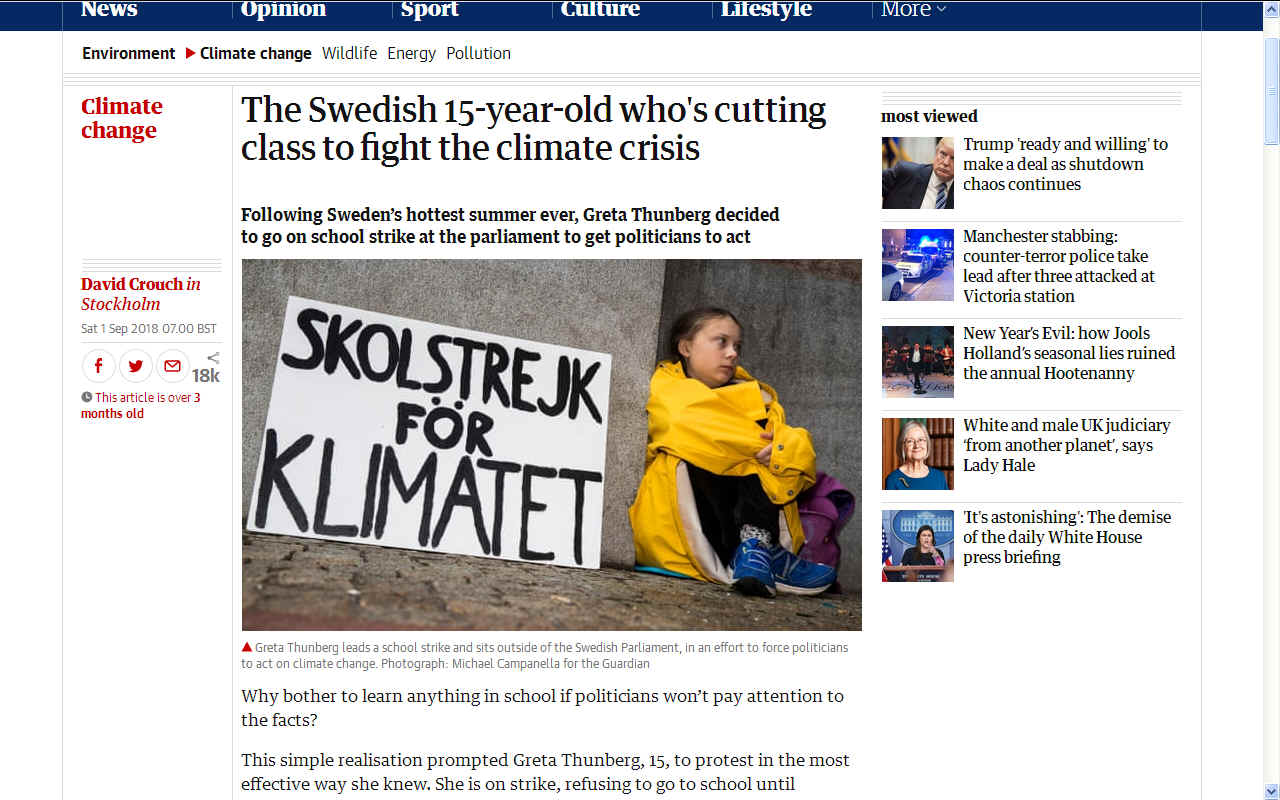 MISS CLIMATE CHANGE - If you are going to skip school, what better reason than to try and save the planet for when you are older and your elders are sitting on the climate controlling hands.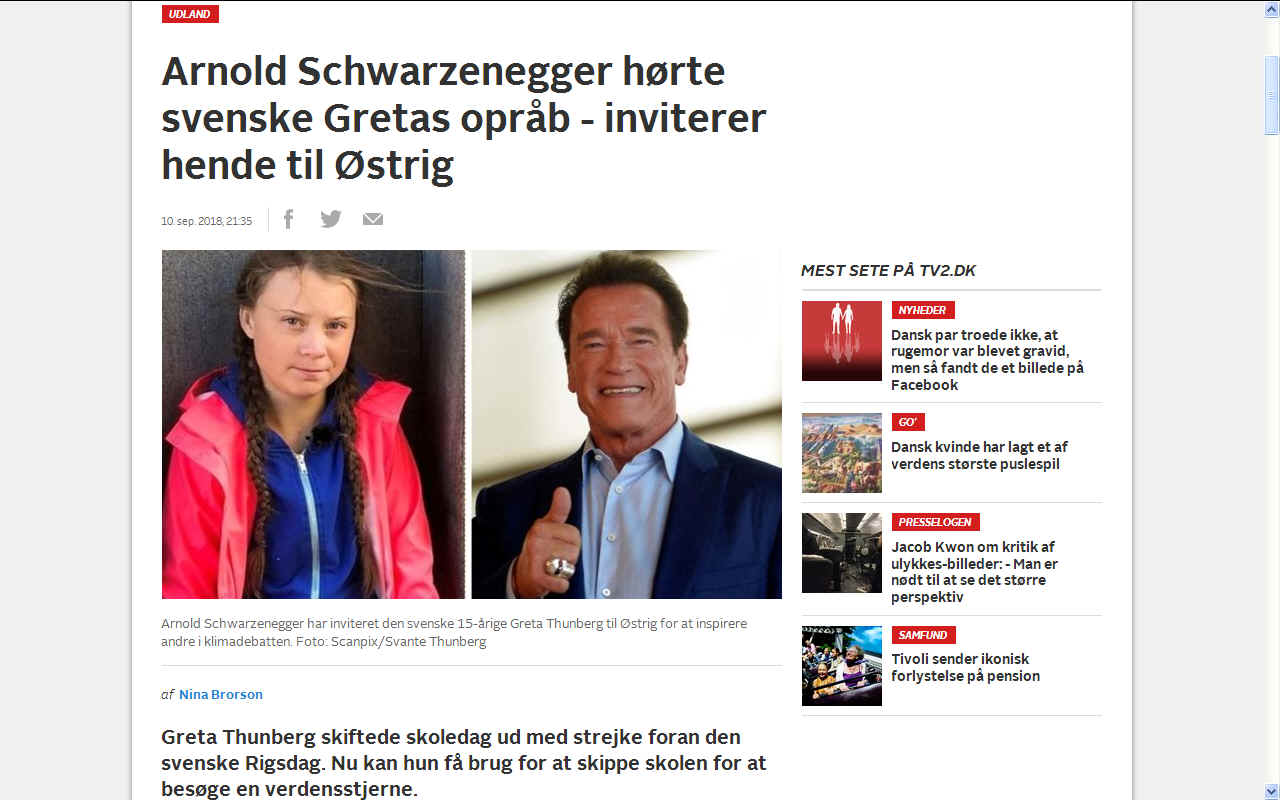 Greta Thunberg skiftede skoledag ud med strejke foran den svenske Rigsdag. Nu kan hun få brug for at skippe skolen for at besøge en verdensstjerne.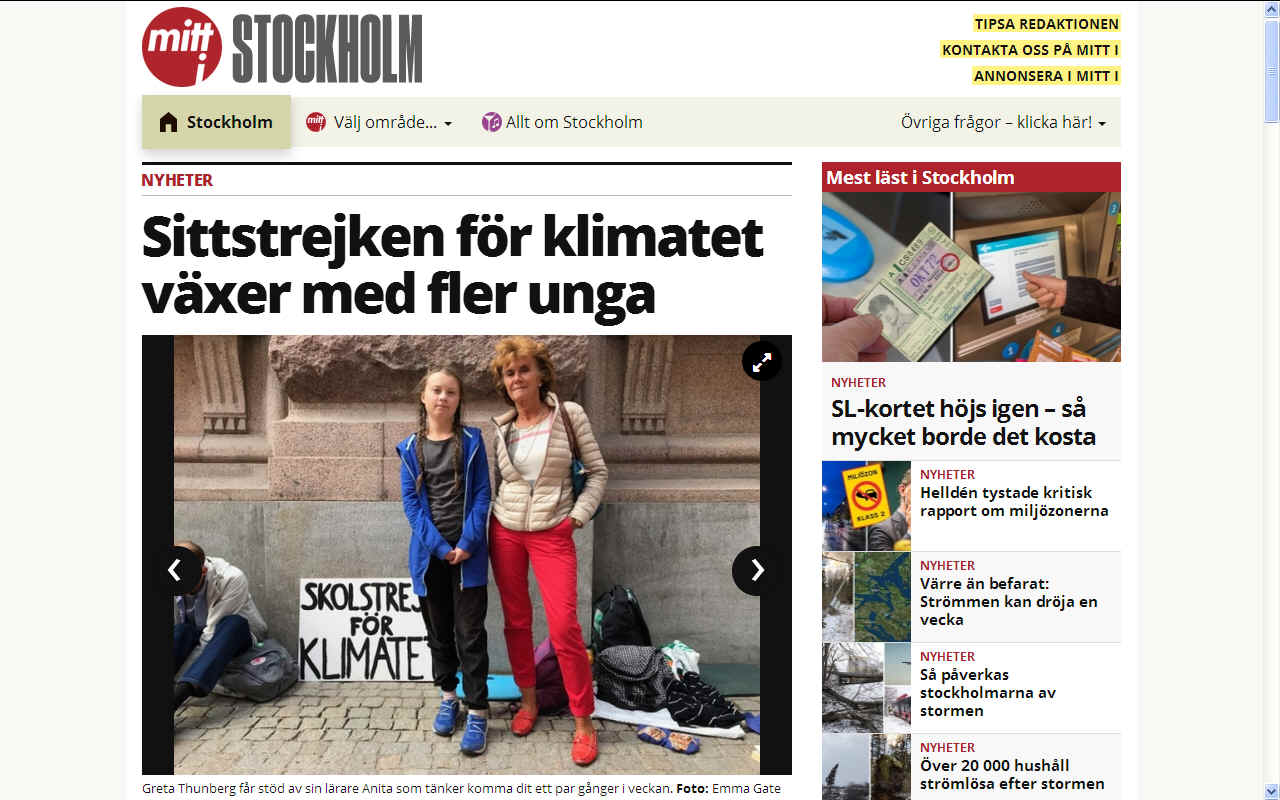 Kan en skolstrejk lyfta frågan tillräckligt högt? - Greta Thunbergs skolstrejk verkar äntligen vara något som får fler att lyssna. Där forskningsrapporter inte tycks bita ordentligt på opinionen skapar en oerhört påläst och konkret 15-åring uppmärksamhet kring frågan.
1995 COP 1, BERLIN, GERMANY
1996 COP 2, GENEVA, SWITZERLAND
1997 COP 3, KYOTO, JAPAN
1998 COP 4, BUENOS AIRES, ARGENTINA
1999 COP 5, BONN, GERMANY
2000:COP 6, THE HAGUE, NETHERLANDS
2001 COP 7, MARRAKECH, MOROCCO
2002 COP 8, NEW DELHI, INDIA
2003 COP 9, MILAN, ITALY
2004 COP 10, BUENOS AIRES, ARGENTINA
2005 COP 11/CMP 1, MONTREAL, CANADA
2006 COP 12/CMP 2, NAIROBI, KENYA
2007 COP 13/CMP 3, BALI, INDONESIA
2008 COP 14/CMP 4, POZNAN, POLAND
2009 COP 15/CMP 5, COPENHAGEN, DENMARK
2010 COP 16/CMP 6, CANCUN, MEXICO
2011 COP 17/CMP 7, DURBAN, SOUTH AFRICA
2012 COP 18/CMP 8, DOHA, QATAR
2013 COP 19/CMP 9, WARSAW, POLAND
2014 COP 20/CMP 10, LIMA, PERU
2015 COP 21/CMP 11, PARIS, FRANCE
2016 COP 22/CMP 12/CMA 1, MARRAKECH, MOROCCO
2017 COP 23/CMP 13/CMA 2, BONN, GERMANY
2018 COP 24/CMP 14/CMA 3, KATOWICE, POLAND
2019 COP 25/CMP 15/CMA 4, MADRID, SPAIN
2020 COP 26/CMP 16/CMA 5, GLASGOW, SCOTLAND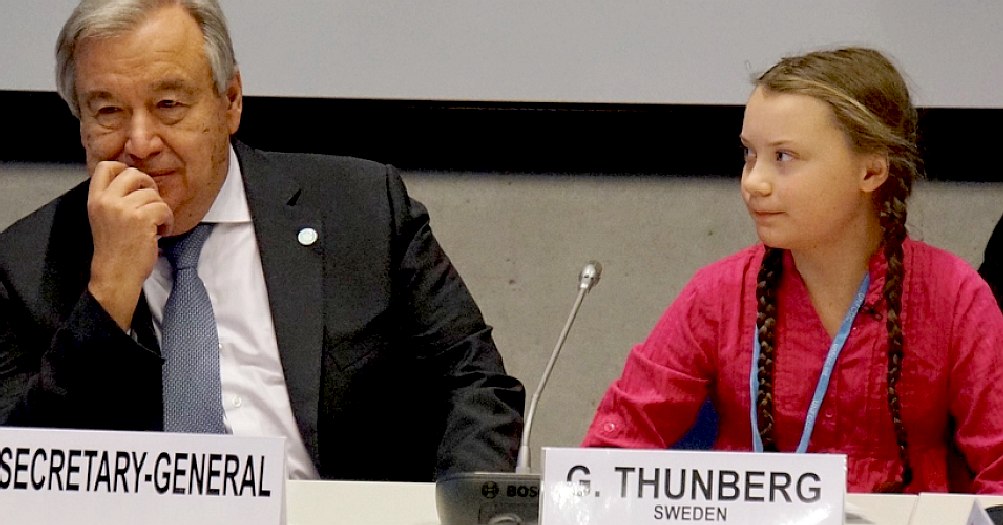 SECRETARY GENERAL - António Guterres and Greta Thunberg at the COP 24 conference of the parties on climate change. Where the extremely brave and thoughtful climate activist has got the world's attention, she now needs to look at what needs to be done to apply the global warming brakes.
Might we suggest a need to concentrate on building the infrastructure for electric vehicles, encourage low carbon shipping, build more wind farms and make houses that are virtually energy self-sufficient. These are the actions that will bring about change. The only way to make this happen is to insist on targets that includes programmes to deliver from each nation, with sanctions for those countries who will not do the right thing -such as the climate criminals Donald Trump and Vladimir Putin. Some environmental problems need research money to take ideas to technology level 9 for market.
Other ways of reducing our carbon footprints might be to eat less meat. Veganism and vegetarianism are ways to go if you can, or at least think of cutting down on beef and lamb, in favour of chicken and fish. You'll feel a whole lot healthier and could live longer. Also, try not to have too many children, where population growth is putting pressure on our resources all round. Be cooler dudes!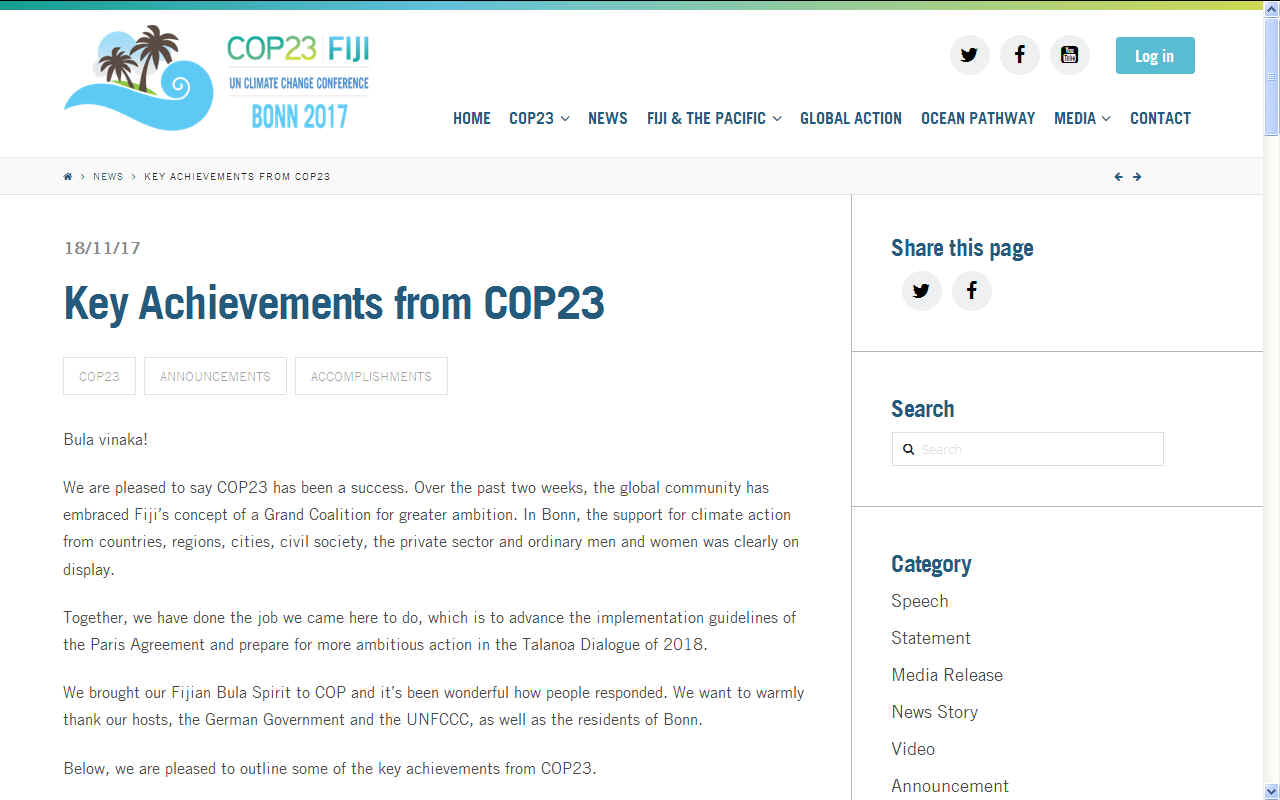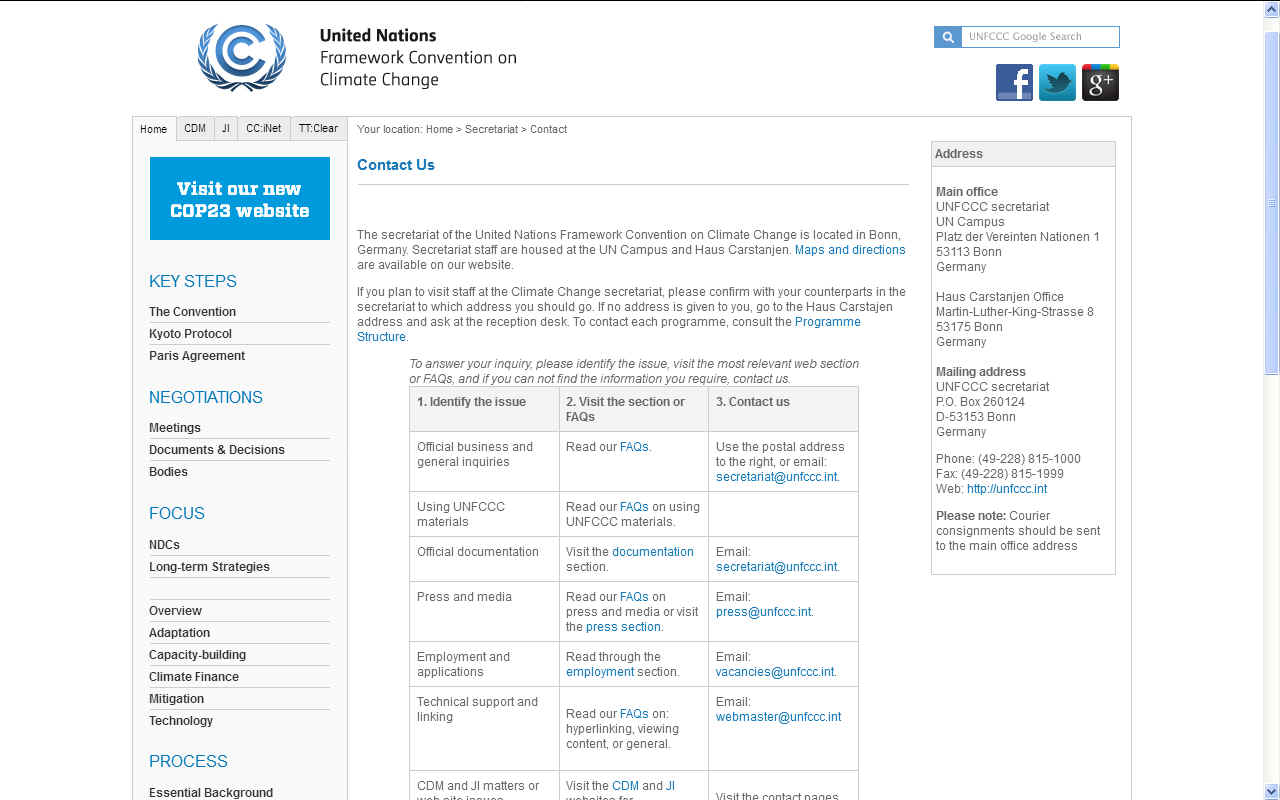 CONTACTS
The UNFCCC secretariat is located at two different locations.
Main office
UNFCCC secretariat
UN Campus
Platz der Vereinten Nationen 1
53113 Bonn
Germany

Haus Carstanjen Office
Martin-Luther-King-Strasse 8
53175 Bonn
Germany

Mailing address
UNFCCC secretariat
P.O. Box 260124
D-53153 Bonn
Germany

Phone: (49-228) 815-1000
Fax: (49-228) 815-1999
Web: http://unfccc.int
Floor 3
2 America Square,
London EC3N 2LU
United Kingdom

TEL: +44 (0)20 7871 0173
FAX: +44 (0)20 7871 0101

info@climateactionprogramme.org
http://www.climateactionprogramme.org


For sponsorship and exhibition opportunities
Nick Rastall, Commercial Director
Tel: +44 (0)20 7871 0173
Email: nrastall@climateactionprogramme.org

Marketing & Press

Agnes Gradzewicz, Marketing Department
Tel: +44 (0)20 7871 0173
Email: agnesg@climateactionprogramme.org

Speaking opportunities

Melina Diamantopoulou, Head of Production
Tel: +44 (0)20 7871 0173
Email: melinad@climateactionprogramme.org

Operations queries

Maria Stavrou, Head of Operations
Tel: +44 (0)20 7871 0123
Email: marias@climateactionprogramme.org
BIODIVERSITY COP HISTORY
| | |
| --- | --- |
| COP 1: 1994 Nassau, Bahamas, Nov & Dec | COP 8: 2006 Curitiba, Brazil, 8 Mar |
| COP 2: 1995 Jakarta, Indonesia, Nov | COP 9: 2008 Bonn, Germany, May |
| COP 3: 1996 Buenos Aires, Argentina, Nov | COP 10: 2010 Nagoya, Japan, Oct |
| COP 4: 1998 Bratislava, Slovakia, May | COP 11: 2012 Hyderabad, India |
| EXCOP: 1999 Cartagena, Colombia, Feb | COP 12: 2014 Pyeongchang, Republic of Korea, Oct |
| COP 5: 2000 Nairobi, Kenya, May | COP 13: 2016 Cancun, Mexico, 2 to 17 Dec |
| COP 6: 2002 The Hague, Netherlands, April | COP 14: 2018 Sharm El-Sheikh, Egypt, 17 to 29 Nov |
| COP 7: 2004 Kuala Lumpur, Malaysia, Feb | COP 15: 2020 Kunming, Yunnan, China |
DESERTIFICATION COP HISTORY
| | |
| --- | --- |
| COP 1: Rome, Italy, 29 Sept to 10 Oct 1997 | COP 9: Buenos Aires, Argentina, 21 Sept to 2 Oct 2009 |
| COP 2: Dakar, Senegal, 30 Nov to 11 Dec 1998 | COP 10: Changwon, South Korea, 10 to 20 Oct 2011 |
| COP 3: Recife, Brazil, 15 to 26 Nov 1999 | COP 11: Windhoek, Namibia, 16 to 27 Sept 2013 |
| COP 4: Bonn, Germany, 11 to 22 Dec 2000 | COP 12: Ankara, Turkey, 12 to 23 Oct 2015 |
| COP 5: Geneva, Switzerland, 1 to 12 Oct 2001 | COP 13: Ordos City, China, 6 to 16 Sept 2017 |
| COP 6: Havana, Cuba, 25 August to 5 Sept 2003 | COP 14: New Delhi, India, 2 to 13 Sept 2019 |
| COP 7: Nairobi, Kenya, 17 to 28 Oct 2005 | COP 15: 2020 |
| COP 8: Madrid, Spain, 3 to 14 Sept 2007 | COP 16: 2021 |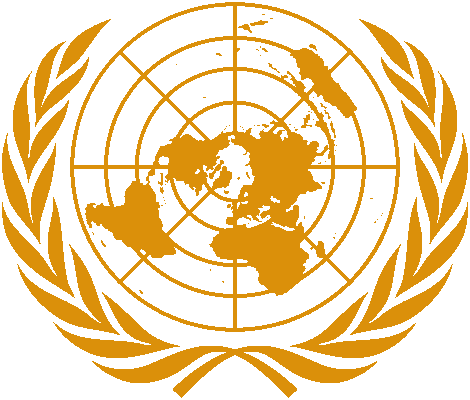 LINKS & REFERENCE
http://www.un.org/climatechange/
http://www.un.org/climatechange/the-secretary-general/
https://en.wikipedia.org/wiki/United_Nations_Climate_Change_conference
info@climateactionprogramme.org
http://www.climateactionprogramme.org
http://www.cop-23.org/
https://www.cop23.de/en/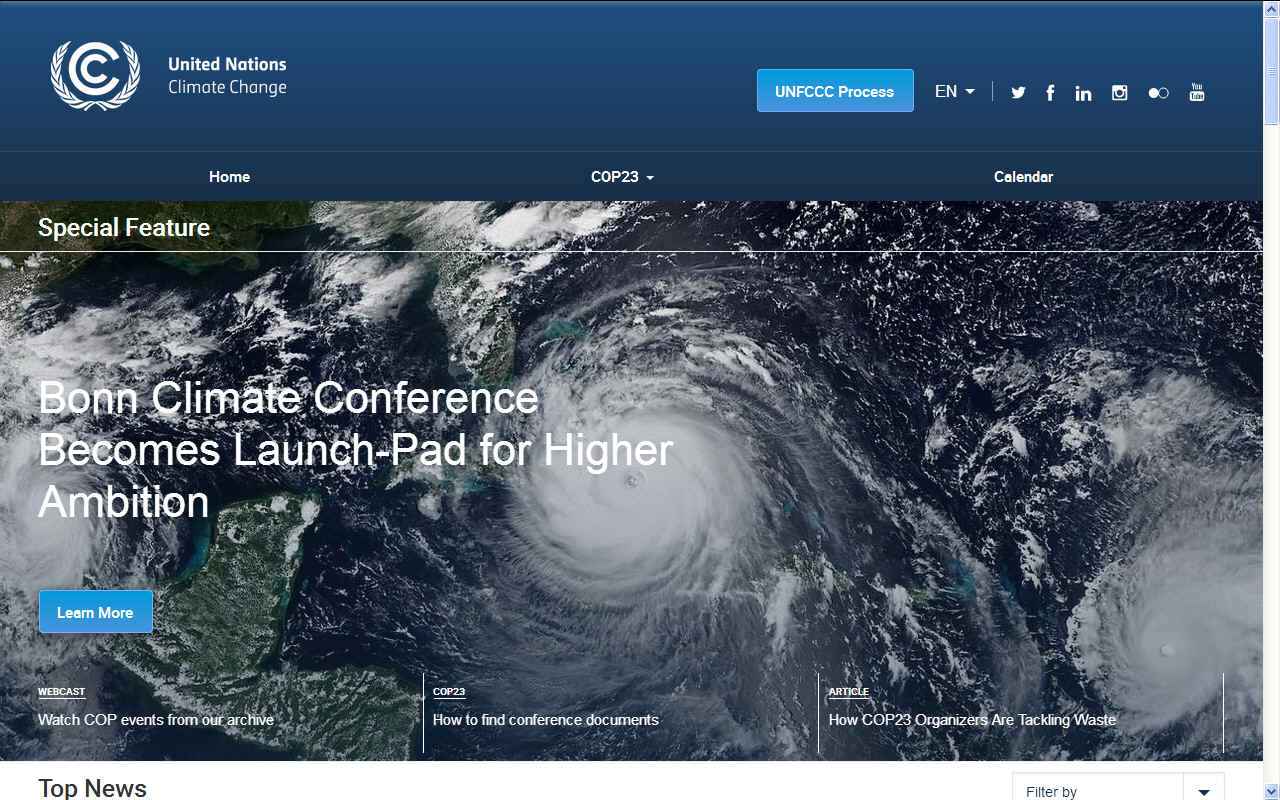 This website is provided on a free basis as a public information service. copyright © Cleaner Oceans Foundation Ltd (COFL) (Company No: 4674774) 2020. Solar Studios, BN271RF, United Kingdom. COFL is a charity without share capital. The names AmphiMax™, RiverVax™ and SeaVax™ are trade names used under license by COF in connection with their 'Feed The World' ocean cleaning sustainability campaign.