UN - CLIMATE CHANGE COP 25 2019, SPAIN
CLIMATE | ELECTRICITY | RIGHTS | HYDROGEN | PLASTIC | SPACE | TRANSPORT | NATIONS
Please use our A-Z INDEX to navigate this site, or HOME
PROFITING FROM SUFFERING - Given that billions of dollars worth of indulgences are at stake for big countries like China, India and Brazil, this is a huge issue for those with large investments in oil, coal and even beef production - where they will spin out their profiteering for as long as they are allowed to get away with it, using delaying tactics that they know will cause suffering in other geographical locations, that they do not appear to care about. The protestors are correct on this. The immediate action to counter the present emergency is not going to happen, meaning that lobbyists should perhaps ramp up their activism to include proposing or even demanding changes in the law.
It may be that introducing new laws to make local councils, energy companies, car makers, ship builders and the aviation industry directly responsible, and ministers who promote such anti-earth policies criminals.
Lobbyist might therefore consider proposing new laws at United Nations level, to make it illegal to threaten or kill any life on earth, by any action or inaction, directly or indirectly. We should criminalize those responsible, to make them answerable in the International Courts of Justice. We should make the identified climate criminals pay for the damage they are causing - for taking lives and for destroying natural habitats. Fines could be levied against those organizations and administrations that are not acting swiftly enough to avert the meltdown that is happening. The fines would need to be hefty to be anywhere near Just Satisfaction. We will be working on the details of such legislation and write to the UN with such proposal ASAP. Feel free to email us with any suggestions for THE PLANET EARTH ACT 2020.
We must remember where the United Nations came from. We must look to where they should be heading as representatives of the electorate.
STOP PRESS: SPANISH OFFER - Statement by UN Climate Change Executive Secretary Patricia Espinosa
Update 31 October 2019 - Following yesterday's announcement, the Government of Chile, as incoming Presidency, has informed me that they received a generous offer of support from the Government of Spain to hold the United Nations Climate Change Conference (COP25) in Madrid on the same dates as originally planned. We are hopeful that the COP Bureau can consider this proposed solution as soon as possible.

It is encouraging to see countries working together in the spirit of multilateralism to address climate change, the biggest challenge facing this and future generations.

30 Oct 20 19 - Earlier today, I was informed of the decision by the Government of Chile not to host COP25 in view of the difficult situation that the country is undergoing. We are currently exploring alternative hosting options.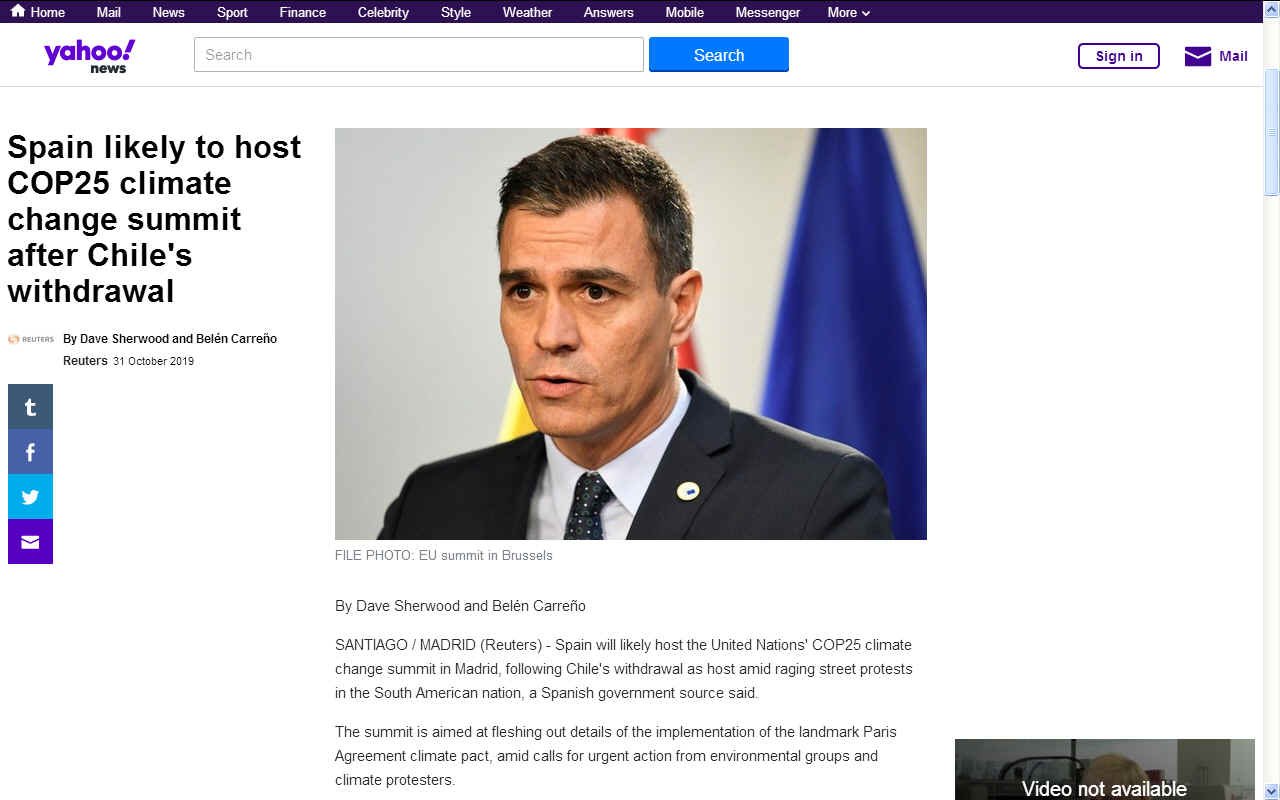 SPANISH OFFER - SANTIAGO / MADRID (Reuters) - Spain will likely host the United Nations' COP25 climate change summit in Madrid, following Chile's withdrawal as host amid raging street protests in the South American nation, a Spanish government source said.

The summit is aimed at fleshing out details of the implementation of the landmark Paris Agreement climate pact, amid calls for urgent action from environmental groups and climate protesters.

The Spanish government said in a statement earlier on Thursday that Prime Minister Pedro Sanchez was ready to do what was needed to host the summit in Madrid.

A formal decision on hosting the summit in Madrid will be taken on Monday, the source said on Thursday. "It is nearly done, we have every chance of getting it," the source said.

Chilean President Sebastian Pinera said Sanchez had offered to host the summit in Spain on the same days as previously scheduled, between Dec. 2 and Dec. 13.

"I hope that this generous offer from the president of Spain... represents a solution," Pinera said. "We have shared this information with the leading authorities at the United Nations."

The so-called Conference of the Parties (COP) is the formal meeting of parties to the United Nations Framework Convention on Climate Change (UNFCCC).

A spokesman earlier on Thursday said the UNFCCC was waiting to receive an official letter from Spain offering to host the talks and would then organize a meeting to assess the offer.

Chile's withdrawal is the first time that a nation has pulled out of hosting the conference with just a month to go.

Violent riots in recent days have left large parts of capital Santiago shut down, with its vital metro transport system suffering nearly $400 million in damage.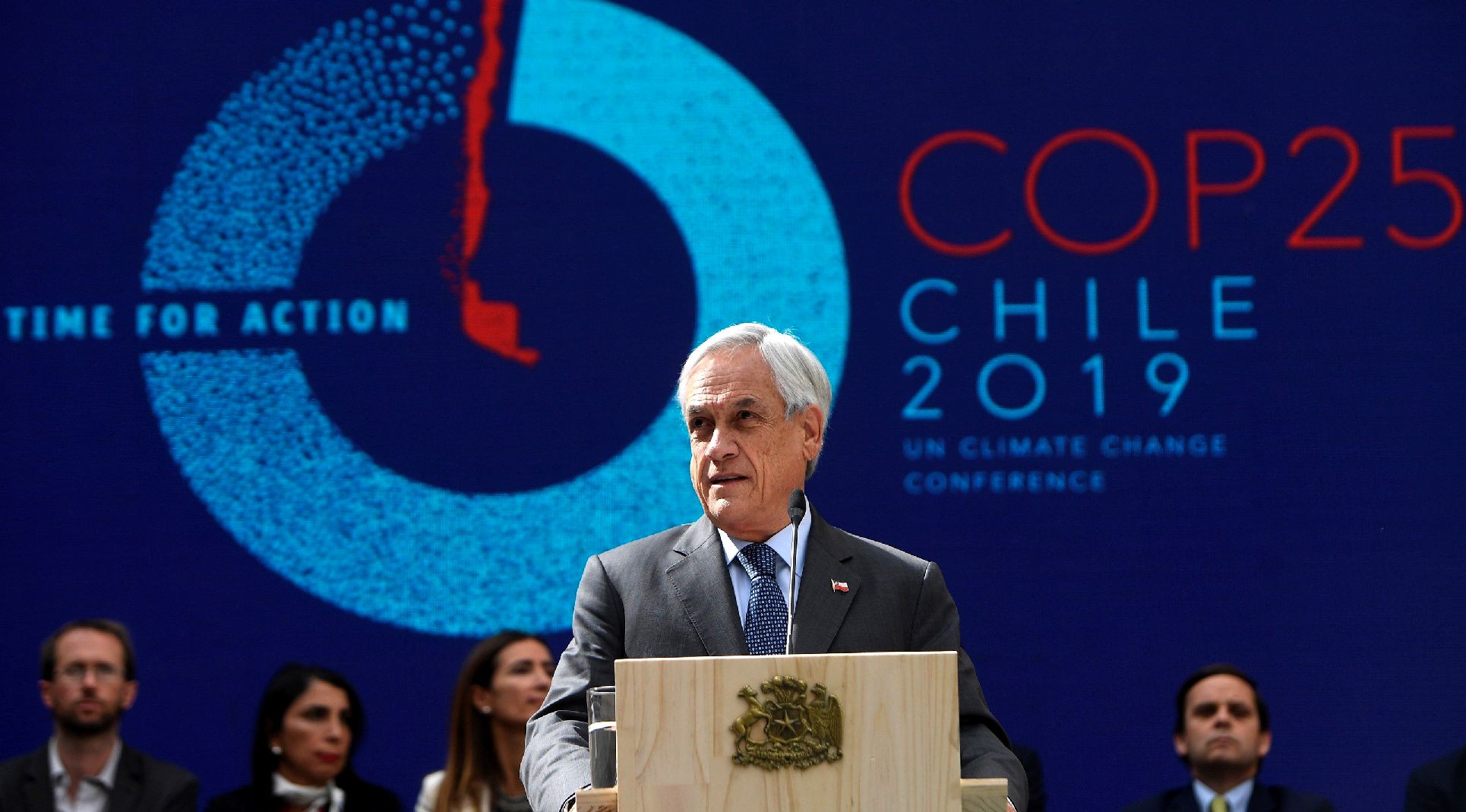 30 OCTOBER WITHDRAWAL - Due to continued unrest at the host nations, President Sebastian Pinera formally withdraws Chile from hosting the conference.
COP 25 was postponed on 30 October 2019. As UNFCCC Executive Secretary Patricia Espinosa announced at that time, the Government of Chile informed the UNFCCC Secretariat on 30 October of its decision not to host COP25, in view of the difficult situation that the country is undergoing. The UNFCCC Secretariat is exploring alternative hosting options.
A pre-COP meeting took place in Costa Rica, and aimed to act as a bridge between the UN Climate Action Summit and COP 25. It also provided an opportunity to discuss the IPCC Special Report on the Ocean and Cryosphere in a Changing Climate and unresolved issues from COP 24.
OUR (SUGGESTED) SIX STEPS TOWARD A COOLER PLANET
1. TRANSPORT: Phase out polluting vehicles. Governments aim to end the sale of new petrol, and diesel vehicles by 2040 but have no infrastructure plan to support such ambition. Such infrastructure should exceed the performance of fossil fuel filling stations, prolong EV battery life and provide power grids with a measure of load leveling. Any such system should seek to obviate the provision of millions of fast charge points where implementation could prove to be a logistical nightmare and an inefficient energy delivery system. This may involve international agreement as to energy storage format and statute to steer car makers to collaborate (in part) in a world of competition.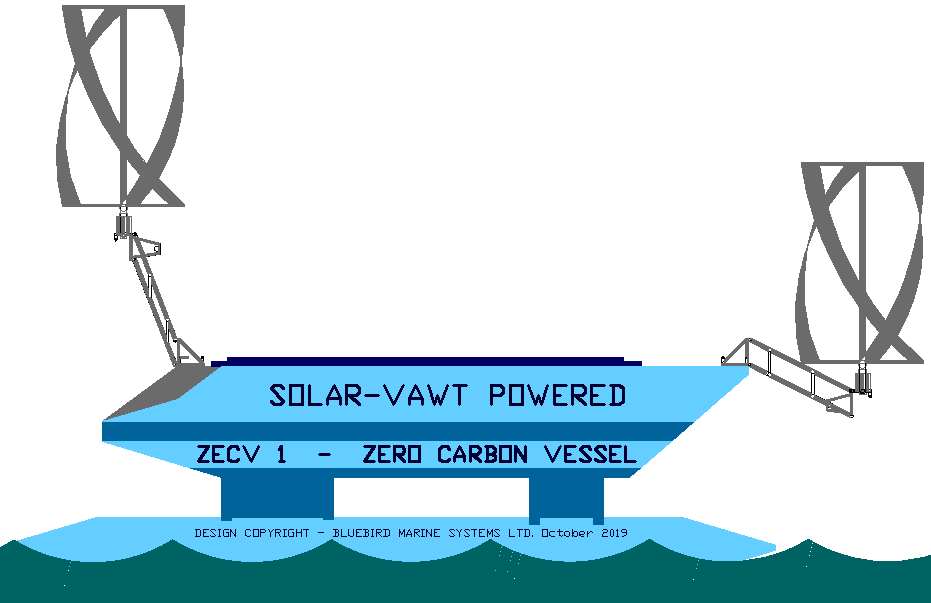 CLIMATE BUSTERS - This solar and wind powered concept is one part of a development proposal looking to provide solutions for zero carbon shipping as we head for 2030 carbon reductions called for by the International Maritime Organization. The proposal in to test Vertical Axis Wind Turbines (VAWT) against Horizontal Axis Wind Turbines (HAWT), working with solar arrays that track the sun and navigation software that plots the best course according to meteorological data.
ZERO CARBON CONTAINER VESSEL - A prototype 50 meter container ship with 6 TEU standard containers shown in red rust inhibitor paint. They can be loaded from the rear if overhead loading is not available. If this vessel performs as expected, the age of zero carbon shipping is getting closer. H2020 Calls for proposals are looking for solar or wind 'assisted projects' and alternative fuels, rather than truly zero carbon concepts. There is no reason why a module of the solar or wind rig might not be retro-fitted to an existing diesel cargo ship.
The turbines can be raised and lowered to cope with different running conditions as seen on the end view left. The main hull is cylindrical for minimum wetted area, while the outriggers provide stability, with a small wetted area for a low drag hull. The superstructure is low to reduce frontal area and air drag. Another important feature of this design is that the turbines may be furled for safe docking in ports or during storm conditions. A scaled up version of this concept could carry 900 containers. Please note that these drawings are Design Copyright © October 17&19 2019, Bluebird Marine Systems Ltd and Cleaner Ocean Foundation Ltd.

SUSTAINABLE CONTAINER SHIPPING - This is a 50 meter solar and wind powered prototype container transport shown with the turbines furled, as if docked in port. When folded down like this the blades do not revolve and may be locked. By this means ports do not have to make special provision for zero emission ships.
The concept may be doubled and quadrupled without too much trouble. You'd need to up-scale by a factor of 8 to match the 400 meter giants that operate today to carry 960 standard containers. That is nowhere near the capacity of a heavy bunker fueled behemoth, but it is a formula for zero carbon transportation that is theoretically workable. We believe that such a system could replace diesel fuels and eliminate the need for liquid fuels that may be potentially dangerous.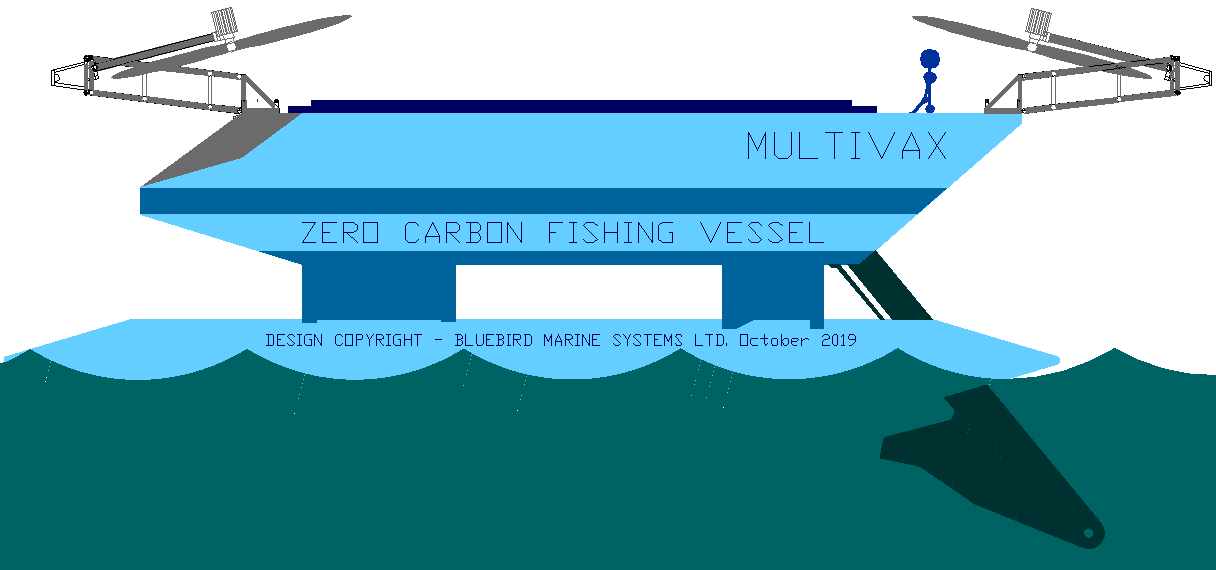 16M ZERO CARBON FISHING VESSELS - This is a 20 ton fishing vessel derived from the SeaVax concept that uses no plastic nets and is powered by the wind and sun. The wind generators and solar arrays are shown safely folded and locked for docking in harbour. Copyright © diagrams October 24 2019. All rights reserved, Cleaner Ocean Foundation Ltd and Bluebird Marine Systems Ltd.
Marine transport can be carbon neutral given the right policies, with phased transition in specific stages such as not to unduly penalize present investment in LNG shipping and other recent MARPOL compliant IC powered vessels. Future cargo vessel should be at least in part powered by renewable energy, on the road to zero carbon, making allowances for technology catch-up from 2030 with scrappage trade in on outdated ships and marine taxes on internal combustion engines. It is important that taxes collected may not be used for any other purpose by any participating country. In the UK taxes are collected for one purpose then used for another leading to deficits. E.g. just 5% of road taxes is used for roads. This is a recipe for bankruptcy and huge national debt. Such practices should stop in the interests of sustainability and transparency for the electorate.
Air travel powered by kerosene should attract hefty mitigation offset, where low carbon alternatives should be encouraged.
2. RENEWABLES: Renewable energy should replace carbon-based fuels (coal, oil and gas) in our electricity for homes, factories, heating and transport. Coal and nuclear power plants should be phased out.
3. HOUSING: On site micro or macro generation is the best option, starting with new build homes that are both affordable and sustainable by design to replace crumbling housing stocks. Encourage building in timber to provide carbon lock from a renewable natural resource. Make sustainable housing a permitted development. Taking out the need to apply for planning permission, will cut out council blockers from the decision making process, to stamp out empire building agendas.
4. AGRICULTURE: We need to grow many more trees to absorb carbon emissions from a growing population, air travel, and to build new homes. We must control illegal slash and burn forest clearances and crack down on offenders. We should promote reductions in food waste and eating of foods that use less energy to produce. Educating children on these matters in schools and via campaigns such as no meat Mondays, should be part of ordinary study.
5. INDUSTRY: Factories should be aiming for solar heating and onsite renewable energy generation. EV parking and even service facilities should be part of new industrial estates as part of any building permissions.
6. POLITICS: - National governing bodies need to adopt rules to eliminate administrative wastages, to include scaling down spending on war machines, increasing spend on educating the public and supporting sustainable social policies that mesh with other cultures. This includes fostering policies and making funds available to close links in the technology chain to make up for lost time. Kleptocratic empire building must cease in the search for natural equilibrium. Taxes should be used only for the stated purpose. Borrowing that increases national debts and GHGs in the repaying must cease.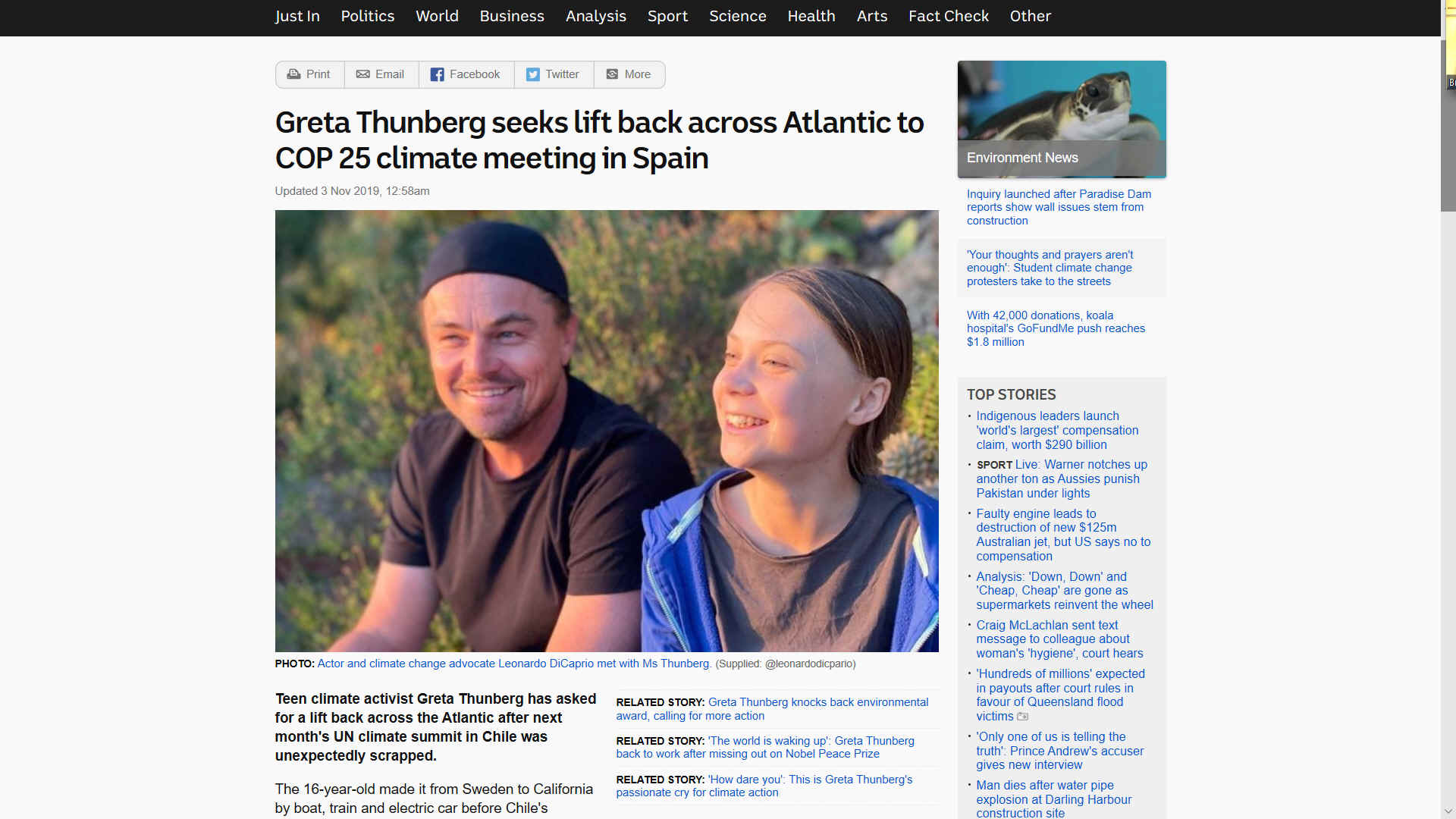 SPAIN CALLING GRETA - Spain's environment minister said the government would help Greta Thunberg cross the Atlantic in time to attend the upcoming UN climate talks.

"Dear Greta, it would be great to have you here in Madrid," the minister, Teresa Ribera, said on Twitter. "You've made a long journey and help all of us to raise concern, open minds and enhance action. We would love to help you to cross the Atlantic back."
The 16-year-old made it from Sweden to California by boat, train and electric car before Chile's government announced it was canning the summit because of political unrest in the South American nation. The COP 25 summit will now be held in Spain.
"As #COP25 has officially been moved from Santiago to Madrid I'll need some help," Ms Thunberg tweeted from Los Angeles.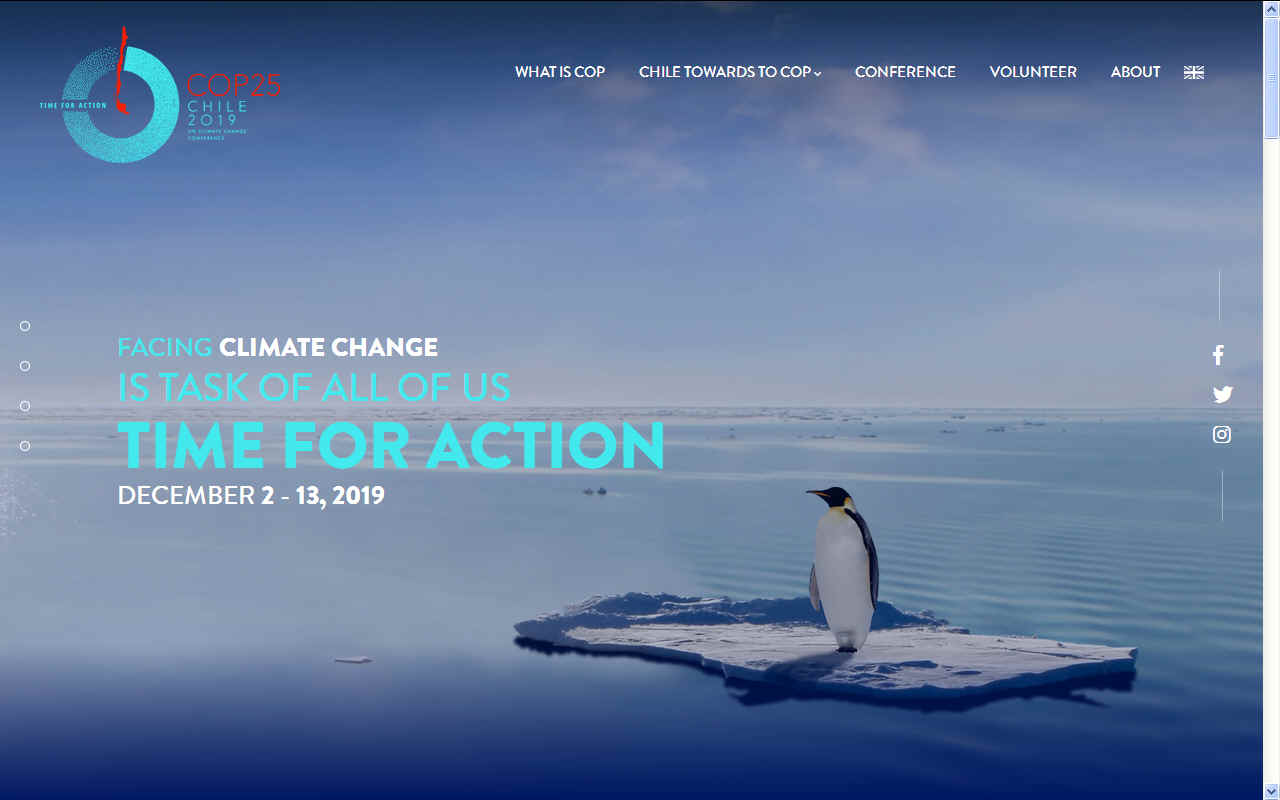 TIME FOR ACTION! - The COP decided at its 24th session that COP 25 will take place in Chile and requested the Bureau to decide on the dates of the sessions.

The Bureau met on 7 March 2019 and decided that COP 25 / CMP 15 / CMA 2 will take place from 2 to 13 December 2019. The pre-sessional period will be from 26 November to 1 December 2019.

COP 25 / CMP 15 / CMA 2 will be organized at Parque Bicentenario Cerrillos (ex aeropuerto de Santiago) in Santiago de Chile.
INITIATIVES

While the COP25 is known as the "Time for Action" COP due to the need for all countries to expand their commitments to limit global warming.

Oceans

Oceans play a fundamental role in mitigating climate change since they capture and store more than 90% of the heat and approximately 25% of the carbon produced by emissions from human activities. Unfortunately, the increase in heat and carbon in the ocean is having visible, global impacts, and to a large extent, irreversible, such as the increase in temperature, sea level rise, ocean acidification and changes in marine biodiversity, among others.

Antarctica

Antarctica, the Arctic and mountain glaciers (cryosphere), besides being major water reserves, are important climate regulators since they reflect the solar energy back into space and thus affecting the planet's energy balance. The cryosphere is also very sensitive to global warming, which leads to melting and loss of mass, processes that are (in part) responsible for rising sea levels, loss of biodiversity and deterioration of ecosystems. Alterations occurring in Antarctica (due to climate change) will have global consequences and will last for several centuries.

Biodiversity

The direct and indirect effects of climate change are closely related to changes in biodiversity resulting from human activity, so it is essential to ensure the preservation of biodiversity and its functions and allow for our development as a society. Biodiversity is fundamental for the adaptation and mitigation of climate change, which is why it is necessary to carry out actions that enable its preservation.
Forests

Forests deserve special mention, as they play an important role in mitigating climate change by capturing and sequestering CO2 emitted into the atmosphere. In addition, they provide a number of benefits, such as water provision, protection of soil and biodiversity in general.

Adaptation

Estimations from climate change scenarios include increasing temperature, decreasing rainfall in the center-south and possible increases in farthest areas, and changes in glaciers surface area. These scenarios imply increasing extreme weather events and decreasing water availability, having significant impact on ecosystems, population and productive activities. In order to cope with this impact, adaptation measures are required across sectors. The implementation of these measures must be focused on institutional improvements, design of resilient infrastructure, protection of ecosystems and less vulnerable communities.

Cities

The world is facing an unprecedented process of urbanization. The large size of cities makes them extremely complex, but trends of weak sustainability are seen in medium-sized and small settlements as well.

Cities contribute to climate change through the use of energy for transport, construction, housing operations and production processes, and are therefore vulnerable to the impacts of climate change.

On the other hand, local mitigation actions by the cities have the potential for an immediate impact which, when added together, can create global effects and local co-benefits such as reduced air pollution.

With regard to adaptation, it is key for local and regional governments to integrate climate risks into their urban planning and management processes, in conjunction with the general public and service companies.

Renewable energies

Renewable energies are of the utmost importance for achieving sustainable development as they do not generate direct greenhouse gases emissions (unlike fossil fuels).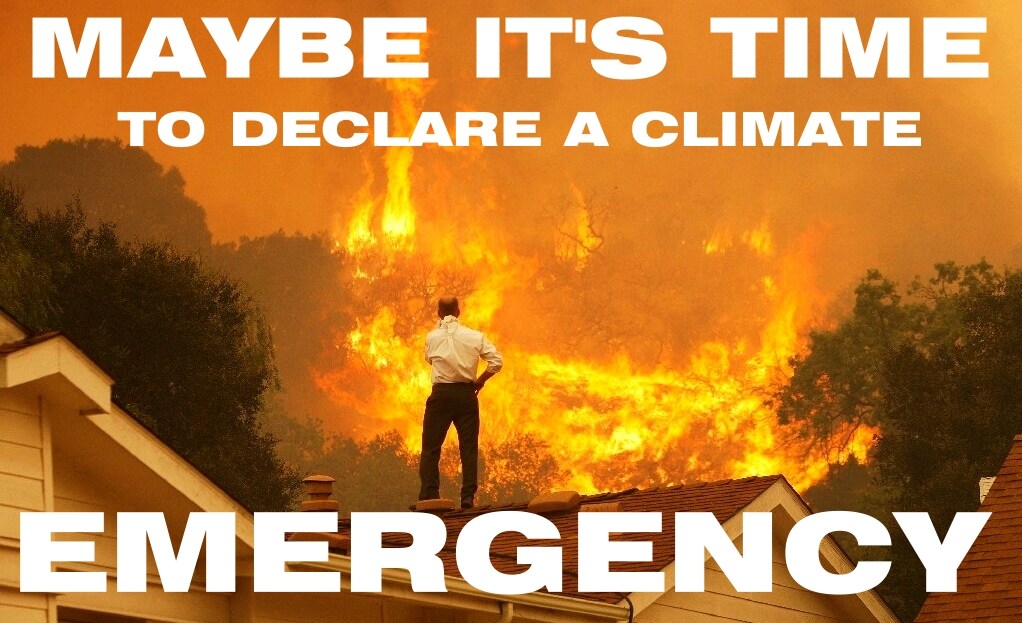 Circular Economy

The fundamental principle of the circular economy is using waste as raw material for other products, drastically reducing both waste generation and the extraction of new and raw materials.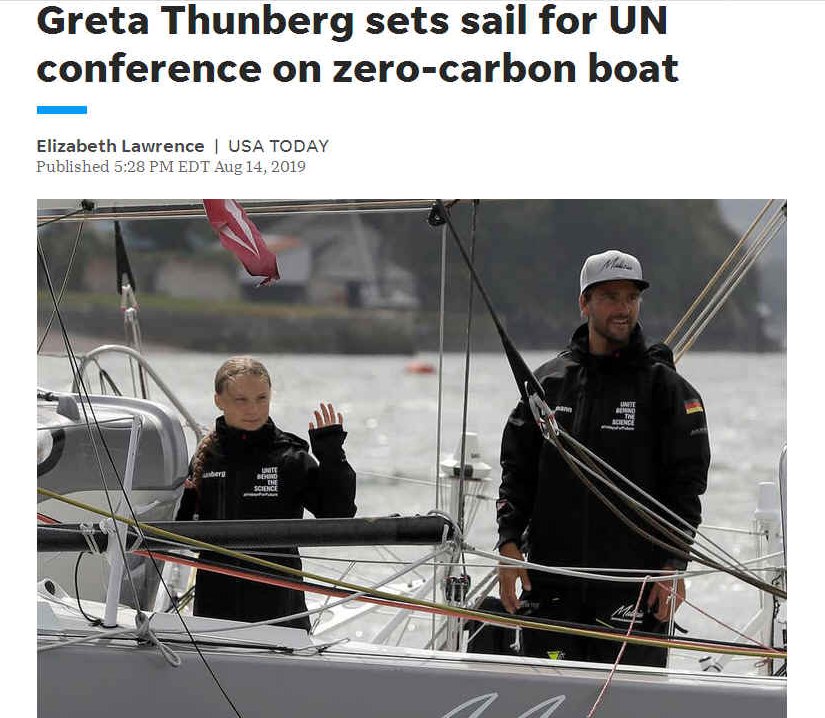 USA TODAY 14 AUGUST 2019 - Climate change activist Greta Thunberg sets sail for New York in the 60ft Malizia II yacht from Mayflower Marina, on August 14, 2019 in Plymouth, England. The Swedish activist Greta Thunberg began her journey to the United States today for the United Nations Climate Conference. Her mode of travel is fitting for someone who's climate conscious: She's arriving in an eco-friendly boat propelled by the wind, with solar panels and wind turbines to power the navigation instruments and other boat equipment.
THE VENUE

Madrid, Spain - actual conference location to be decided.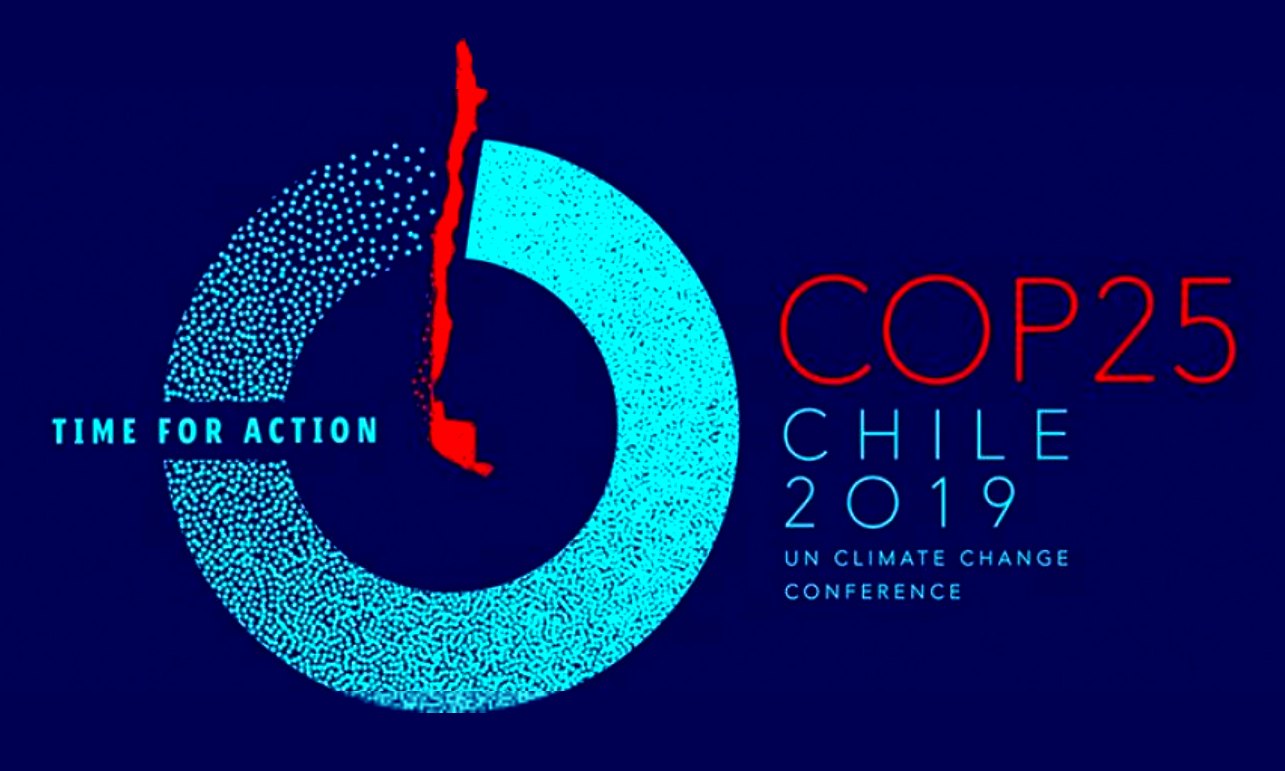 WILL THERE HAVE BEEN ANY REAL AND MEASURABLE PROGRESS IN 2019 ?
That is the burning question. We owe it to our children to put the brakes on the uncontrolled use of fossil fuels. All over the world schools are experiencing strike action in protest at the inaction of the United Nations members to get their act together. We need to turn the ship and we have a very small rudder. When the captain of the Titanic spotted the iceberg that sank the White Star Line's most famous ship, he tried to avoid the giant floating ice cube by putting the rudder hard over and reversing the propellers, but the ship could not turn in time to avoid a collision.
Where Greta Thunberg sent the United Nations a clear message in December 2018, how much progress will have been made by the Parties. Wil we have a bigger rudder than the Titanic, or will planet earth crash and burn. Since the inception of the COP talks, there has been very little action and a lot of hot air.
All the while we have playground bullies like Donald Trump and Vladimir Putin, the world is in danger. Russia and the USA need to grow up and stop beating up the countries that cannot afford to defend themselves. Climate Criminals like these two super powers need to look long and hard at China, where they use coal for energy, but have agreed to a call to action and are building solar and wind farms like there is no tomorrow.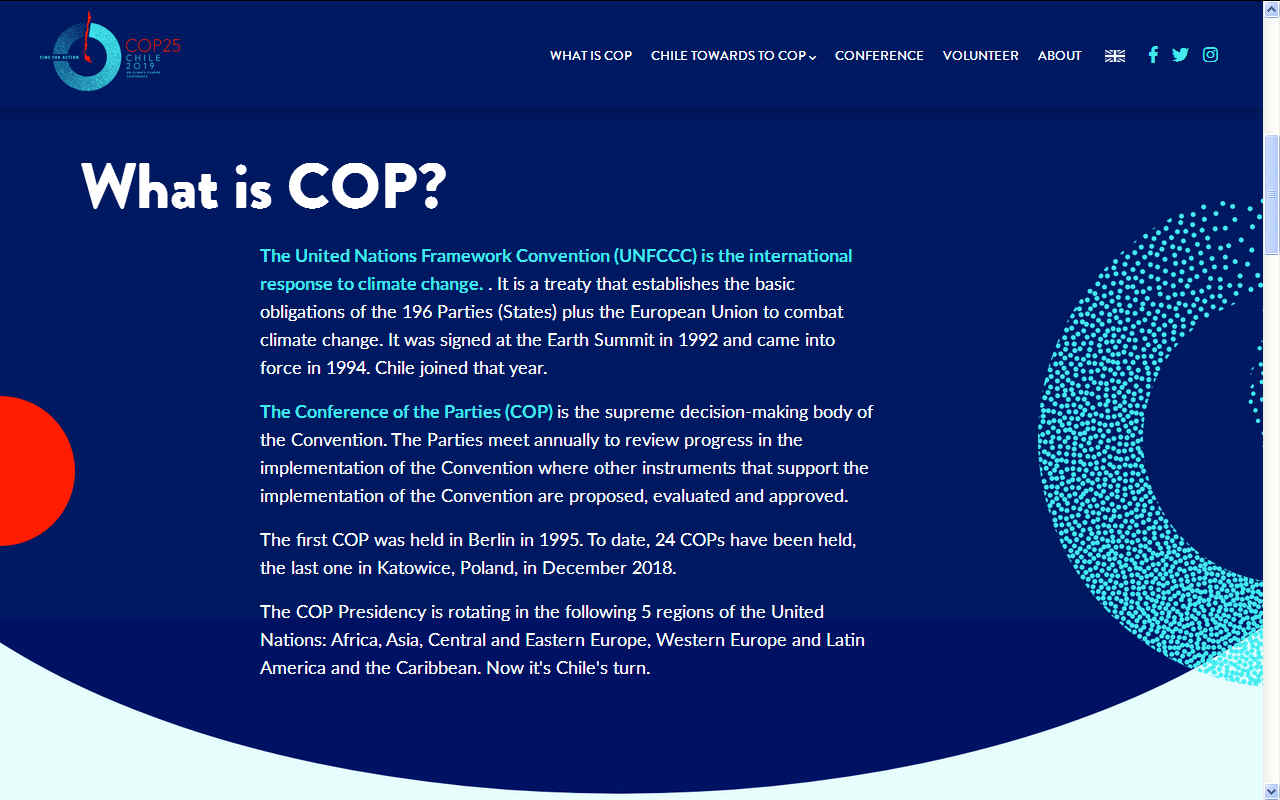 WHAT IS COP ? - The United Nations Framework Convention (UNFCCC) is the international response to climate change. . It is a treaty that establishes the basic obligations of the 196 Parties (States) plus the European Union to combat climate change. It was signed at the Earth Summit in 1992 and came into force in 1994.
The Conference of the Parties (COP) is the supreme decision-making body of the Convention. The Parties meet annually to review progress in the implementation of the Convention where other instruments that support the implementation of the Convention are proposed, evaluated and approved.
The first COP was held in Berlin in 1995. To date, 24 COPs have been held, the last one in Katowice, Poland, in December 2018.
1995 COP 1, BERLIN, GERMANY
1996 COP 2, GENEVA, SWITZERLAND
1997 COP 3, KYOTO, JAPAN
1998 COP 4, BUENOS AIRES, ARGENTINA
1999 COP 5, BONN, GERMANY
2000:COP 6, THE HAGUE, NETHERLANDS
2001 COP 7, MARRAKECH, MOROCCO
2002 COP 8, NEW DELHI, INDIA
2003 COP 9, MILAN, ITALY
2004 COP 10, BUENOS AIRES, ARGENTINA
2005 COP 11/CMP 1, MONTREAL, CANADA
2006 COP 12/CMP 2, NAIROBI, KENYA
2007 COP 13/CMP 3, BALI, INDONESIA
2008 COP 14/CMP 4, POZNAN, POLAND
2009 COP 15/CMP 5, COPENHAGEN, DENMARK
2010 COP 16/CMP 6, CANCUN, MEXICO
2011 COP 17/CMP 7, DURBAN, SOUTH AFRICA
2012 COP 18/CMP 8, DOHA, QATAR
2013 COP 19/CMP 9, WARSAW, POLAND
2014 COP 20/CMP 10, LIMA, PERU
2015 COP 21/CMP 11, Paris, France
2016 COP 22/CMP 12/CMA 1, Marrakech, Morocco
2017 COP 23/CMP 13/CMA 2, Bonn, Germany
2018 COP 24/CMP 14/CMA 3, Katowice, Poland
2019 COP 25/CMP 15/CMA 4, Santiago, Chile
2020 COP 26/CMP 16/ CMA 5, Glasgow, Scotland
2021 COP 26/Glasgow, Scotland
2022 CP27/ Sharm El-Sheikh, Egypt
UN CLIMATE ACTION PORTFOLIOS
1. Finance
2. Energy Transition
3. Industry Transition
4. Nature-Based Solutions
5. Cities and Local Action
6. Resilience and Adaptation
7. Mitigation Strategy
8. Youth Engagement & Public Mobilization
9. Social and Political Drivers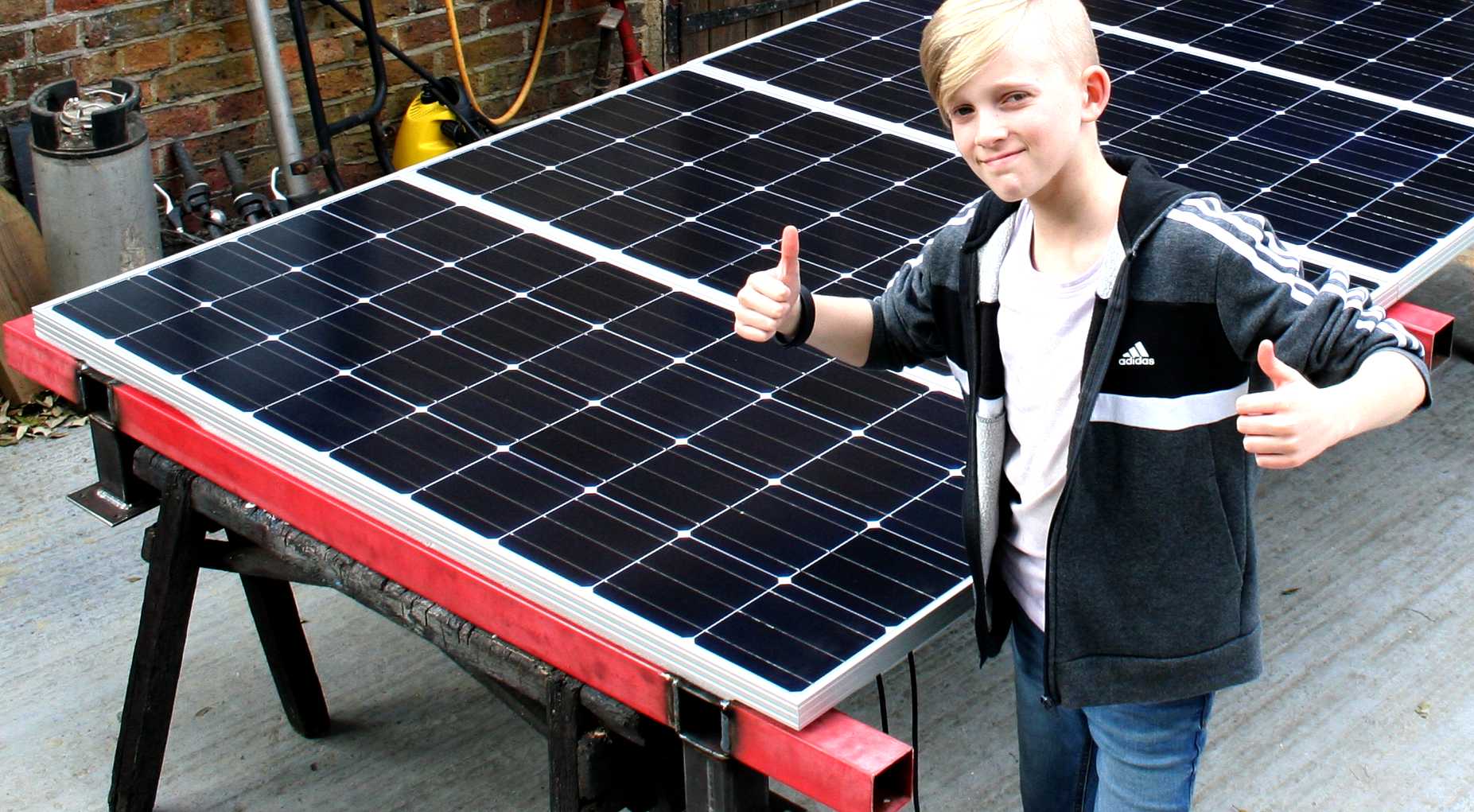 SOLAR POWERED - Doing our bit to combat climate change, we are building an experimental rig aiming to put a larger version of the same concept on a coastal version of SeaVax from 2020 (subject to funding). The rig above is to be fitted to a Ford Transit roof in May of 2019 so that the experiment can be moved to other weather locations. This is another step in the direction of zero carbon shipping. Our experimental rig will track the sun and move arrays on either side of these fixed panels to increase the harvestable light energy. Copyright photograph © 22-04-19 Cleaner Ocean Foundation Ltd, all rights reserved.
CONTACTS
The UNFCCC secretariat is located at two different locations.
Email: secretariat@unfccc.int
www: https://unfccc.int/calendar
https://unfccc.int/santiago
Main office
UNFCCC secretariat
UN Campus
Platz der Vereinten Nationen 1
53113 Bonn
Germany

Haus Carstanjen Office
Martin-Luther-King-Strasse 8
53175 Bonn
Germany

Mailing address
UNFCCC secretariat
P.O. Box 260124
D-53153 Bonn
Germany

Phone: (49-228) 815-1000
Fax: (49-228) 815-1999
Web: http://unfccc.int

info@climateactionprogramme.org
http://www.climateactionprogramme.org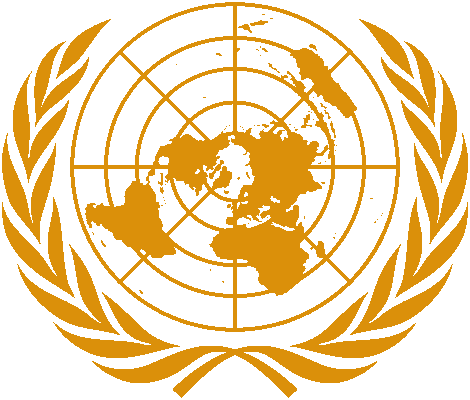 LINKS & REFERENCE
https://unfccc.int/news/chile-receives-offer-from-spain-to-hold-cop25-in-madrid-from-2-to-13-december-2019
https://unfccc.int/COP25
https://www.businessgreen.com/bg/news/3068228/uk-formally-bids-to-host-cop26-in-2020
DESERTIFICATION COP HISTORY
| | |
| --- | --- |
| COP 1: Rome, Italy, 29 Sept to 10 Oct 1997 | COP 9: Buenos Aires, Argentina, 21 Sept to 2 Oct 2009 |
| COP 2: Dakar, Senegal, 30 Nov to 11 Dec 1998 | COP 10: Changwon, South Korea, 10 to 20 Oct 2011 |
| COP 3: Recife, Brazil, 15 to 26 Nov 1999 | COP 11: Windhoek, Namibia, 16 to 27 Sept 2013 |
| COP 4: Bonn, Germany, 11 to 22 Dec 2000 | COP 12: Ankara, Turkey, 12 to 23 Oct 2015 |
| COP 5: Geneva, Switzerland, 1 to 12 Oct 2001 | COP 13: Ordos City, China, 6 to 16 Sept 2017 |
| COP 6: Havana, Cuba, 25 August to 5 Sept 2003 | COP 14: New Delhi, India, 2 to 13 Sept 2019 |
| COP 7: Nairobi, Kenya, 17 to 28 Oct 2005 | COP 15: 2020 |
| COP 8: Madrid, Spain, 3 to 14 Sept 2007 | COP 16: 2021 |
BIODIVERSITY COP HISTORY
| | |
| --- | --- |
| COP 1: 1994 Nassau, Bahamas, Nov & Dec | COP 8: 2006 Curitiba, Brazil, 8 Mar |
| COP 2: 1995 Jakarta, Indonesia, Nov | COP 9: 2008 Bonn, Germany, May |
| COP 3: 1996 Buenos Aires, Argentina, Nov | COP 10: 2010 Nagoya, Japan, Oct |
| COP 4: 1998 Bratislava, Slovakia, May | COP 11: 2012 Hyderabad, India |
| EXCOP: 1999 Cartagena, Colombia, Feb | COP 12: 2014 Pyeongchang, Republic of Korea, Oct |
| COP 5: 2000 Nairobi, Kenya, May | COP 13: 2016 Cancun, Mexico, 2 to 17 Dec |
| COP 6: 2002 The Hague, Netherlands, April | COP 14: 2018 Sharm El-Sheikh, Egypt, 17 to 29 Nov |
| COP 7: 2004 Kuala Lumpur, Malaysia, Feb | COP 15: 2020 Kunming, Yunnan, China |
COP THAT - The United Nations Climate Change Conferences are yearly conferences held in the framework of the United Nations Framework Convention on Climate Change (UNFCCC). They serve as the formal meeting of the UNFCCC Parties (Conference of the Parties, COP) to assess progress in dealing with climate change, and beginning in the mid-1990s, to negotiate the Kyoto Protocol to establish legally binding obligations for developed countries to reduce their greenhouse gas emissions. From 2005 the Conferences have also served as the "Conference of the Parties Serving as the Meeting of Parties to the Kyoto Protocol" (CMP); also parties to the Convention that are not parties to the Protocol can participate in Protocol-related meetings as observers. From 2011 the meetings have also been used to negotiate the Paris Agreement as part of the Durban platform activities until its conclusion in 2015, which created a general path towards climate action. The first UN Climate Change Conference was held in 1995 in Berlin.
This website is provided on a free basis as a public information service. copyright © Cleaner Oceans Foundation Ltd (COFL) (Company No: 4674774) 2019. Solar Studios, BN271RF, United Kingdom. COFL is a charity without share capital. The names AmphiMax™, RiverVax™ and SeaVax™ are trade names used under license by COF in connection with their 'Feed The World' ocean cleaning sustainability campaign.