CARIBBEAN SEA
ABOUT - CONTACTS - FOUNDATION - HOME - A-Z INDEX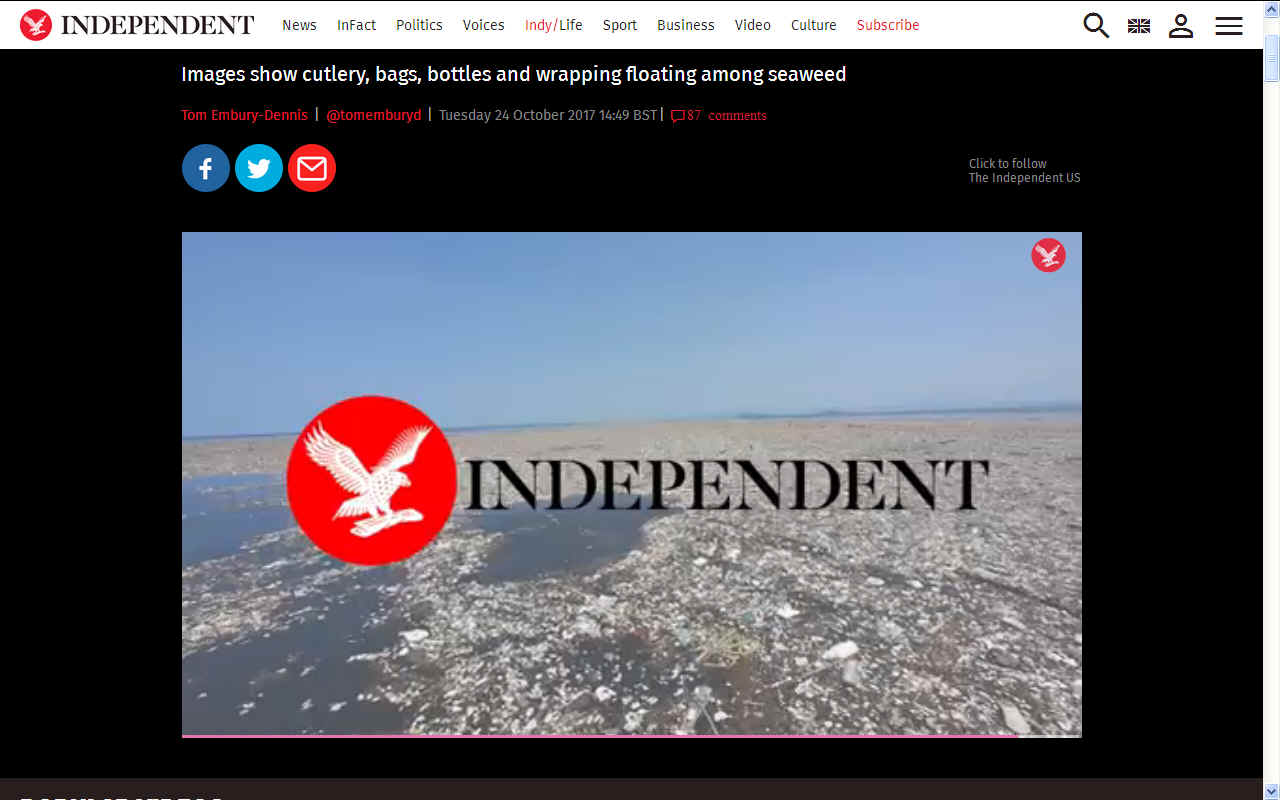 INDEPENDENT - Featured a video of the Caribbean Sea, Islands that are afloat with plastic.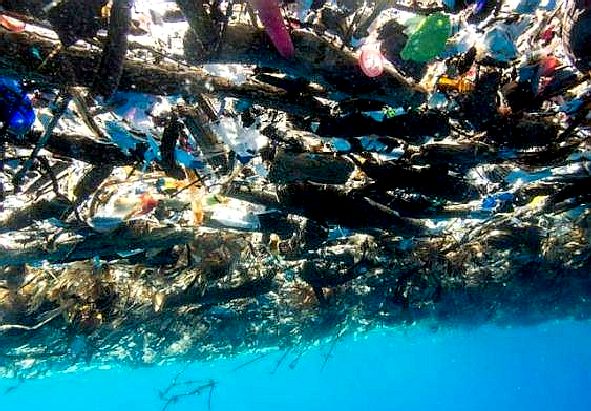 PLASTIC TIDE - These amazing pictures of a giant plastic tide were taken by Caroline Power.
24 OCTOBER 2017 - THE INDEPENDENT - TIDE OF PLASTIC

Shocking images have captured a Caribbean island's clear blue seas being choked by a tide of plastic rubbish.

Taken off the Honduran island of Roatan, the pictures show plastic cutlery, bags, bottles and wrapping floating among seaweed.

One picture, taken from below the waterline, shows the sun being blocked out by the sheer weight of the pollution dumped into the ocean.

Blue Planet Society, a pressure group which campaigns to save the world's oceans, had suggested the plastic may have originated from the Montagua river in Guatemala.

Recent footage captured a torrent of waste being carried out to sea from its mouth.

Caroline Power, who lives on Roatan, which is just 12 miles long and three miles wide, shared the images on social media to raise awareness of the problem.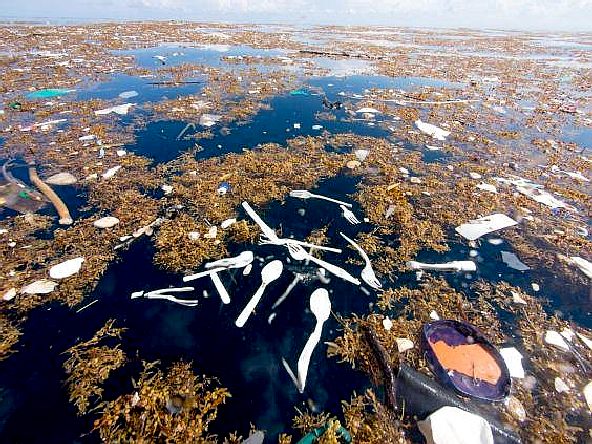 She said it should make people think carefully about their plastic use.

"Think about your daily lives," she wrote in a Facebook post. "How did you take your food to go last time you ate out? How was your last street food served? Chances are it was Styrofoam and served with a plastic fork and then put in a plastic bag."

"Do you still use plastic garbage bags? Plastic soda bottles? Zip lock bags? Plastic wrap on your food? Do you buy toilet paper that comes wrapped in plastic instead of paper? Do you put your fruit and vegetables in produce bags at the grocery?"

Challenging everyone to put keep their rubbish for a week, she said people would be "disgusted" at how much plastic they would find.

More than eight million tonnes of plastic goes into the oceans every year, and it is estimated there will be more of it than fish by 2050.

It is thought our seas now contain about 51 trillion microplastic particles – 500 times more than stars in our galaxy.

This pollution is harming more than 600 species worldwide amid what many are now regarding as the sixth mass extinction of life on Earth.

The Mediterranean Sea is one area that could benefit from ocean regeneration on a relatively stand alone basis because of the reduced flow into and out of the Atlantic Ocean via the Straits of Gibraltar. This includes the Adriatic, Ionian and Tyrrhenian seas that feed from the Mediterranean but are still comparatively sheltered when compared to other Oceans, Gulfs and Seas that feed from the Atlantic, Indian and Pacific oceans.
The United Nation's put blue growth firmly on the Agenda for 2030 with a five year plan for 2018-2023, as part of their Sustainability Development Goals (SDGs).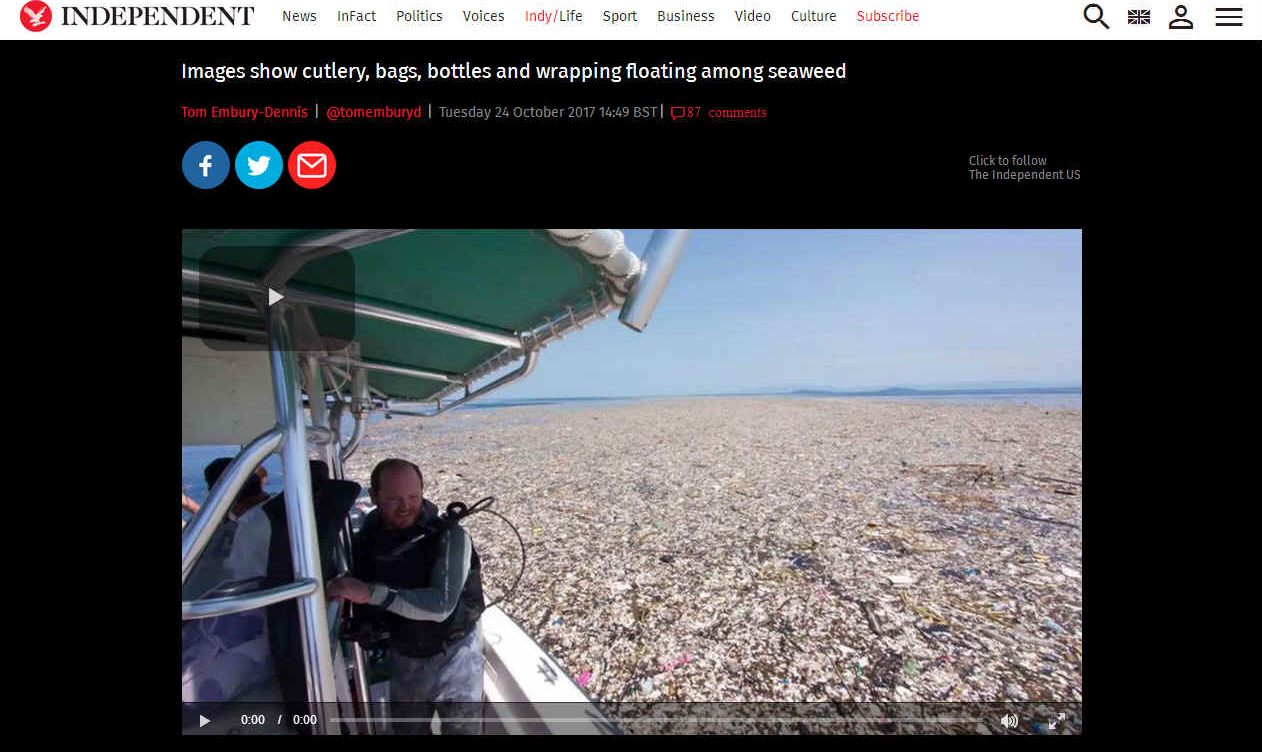 CARIBBEAN ISLANDS BY POPULATION
1 Cuba 11,252,999
2 Haiti 11,263,077 (Hispaniola)
3 Dominican Republic 10,766,998 (Hispaniola)
4 Puerto Rico (US) 3,508,000
5 Jamaica 2,729,000
6 Trinidad and Tobago 1,357,000
7 Guadeloupe (France) 405,000
8 Martinique (France) 383,000
9 Bahamas 379,000
10 Barbados 283,000
11 Saint Lucia 172,000
12 Curaçao (Netherlands) 157,000
13 Aruba (Netherlands) 110,000
14 Saint Vincent and the Grenadines 110,000
15 United States Virgin Islands 105,000
16 Grenada 104,000
17 Antigua and Barbuda 89,000
18 Dominica 71,000
19 Cayman Islands (UK) 59,000
20 Saint Kitts and Nevis 46,000
21 Sint Maarten (Netherlands) 39,000
22 Turks and Caicos Islands (UK) 37,000
23 Saint Martin (France) 36,000
24 British Virgin Islands (UK) 31,000
25 Caribbean Netherlands 26,000
26 Anguilla (UK) 14,000
27 Saint Barthélemy (France) 10,000
28 Montserrat (UK) 5,000
29 Tortuga 25,936
30 Roatán 110,000
LINKS & REFERENCE
http://www.independent.co.uk/news/world/americas/plastic-rubbish-tide-caribbean-island-roatan-honduras-coast-pollution-a8017381.html
BIOMAGNIFICATION - BP DEEPWATER - CANCER - DDT - FISHING NETS - FUKUSHIMA - MICROBEADS - MICRO PLASTICS - OCEAN GYRES - OCEAN WASTE - PACKAGING - PCBS - PET - PLASTIC - POPS - SINGLE USE
This website is provided on a free basis as a public information service. copyright © Cleaner Oceans Foundation Ltd (COFL) (Company No: 4674774) April 2022. Solar Studios, BN271RF, United Kingdom. COFL is a charity without share capital. The names Amphimax™ RiverVax™ and SeaVax™ are trademarks.