THE TYRRHENIAN SEA
ABOUT - CLIMATE CHANGE - COASTAL TOURISM - CONTACTS - FOUNDATION - HOME - OCEAN PLASTIC - OCEANS
PLEASE USE OUR A-Z INDEX TO NAVIGATE THIS SITE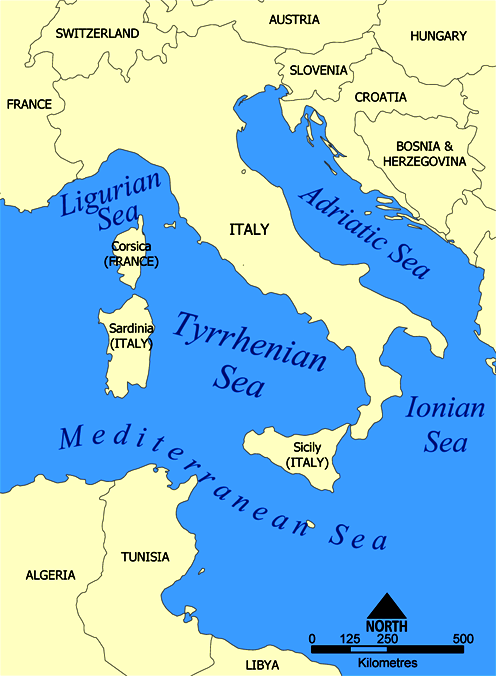 CONTAMINATION - The
The Tyrrhenian Sea is part of the Mediterranean Sea off the western coast of Italy. It is named for the Tyrrhenian people, identified since the 6th century BCE with the Etruscans of Italy.

The sea is bounded by the islands of Corsica and Sardinia (to the west), the Italian peninsula (regions of Tuscany, Lazio, Campania, Basilicata, and Calabria) to the east, and the island of Sicily (to the south). The Tyrrhenian Sea also includes a number of small islands like Capri, Elba, Ischia and Ustica.

The maximum depth of the sea is 3,785 metres (12,418 ft).

The Tyrrhenian Sea is situated near where the African and Eurasian Plates meet; therefore mountain chains and active volcanoes such as Mount Marsili are found in its depths. The eight Aeolian Islands and Ustica are located in the southern part of the sea, north of Sicily.

PORTS

The main ports of the Tyrrhenian Sea in Italy are: Naples, Palermo, Civitavecchia (Rome), Salerno, Trapani and Gioia Tauro. In Corsica the most important port is Bastia.

Note that even though the phrase "port of Rome" is frequently used, there is in fact no port in Rome. Instead, the "port of Rome" refers to the maritime facilities at Civitavecchia, some 68 km (42 miles) to the northwest of Rome, not too far from its airport.

Giglio Porto is a small island port in this area. It rose to prominence, when the Costa Concordia ran aground a few metres off the coast of Giglio and sank. The ship was later refloated and towed to Genoa for scrapping.
COASTAL TOURISM

Coastal Tourism is based on a unique resource combination at the border of land and sea environments: sun, water, beaches, outstanding scenic views, rich biological diversity (birds, whales, corals etc), sea food and good transportation infrastructure. Based on these resources, various profitable services have been developed in many coastal destinations such as well maintained beaches, diving, boat-trips, bird watching tours, restaurants or medical facilities.

In the middle of the 20th century coastal tourism in Europe turned into mass tourism and became affordable for nearly everyone. Today, 65% of the European holiday makers prefer the coast (E.C., 2011). The coastal tourism sector in Europe is getting increasingly competitive, with tourists expecting more quality for the lowest possible price. Today's tourists expect more than sun, sea and sand, as was the case two decades ago. They demand a wide variety of associated leisure activities and experiences including sports, cuisine, culture and natural attractions. At the same time, local people in traditional tourist destinations are increasingly anxious to preserve their own identity, their environment and their natural, historic and cultural heritage from negative impacts.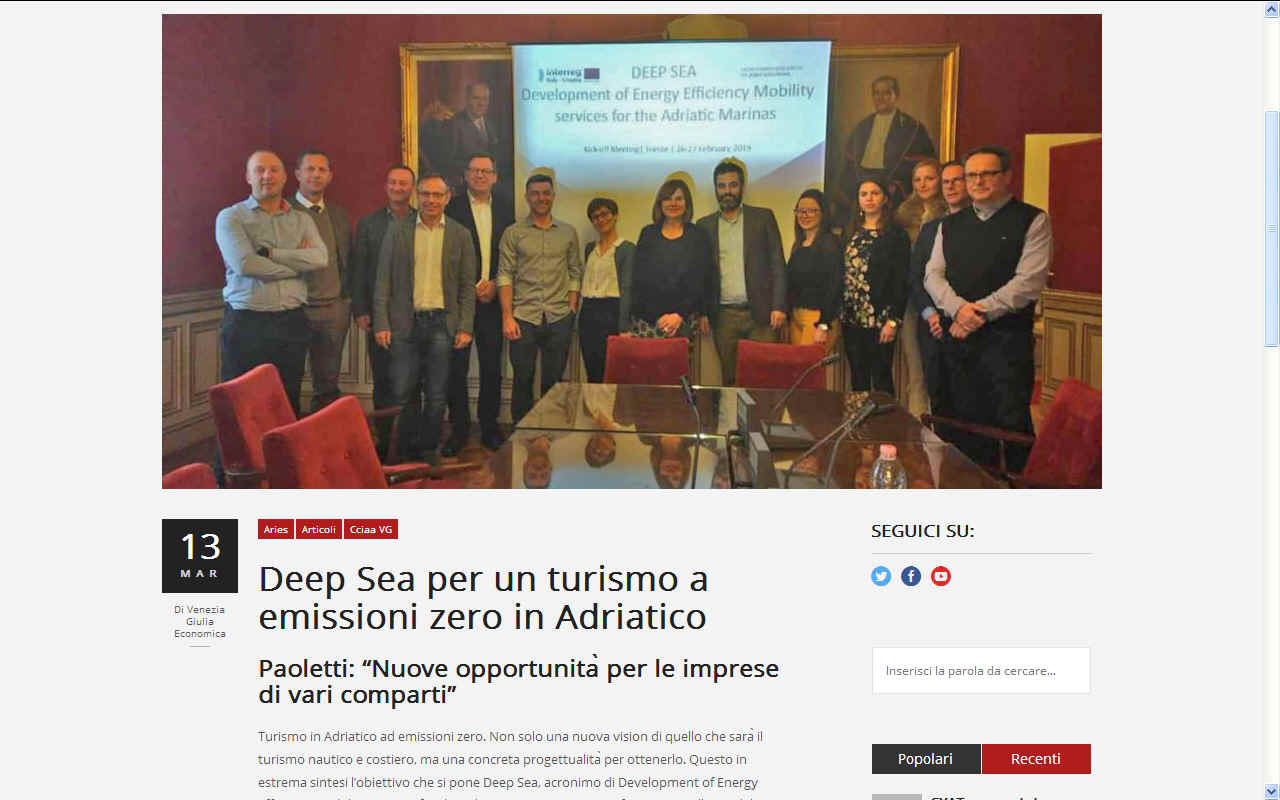 DEEP SEA MARCH 2019 - Turismo in Adriatico ad emissioni zero. Non solo una nuova vision di quello che sarà il turismo nautico e costiero, ma una concreta progettualità per ottenerlo. Questo in estrema sintesi l'obiettivo che si pone Deep Sea, acronimo di Development of Energy Efficiency mobility services for the Adriatic marinas, progetto finanziato nell'asse del Trasporto marittimo del Programma Interreg Italia-Croazia e che ha preso avvio questa mattina a Trieste in Camera di Commercio Venezia Giulia con l'incontro operativo dei partner. Complessivamente il valore del progetto è pari a 2,5 milioni di euro (durata gennaio 2019- 30 giugno 2021) e vede come leader partner Aries Scarl-Camera di Commercio Venezia Giulia.

Mobilità elettrica abbinata a produzione di energie rinnovabili in modo da sviluppare una nautica sostenibile senza emissioni, rumori, vibrazioni dove l'energia elettrica viene prodotta direttamente nelle Marine e utilizzata dalle barche, per la mobilità dei turisti che raggiungono le banchine o le aree attigue. Questi alcuni dei punti progettuali nel cui raggiungimento sono coinvolti Aries Camera di Commercio Venezia Giulia, Università degli Studi di Trieste, Camera di Commercio di Foggia, Regione Puglia, Comune di Andria per la parte italiana, mentre per la Croazia l'Autorità portuale di Krk-Veglia, il Comune di Malinska Dubašnica, Rera-Agenzia per lo sviluppo della Regione Spalato-Dalmatina, le Università di Rijeka-Fiume e Split-Spalato e il marina H.L. Dvorac.

L'obiettivo è quello di dar vita sì a un turismo a basso impatto ambientale, ma soprattutto a trasformarlo nel 'brand di qualità e sostenibilità' capace di contraddistinguere il mare l'Adriatico come un punto di riferimento e un esempio pilota in ambito non solo europeo.

Dalla Puglia al Friuli Venezia Giulia, alle coste della Croazia: i partner progettuali hanno iniziato a lavorare assieme proprio per creare e promuovere un modello di mobilità sostenibile applicata alla nautica e al turismo costiero in generale. Ovvero a quelle attività che si trovano a utilizzare energie rinnovabili e non più motori a scoppio (endotermici). Propulsione elettrica coerente con un turismo verde e sostenibile, rispettoso di parchi marini e terrestri in sintonia con lo sviluppo organico del territorio.

"In questo percorso – ha commentato il presidente camerale Antonio Paoletti – verso l'ottenimento della qualità turistico/ambientale ad emissioni zero potranno trovare nuove opportunità di investimento anche gli imprenditori nautici e della cantieristica, gestori delle marine, albergatori e operatori del terziario più in generale che coglieranno le s de produttive, le autorità politiche e istituzionali che andranno ad innovare l'aspetto normativo in funzione sempre più green, nonché i cittadini e le comunità che in questi territori vivono e lavorano e che in questo modo troveranno nuove e ulteriori opportunità occupazionali. Va infatti sottolineato che un ruolo di particolare rilevanza lo avrà anche la mobilità verso l'interno, quella che abbinata all'attività nautico-costiera consentirà la visita delle città d'arte, dei siti archeologici e delle bellezze naturalistiche dei territori che si affacciano sull'Adriatico".
PLASTIC PROBLEM

The accumulation of plastic on the beaches and in the marinas of the countries bordering the Mediterranean is a growing problem for tourism and tourists visiting these otherwise amazing holiday destinations. Plastic pollution potentially damages the economies of those affected as well as poisoning the fish that humans eat.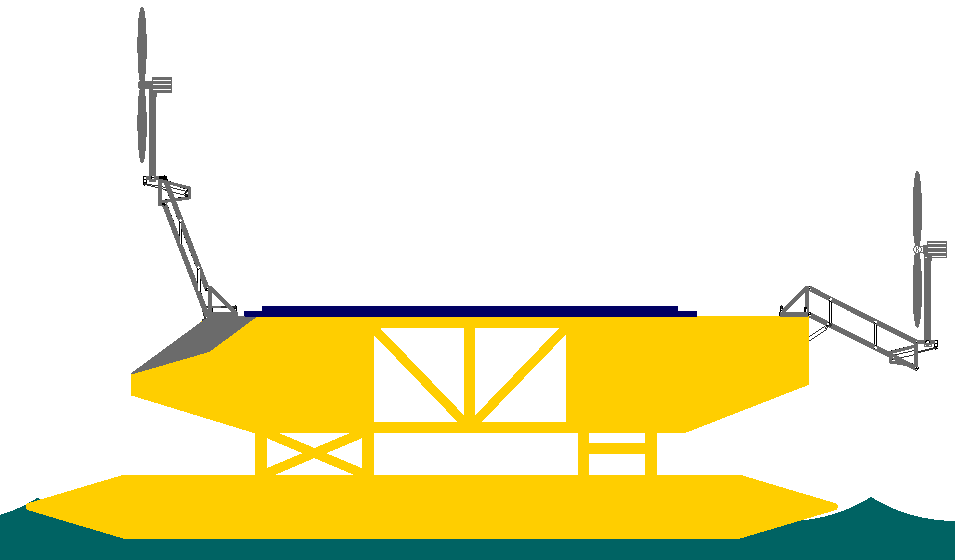 -
H2020 - Collaborative research proposal to develop rotary sails in conjunction with other innovative advances as a means to provide sustainable tourism and eventually, world shipping with major disruption to ports and harbours. Such development could benefit operators of ferry and cruise services in Europe, who might be looking for a way of continuing to enjoy economic blue growth without adding to global warming.
LINKS & REFERENCE
https://
ABS - ACID OCEANS - BIOMAGNIFICATION - BP DEEPWATER - CANCER - CARRIER BAGS - CLOTHING - COTTON BUDS - DDT
FISHING NETS - FUKUSHIMA - MARINE LITTER - MICROBEADS - MICRO PLASTICS - NYLON - OCEAN GYRES - OCEAN WASTE
PACKAGING - PCBS - PET - PLASTIC - PLASTICS - POLYCARBONATE - POLYSTYRENE - POLYPROPYLENE - POLYTHENE - POPS
PVC - SHOES - SINGLE USE - STRAWS - WATER
ACIDIFICATION - AEGEAN - ADRIATIC - ARCTIC - ATLANTIC - BALTIC - BAY BENGAL - BAY BISCAY - BERING - BLACK - CAPE GOOD HOPE
CAPE HORN - CARIBBEAN - CORAL - EAST CHINA - ENGLISH CH - GULF GUINEA - GULF MEXICO - GUANABARA BAY - INDIAN
IONIAN - IRISH - MEDITERRANEAN - NORTH SEA - PACIFIC - PERSIAN GULF - SEA JAPAN - STH CHINA - SEA LEVEL RISE
This website is provided on a free basis as a public information service. copyright © Cleaner Oceans Foundation Ltd (COFL) (Company No: 4674774) 2019. Solar Studios, BN271RF, United Kingdom. COFL is a charity without share capital. The names Amphimax™ RiverVax™ and SeaVax™ are trademarks.