FORD MOUNTED SOLAR ARRAYS
ABOUT - CLIMATE CHANGE - CONTACTS - CROWDFUNDING - DONATE - FOUNDATION - OCEAN CLEANUP - SEAVAX - HOME - A-Z INDEX
ARRAYS - BOOM - MASTS - INTERIOR - PAINTING - ROBOTICS - WELDING - WIND TURBINES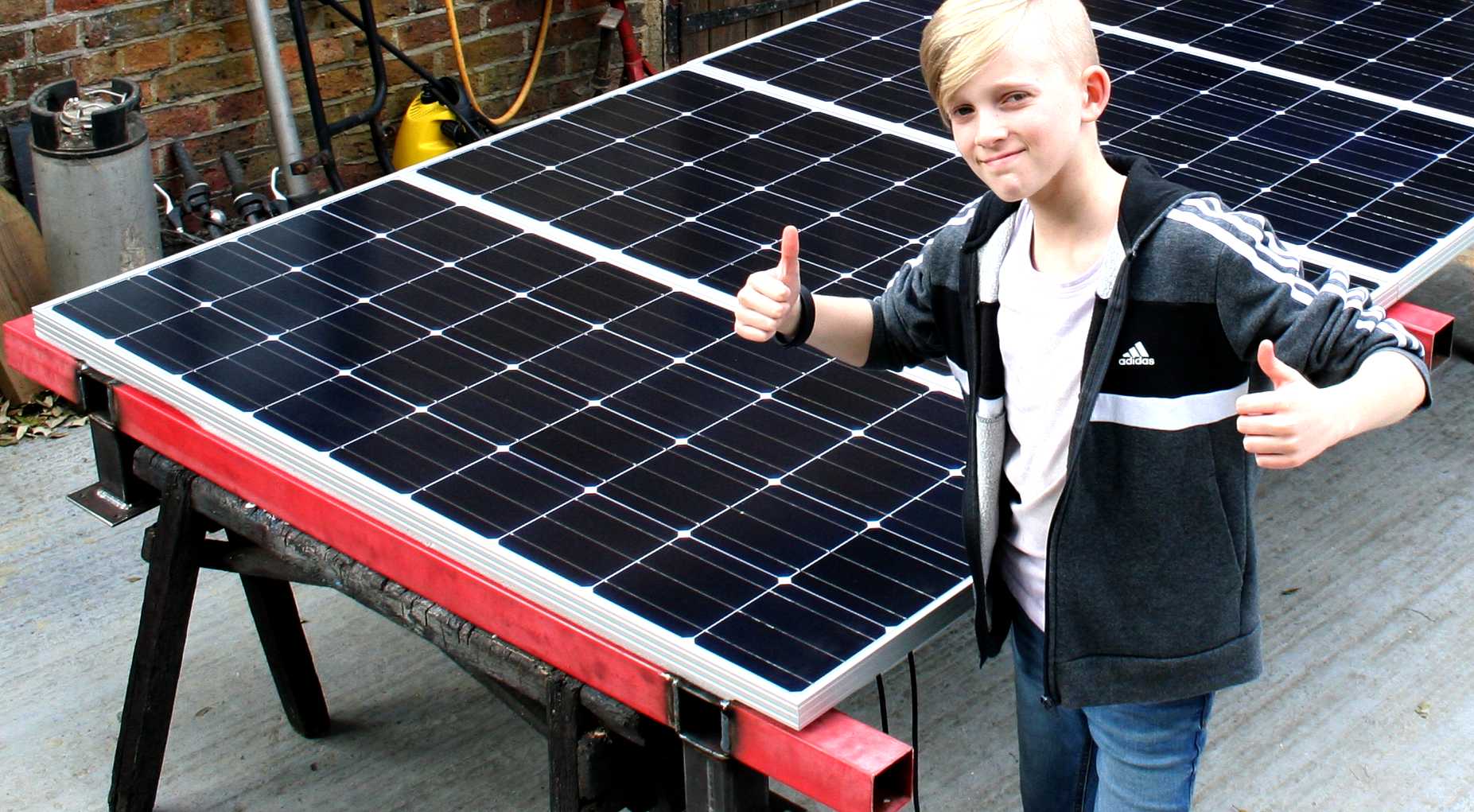 SOLAR PANELS - Ryan helped to make sure that these solar panels will fit within the width of a steel frame to be fixed to a Ford Transit roof, so that there would be sufficient clearance for overlapping arrays. This experimental rig will track the sun and move arrays on either side of these fixed panels to increase the harvestable light energy. Copyright photograph © 22-04-19 Cleaner Ocean Foundation Ltd, all rights reserved.
In tandem with the wind turbines we needed to be able to control twin arrays so that they tracked the sun but also worked in harmony with the wind turbine generators.
The Ford Transit was chosen for this experiment because it was big enough to carry the loads of a robust roof mounted frame onto which a mast and boom were attached ..........
We are using two hydraulic motors, one for each array (left and right) so that they could be controlled independently and folded over a central array that is fixed. This is exactly the format for the SeaVax and RiverVax cleaning machines - only on a smaller scale. The engineering concept though, is the same and will scale up.
We will be publishing pictures of this stage of the project as each milestone is passed. It is likely that this part of the project will be carried over to 2020 ...................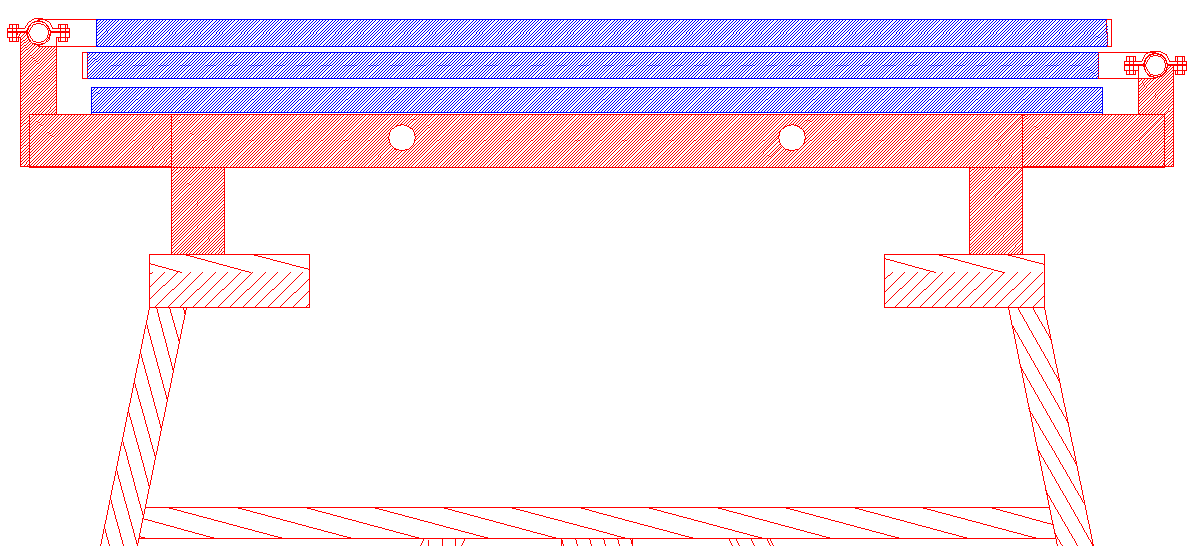 FOLDED STACK - The picture above shows the hinge post and shell bearings for the shafts that turn the solar panel arrays as an end view. The shafts are driven by a hydraulic motor that is either directly coupled or chain driven to multiply the torque and/or slow the movement, as may be desired for controllability. See the plan view diagram below. Copyright diagram © 27-04-19 Cleaner Ocean Foundation Ltd, all rights reserved.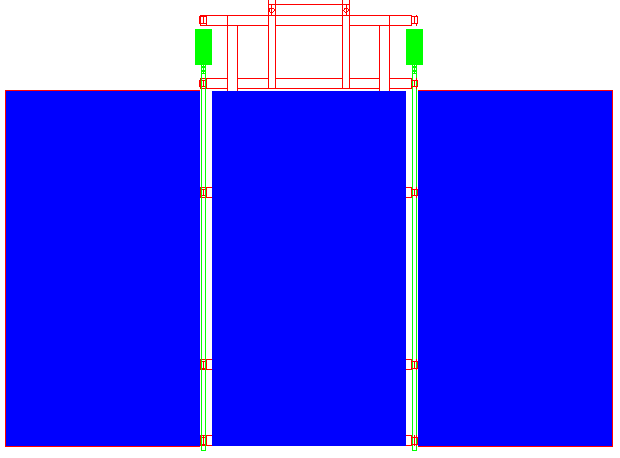 ARRAY PLAN VIEW - This diagram shows the solar array folded open looking from above such that they present flat on to the sun. The hydraulic motors and hinge shafts are shown in green. This experimental rig provides 1.8kW of power in total. The SeaVax needs around 220 square meters of panels of which some 124m2 are moving arrays that track the sun. Each moving array on SeaVax would carry 62m2 of panels compared to the 3.8m2 of these arrays. Copyright diagram © 29-04-19 Cleaner Ocean Foundation Ltd, all rights reserved.
....
LINKS & REFERENCE
https: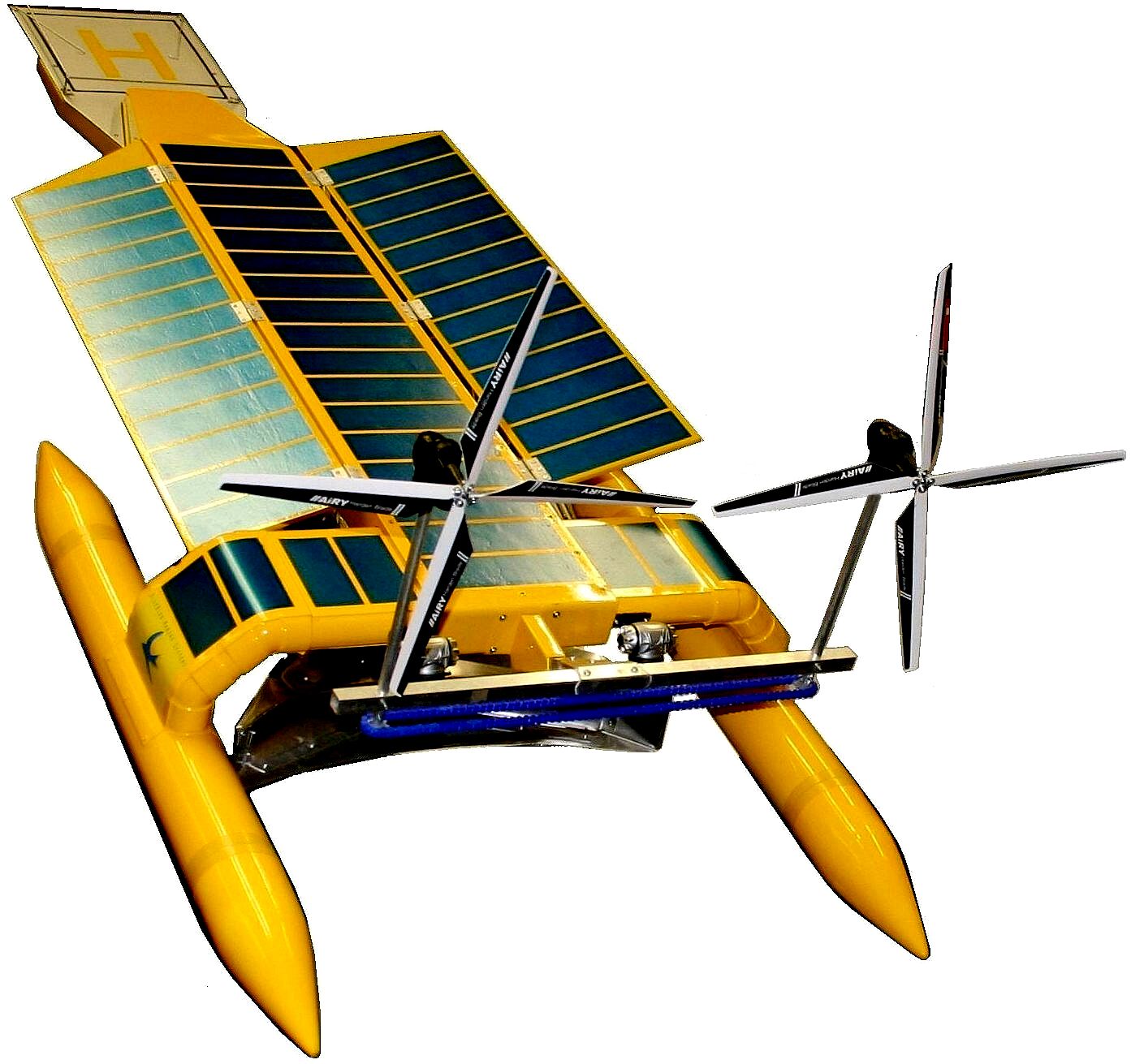 ROBOTIC OCEAN CONDITIONER - This solar and wind powered vessel is designed to operate in fleets to target ocean waste before it settles on the ocean floor where nobody can recover it. There is nothing like it in existence today, though other ideas for trapping plastic waste are being developed, such as that of Boyan Slat and the Seabin.
ARRAYS - BOOM - MASTS - INTERIOR - PAINTING - ROBOTICS - WELDING - WIND TURBINES
This website is provided on a free basis as a public information service. Copyright © Cleaner Oceans Foundation Ltd (COFL) (Company No: 4674774) 2019. Solar Studios, BN271RF, United Kingdom. COFL is a charity without share capital. The names Amphimax™ RiverVax™ and SeaVax™ are trademarks.