MSC GULSUN 1st LARGEST CONTAINER SHIPS
ABOUT - CLIMATE CHANGE A-Z - CIRCUMNAVIGATION - CONTACTS - DONATE - FOUNDATION - HOME - OCEAN PLASTIC A-Z
Please use our A-Z INDEX to navigate this site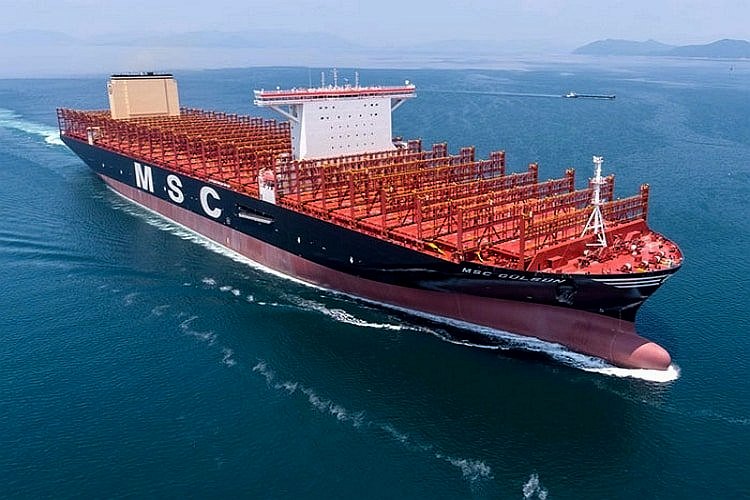 MSC GULSUN - Launched in July 2019, this is one heck of an ocean gas guzzler based on a hull shape for optimization to reduce wave and friction drag.
1. MSC Gulsun

MSC Gulsun is the World's largest container ship built to date (October 2019). It is the first 24k Mega Max container ship with a container carrying capacity of 23,756 TEU.
It is longer than four football fields put together and bigger than the Empire State Building and Eiffel Tower. With dimensions of 399.9 metres long and 61.5 metres wide, its a titan among container ships at sea, and an engineering marvel roaming across oceans sadly belching smoke that is adding to global warming and acid oceans.
MSC Gulsun is owned by Mediterranean Shipping Company, operating under a Panamanian Flag. She was built by Samsung Heavy Industries (SHI) and launched in July 2019.
MSC Gulsun is powered by a MAN B&W new generation G-type diesel engine with an ultra-long stroke. This optimized engine design is to enhance efficient propulsion, reduce fuel consumption and lower CO2.
Mediterranean Shipping Company (MSC) has selected MAN Diesel & Turbo to equip its 23,000 TEU new builds with G-type engines — a design with an ultra-long stroke that improves ship pollution.

By opting for a MAN B&W 11G95ME-C9.5 main engine, MSC's 11 new vessels will have a lower optimum engine speed, a larger propeller and engine propulsion, resulting in less fuel consumption and reduced CO2 emissions.

The world's second largest carrier has also split its vessel order between the Korean shipyards of Samsung Heavy Industries (SHI), which will construct six of the vessels, and Daewoo Shipping Marine Engineering (DSME) with the remaining five.

Hyundai Heavy Industries (HHI-EMD) will construct the ME-C engines for SHI, while Doosan Engine will construct those for DSME.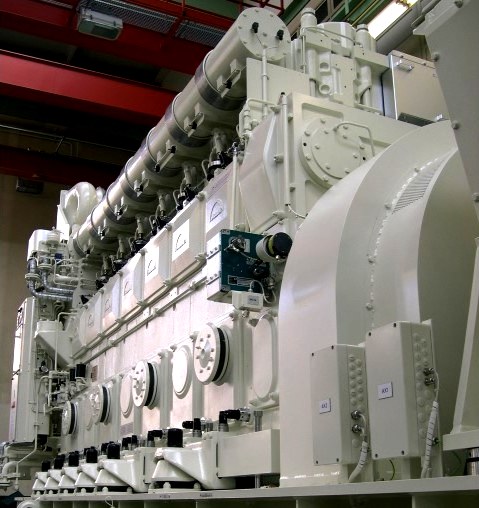 MAN B&W G95ME-C9.6 Stroke: 3,460 mm

Cylinders & kW

5 - 34,350
6 - 41,220
7 - 48,090
8 - 54,960
9 - 61,830
10 - 68,700
11 - 75,570
12 - 82,440
MSC GULSUN (IMO: 9839430) is registered and sailing under the flag of Panama. Her gross tonnage is 210000 and deadweight is 197500. MSC GULSUN was built in 2019. The ship is operated by MSC MEDITERRANEAN SHIPPING CO.
MAN Energy Solutions
Teglholmsgade 41
DK-2450 Copenhagen
Denmark

Phone: +45-3385-1100
Fax: +45-3385-1030
E-Mail: info-cph@man-es.com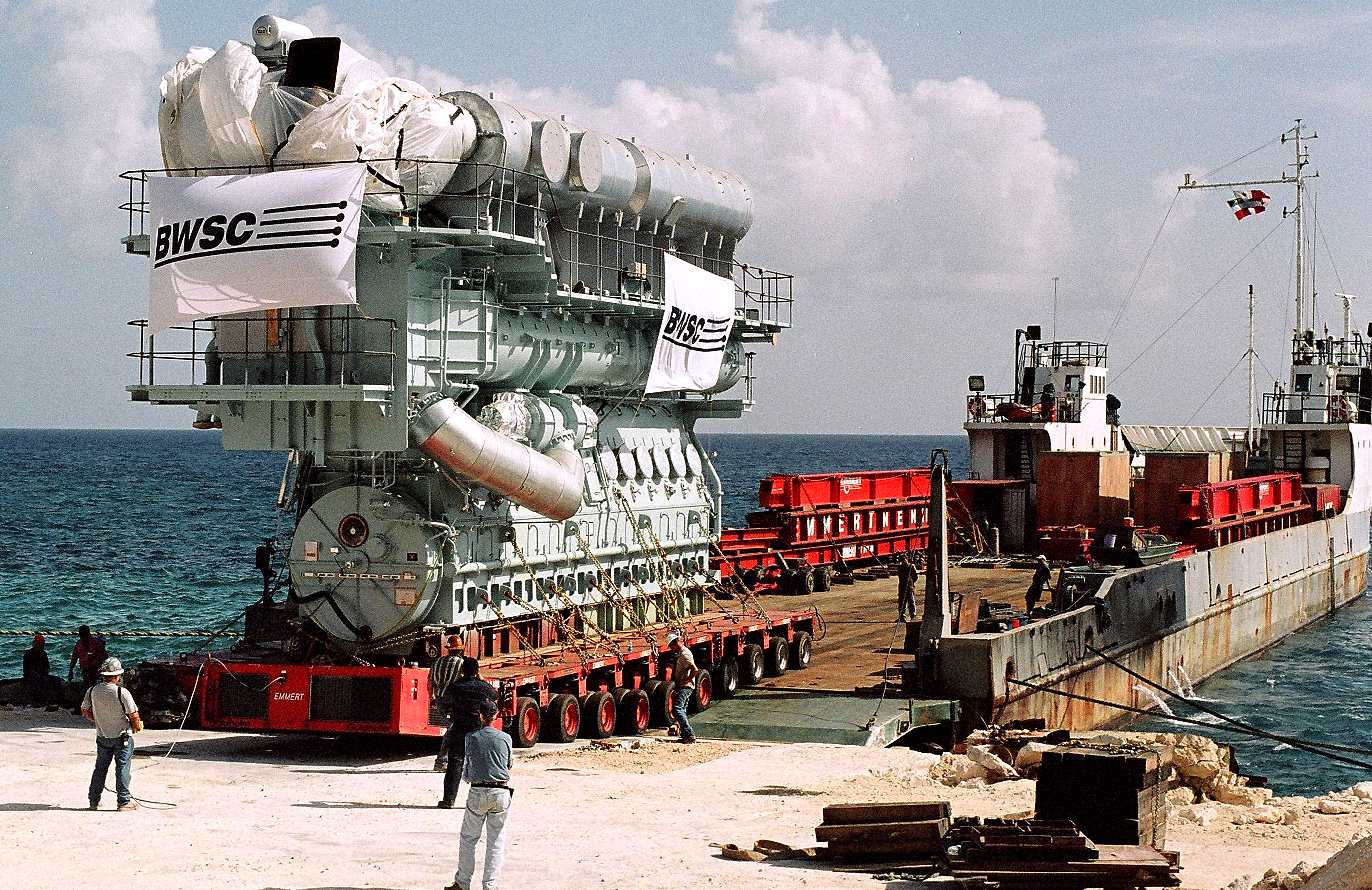 STANDARD
Modern containers ships are cargo ships designed to carry their cargo in standardised steel boxes, using a technique called "Containerization". This type of ocean transport contributes about 90% of non-bulk cargo movement worldwide. This is how you get your televisions, computers, fruits and spare parts. Cars are generally transported by ferries, though some collector vehicles are delivered in containers.
Fossil fuelled container ships that belch clouds of fumes as they ply the ocean may one day be a thing of the past. Shipping will continue without those who fail to adapt to changing circumstances such as global warming and zero carbon fleets by 2100, as part of the IMO's ocean cleanup objectives. In the meantime here are the top ten biggest gas guzzlers and potential ocean polluters in the world @ October 2019.
| | | | | |
| --- | --- | --- | --- | --- |
| RANKED | SHIP NAME | No. BUILT | LOA | |
| | | | | |
| 1. | | 5 | 399.9 | 23,756 |
| 2. | | 5 | 399.9 | 21,413 |
| 3. | | 3 | 400.0 | 21,237 |
| 4. | | 2 | 400.0 | 20,954 |
| 5. | | 10 | 399.0 | 20,568 |
| 6. | | 10 | 400.0 | 20,388 |
| 7. | | 1 | 399.0 | 20,182 |
| 8. | | 3 | 400.0 | 20,170 |
| 9. | | 4 | 399.8 | 20,119 |
| 10. | | 5 | 400.0 | 19,870 |
The use of fossil fuels raises serious environmental concerns. The burning of fossil fuels produces around 21.3 billion tonnes (21.3 gigatonnes) of carbon dioxide (CO2) per year. It is estimated that natural processes can only absorb about half of that amount, so there is a net increase of 10.65 billion tonnes of atmospheric carbon dioxide per year. Carbon dioxide is a greenhouse gas that increases contributes to global warming. A global movement towards the generation of low-carbon renewable energy is underway to help reduce global greenhouse gas emissions.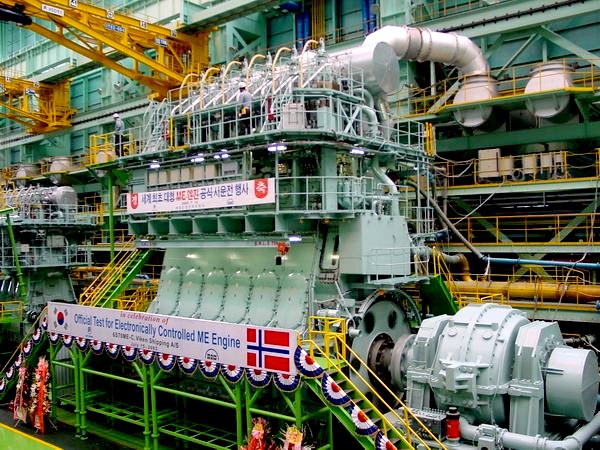 SIX STEPS TOWARD A COOLER PLANET
1. TRANSPORT: Phase out polluting vehicles. Governments aim to end the sale of new petrol, and diesel vehicles by 2040 but have no infrastructure plan to support such ambition. Marine transport can be carbon neutral with development..
2. RENEWABLES: Renewable energy should replace carbon-based fuels (coal, oil and Gas) in our electricity, heating and transport.
3. HOUSING: On site micro or macro generation is the best option, starting with new build homes to lock carbon.
4. AGRICULTURE: We need trees to absorb carbon emissions from a growing population, flying, and to build new homes. Reducing food waste and promoting less energy intensive eating habits such as no meat Mondays.
5. INDUSTRY: Factories should be aiming for solar heating and onsite renewable energy generation.
6. POLITICS: - National governing bodies need to adopt rules to eliminate administrative wastages, to include scaling down spending on war machines, educating the public and supporting sustainable social policies and financing that mesh with other cultures.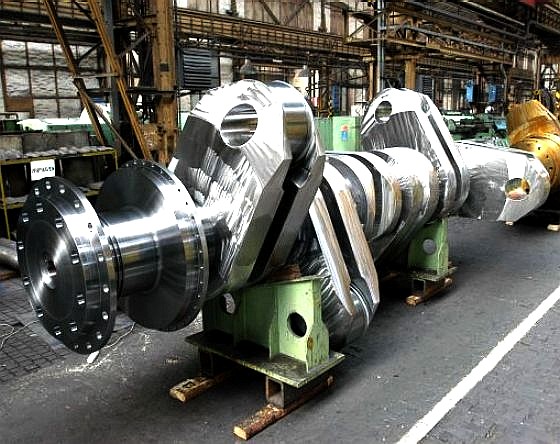 These marvels of engineering excellence got us where we are today, technology wise, but threaten to destroy the planet if we do not adapt in time to repair at least some of the damage we have done.
FOSSIL FUEL HEALTH HAZARDS

Combustion of fossil fuels generates sulfuric, carbonic, and nitric acids, which fall to Earth as acid rain, impacting both natural areas and the built environment. Monuments and sculptures made from marble and limestone are particularly vulnerable, as the acids dissolve calcium carbonate.

Fossil fuels also contain radioactive materials, mainly uranium and thorium, which are released into the atmosphere. In 2000, about 12,000 tonnes of thorium and 5,000 tonnes of uranium were released worldwide from burning coal. It is estimated that during 1982, US coal burning released 155 times as much radioactivity into the atmosphere as the Three Mile Island accident.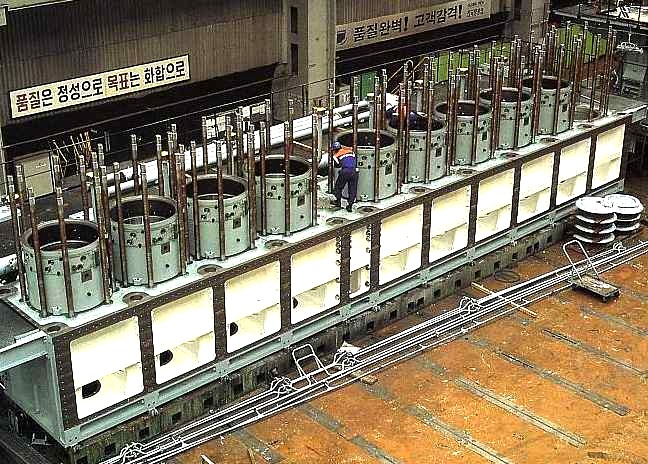 One of the world's largest diesel engines being assembled in Japan.
1995 COP 1, BERLIN, GERMANY
1996 COP 2, GENEVA, SWITZERLAND
1997 COP 3, KYOTO, JAPAN
1998 COP 4, BUENOS AIRES, ARGENTINA
1999 COP 5, BONN, GERMANY
2000:COP 6, THE HAGUE, NETHERLANDS
2001 COP 7, MARRAKECH, MOROCCO
2002 COP 8, NEW DELHI, INDIA
2003 COP 9, MILAN, ITALY
2004 COP 10, BUENOS AIRES, ARGENTINA
2005 COP 11/CMP 1, MONTREAL, CANADA
2006 COP 12/CMP 2, NAIROBI, KENYA
2007 COP 13/CMP 3, BALI, INDONESIA
2008 COP 14/CMP 4, POZNAN, POLAND
2009 COP 15/CMP 5, COPENHAGEN, DENMARK
2010 COP 16/CMP 6, CANCUN, MEXICO
2011 COP 17/CMP 7, DURBAN, SOUTH AFRICA
2012 COP 18/CMP 8, DOHA, QATAR
2013 COP 19/CMP 9, WARSAW, POLAND
2014 COP 20/CMP 10, LIMA, PERU
2015 COP 21/CMP 11, PARIS, FRANCE
2016 COP 22/CMP 12/CMA 1, MARRAKECH, MOROCCO
2017 COP 23/CMP 13/CMA 2, BONN, GERMANY
2018 COP 24/CMP 14/CMA 3, KATOWICE, POLAND
2019 COP 25/CMP 15/CMA 4 TBA
2022 COP 26 - Will they have applied the brakes?
LINKS & REFERENCE
www.marine.man.eu/
https://marine.man-es.com/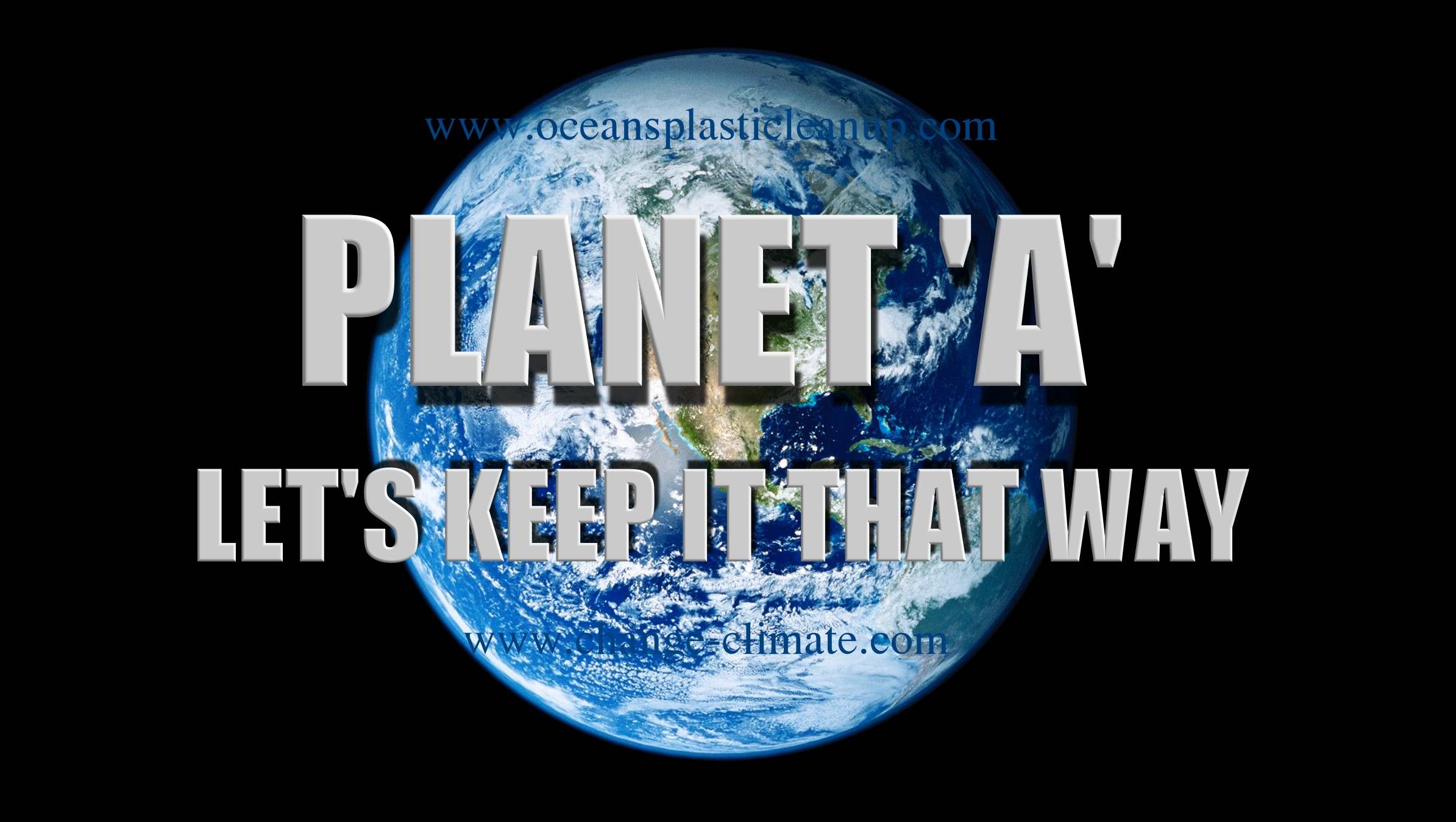 EXTINCTION OF SPECIES - From blue planet to scorched earth because vested interests prevented politicians from putting the brakes on. Economics stopped them thinking about the safety of life on earth, including the future of our children. They'd rather die richer, than live, gambling with the lives our their offspring and every other species on planet earth.
Please stop playing with fire, there is no Planet B.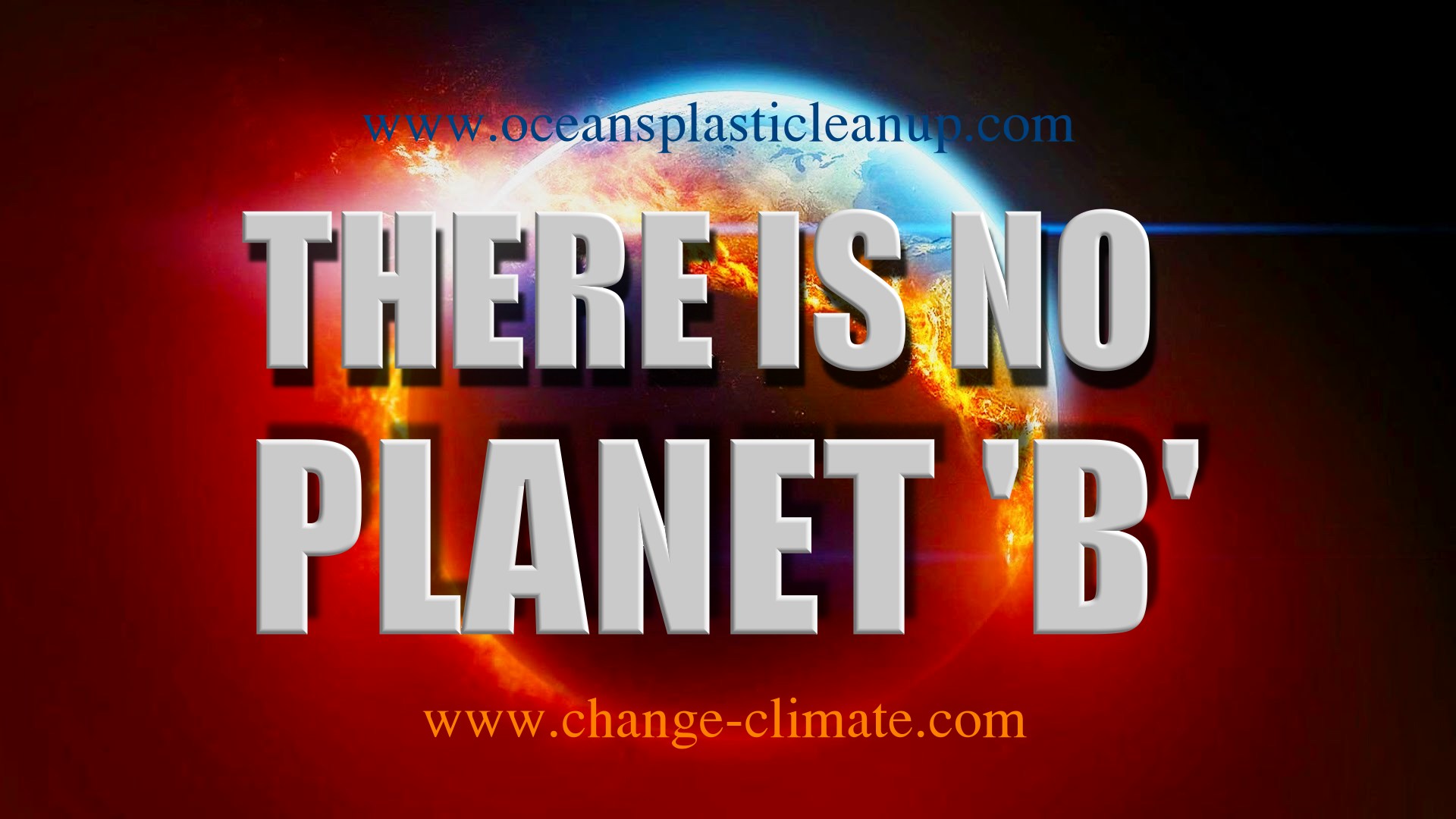 HOW MUCH IS THE EARTH HEATING UP - As of early 2017, the Earth had warmed by roughly 2 degrees Fahrenheit (more than 1 degree Celsius) since 1880, when records began at a global scale. The number may sound low, but as an average over the surface of an entire planet, it is actually high, which explains why much of the world's land ice is starting to melt and the oceans are rising at an accelerating pace. If greenhouse gas emissions continue unchecked, scientists say, the global warming could ultimately exceed 8 degrees Fahrenheit, which would undermine the planet's capacity to support a large human population.
This website is provided on a free basis as a public information service. Copyright © Cleaner Oceans Foundation Ltd (COFL) (Company No: 4674774) 2019. Solar Studios, BN271RF, United Kingdom. COFL is a charity without share capital.