DWT - DEADWEIGHT TONNES
ABOUT - CLIMATE CHANGE A-Z - CIRCUMNAVIGATION - CONTACTS - DONATE - FOUNDATION - HOME - OCEAN PLASTIC A-Z
Please use our A-Z INDEX to navigate this site

MEASUREMENT - It is important to be able to see the state of loading of a vessel.
Deadweight tonnage (also known as deadweight; abbreviated to DWT, D.W.T., d.w.t., or dwt) or tons deadweight (DWT) is a measure of how much weight a ship can carry, not its weight, empty or in any degree of load. DWT is the sum of the weights of cargo, fuel, fresh water, ballast water, provisions, passengers, and crew.

DWT is often used to specify a ship's maximum permissible deadweight (i.e. when she is fully loaded so that her Plimsoll line is at water level), although it may also denote the actual DWT of a ship not loaded to capacity.

Deadweight tonnage is a measure of a vessel's weight carrying capacity, not including the empty weight of the ship. It is distinct from the displacement (weight of water displaced), which includes the ship's own weight, or other volume or capacity measures such as gross tonnage or net tonnage (or their more archaic forms gross register tonnage or net register tonnage).

Deadweight tonnage was historically expressed in long tons but is now usually given internationally in tonnes (metric tons). In modern international shipping conventions such as the International Convention for the Safety of Life at Sea and the International Convention for the Prevention of Pollution From Ships, deadweight is explicitly defined as the difference in tonnes between the displacement of a ship in water of a specific gravity of 1.025 (corresponding to average density of sea water) at the draft corresponding to the assigned summer freeboard and the light displacement (lightweight) of the ship.
| | |
| --- | --- |
| TYPE OF SHIP | CAPACITY (TEU) |
| | |
| SMALL FEEDER | Up to 1,000 |
| FEEDER | 1,001 - 2,000 |
| FEEDERMAX | 2,001 - 3,000 |
| PANAMAX | 3,001 - 5,100 |
| POST PANAMAX | 5,101 - 10,000 |
| NEW PANAMAX | 10,001 - 14,500 |
| ULTRA LARGE CONTAINER VESSEL (ULCV) | 14,501 - 23,500 |
| MEGAMAX | Over 23,501 |


DISPLACEMENT

The displacement or displacement tonnage of a ship is its weight based on the amount of water its hull displaces at varying loads. It is measured indirectly using Archimedes' principle by first calculating the volume of water displaced by the ship then converting that value into weight displaced. Traditionally, various measurement rules have been in use, giving various measures in long tons. Today, metric tonnes are more used.

Ship displacement varies by a vessel's degree of load, from its empty weight as designed (known as "Lightweight tonnage") to its maximum load. Numerous specific terms are used to describe varying levels of load and trim (see below).
Ship displacement should not be confused with measurements of volume or capacity typically used for commercial vessels, such as net tonnage, gross tonnage, or deadweight tonnage.
The state of loading of a vessel is indicated by marks on the hull at the bows and stern of the ship.
TONNAGE

Tonnage is a measure of the cargo-carrying capacity of a ship. The term derives from the taxation paid on tuns or casks of wine. In modern maritime usage, "tonnage" specifically refers to a calculation of the volume or cargo volume of a ship. Tonnage should not be confused with displacement, which refers to the actual weight of the vessel. Tonnage is commonly used to assess fees on commercial shipping.
TONNAGE MEASUREMENTS

Tonnage measurements are governed by an IMO Convention (International Convention on Tonnage Measurement of Ships, 1969 (London-Rules)), which applies to all ships built after July 1982.

Gross tonnage (GT) is a function of the volume of all of a ship's enclosed spaces (from keel to funnel) measured to the outside of the hull framing. The numerical value for a ship's GT is always smaller than the numerical values of gross register tonnage (GRT). Gross tonnage is therefore a kind of capacity-derived index that is used to rank a ship for purposes of determining manning, safety, and other statutory requirements and is expressed simply as GT, which is a unitless entity, even though it derives from the cubic feet of volumetric capacity.

Net tonnage (NT) is based on a calculation of the volume of all cargo spaces of the ship. It indicates a vessel's earning space and is a function of the moulded volume of all cargo spaces of the ship.

A commonly defined measurement system is important, since a ship's registration fee, harbour dues, safety and manning rules, and the like may be based on its gross tonnage (GT) or net tonnage (NT).

Gross register tonnage (GRT) represents the total internal volume of a vessel, where one register ton is equal to a volume of 100 cubic feet (2.83168 m3); a volume that, if filled with fresh water, would weigh around 2,800 kg or 2.8 tonnes. The definition (and calculation) of the internal volume is complex; for instance, a ship's hold may be assessed for bulk grain (accounting for all the air space in the hold) or for bales (omitting the spaces into which bulk, but not baled cargo, would spill). Gross register tonnage was replaced by gross tonnage in 1982 under the Tonnage Measurement convention of 1969, with all ships measured in GRT either scrapped or re-measured in GT by 1994.

Net register tonnage (NRT) is the volume of cargo the vessel can carry—that is, the gross register tonnage less the volume of spaces that do not hold cargo (e.g., engine compartment, helm station, and crew spaces, again with differences depending on which port or country does the calculations). It represents the volume of the ship available for transporting freight or passengers. It was replaced by net tonnage in 1994, under the Tonnage Measurement convention of 1969.

The Panama Canal/Universal Measurement System (PC/UMS) is based on net tonnage, modified for Panama Canal purposes. PC/UMS is based on a mathematical formula to calculate a vessel's total volume; one PC/UMS net ton is equivalent to 100 cubic feet of capacity.

Suez Canal Net Tonnage (SCNT) is derived with a number of modifications from the former net register tonnage of the Moorsom System and was established by the International Commission of Constantinople in its Protocol of 18 December 1873. It is still in use, as amended by the Rules of Navigation of the Suez Canal Authority, and is registered in the Suez Canal Tonnage Certificate.

Thames measurement tonnage (TM) is another volumetric system, generally used for small vessels such as yachts; it uses a formula based on the vessel's length and beam.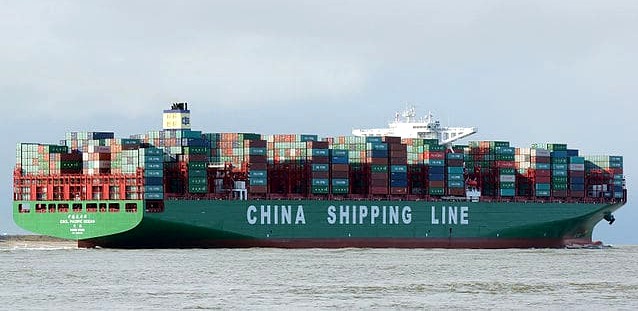 Container ships are an example of the art of loading so that they operate as efficiently as possible for their operators.
WEIGHT MEASUREMENTS
While not tonnage in the proper sense, the following methods of ship measurement are often incorrectly referred to as such:

Lightship or lightweight measures the actual weight of the ship with no fuel, passengers, cargo, water, and the like on board.

Deadweight tonnage (often abbreviated as DWT, for deadweight tonnes) is the displacement at any loaded condition minus the lightship weight. It includes the crew, passengers, cargo, fuel, water, and stores. Like displacement, it is often expressed in long tons or in metric tons.

Metric tonnes per centimetre immersion (usually abbreviated to TPC or TPCMI) is the number of metric tonnes (1,000 kg) that need to be loaded on the ship for the salt water draft (draught) to increase by one centimetre. The TPCMI is used to calculate the draft of the vessel with a given deadweight tonnage of cargo loaded. For a typical Panamax bulk carrier with a TPCMI of 80, the ship will sink (i.e., its draft will increase) by one centimetre for every 80 tonnes of cargo loaded.

Imperial tons per inch immersion (usually abbreviated to TPI) is the number of imperial long tons (2,240 lb) that need to be loaded on a vessel for the draft to increase by one inch. Old imperial TPI measurements are still occasionally used within the United States and the Panama Canal. As no ship has been measured by a classification society since the 1950s using imperial measures, modern TPI figures are therefore a conversion from the original metric measurements and should not be relied upon to be accurate.


DRAFT

The draft or draught of a ship's hull is the vertical distance between the waterline and the bottom of the hull (keel), with the thickness of the hull included; in the case of not being included the draft outline would be obtained. Draft determines the minimum depth of water a ship or boat can safely navigate.

A table made by the shipyard shows the water displacement for each draft. The density of the water (salt or fresh) and the content of the ship's bunkers has to be taken into account. The draft can also be used to determine the weight of the cargo on board by calculating the total displacement of water and then using Archimedes' principle.

The closely related term "trim" is defined as the difference between the forward and aft drafts.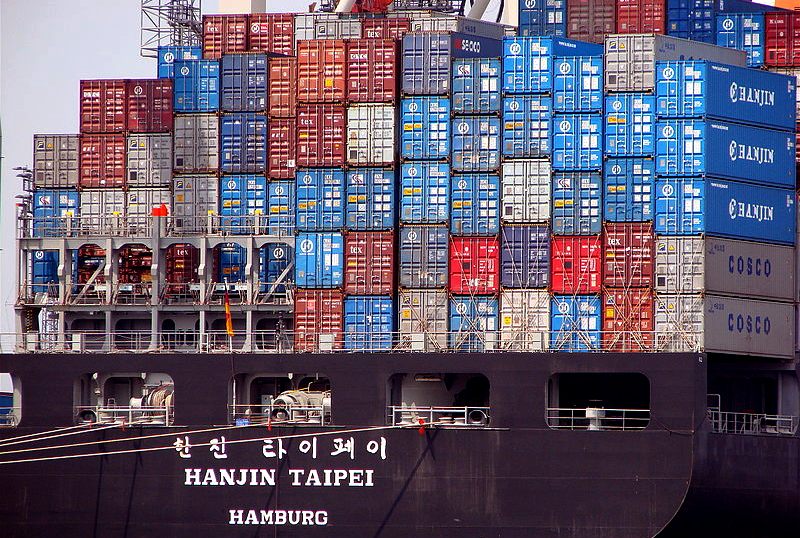 Stacking close on a modern container ship is essential for safety and space saving.
TONNAGE ORIGINS

Historically, tonnage was the tax on tuns (casks) of wine that held 954 litres (252 gallons) of wine and weighed 1016 kilograms (2,240 pounds). This suggests that the unit of weight measurement, the long ton (1,016 kg or 2,240 lb), and tonnage share the same etymology. The confusion between weight-based terms (deadweight and displacement) stems from this common source and the eventual decision to assess dues based on a ship's deadweight rather than counting the tuns of wine. In 1720 the Builder's Old Measurement Rule was adopted to estimate deadweight from the length of keel and maximum breadth or beam of a ship. This overly simplistic system was replaced by the Moorsom System in 1854 and calculated internal volume, not weight. This system evolved into the current set of internationally accepted rules and regulations.

When steamships came into being, they could carry less cargo, size for size, than could sailing ships. In addition to spaces taken up by boilers and steam engines, steamships carried extra fresh water for the boilers and coal for the engines. Thus, to move the same volume of cargo as a sailing ship, a steamship would be considerably larger than a sailing ship.

Harbour dues are based on tonnage. In order to prevent steamships operating at a disadvantage, various tonnage calculations were established to minimize the disadvantage presented by the extra space requirements of steamships. Rather than charging by length, displacement, or the like, charges were calculated based on the viable cargo space. As commercial cargo sailing ships are now largely extinct, gross tonnage is becoming the universal method of calculating ships' dues, and is also a more straightforward and transparent method of assessment.
As climate change and IMO zero carbon shipping requirements gather momentum, we may see a transition to a different system of classification.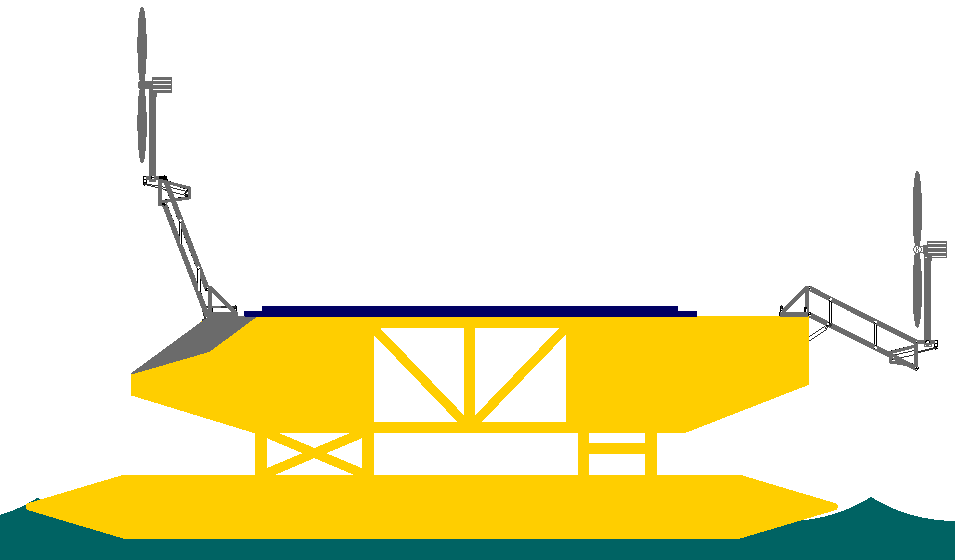 -
FERRY - The Cross Channel Challenger (CCC) is a project currently on the drawing board that is looking for backing to develop a coastal cruiser offering zero emissions. This is a budget design to allow us to start the ball rolling, easily up-scaled for Pacific Island duties.
H2020 - Collaborative research proposal to develop rotary sails in conjunction with other innovative advances as a means to provide sustainable tourism and eventually, world shipping with major disruption to ports and harbours.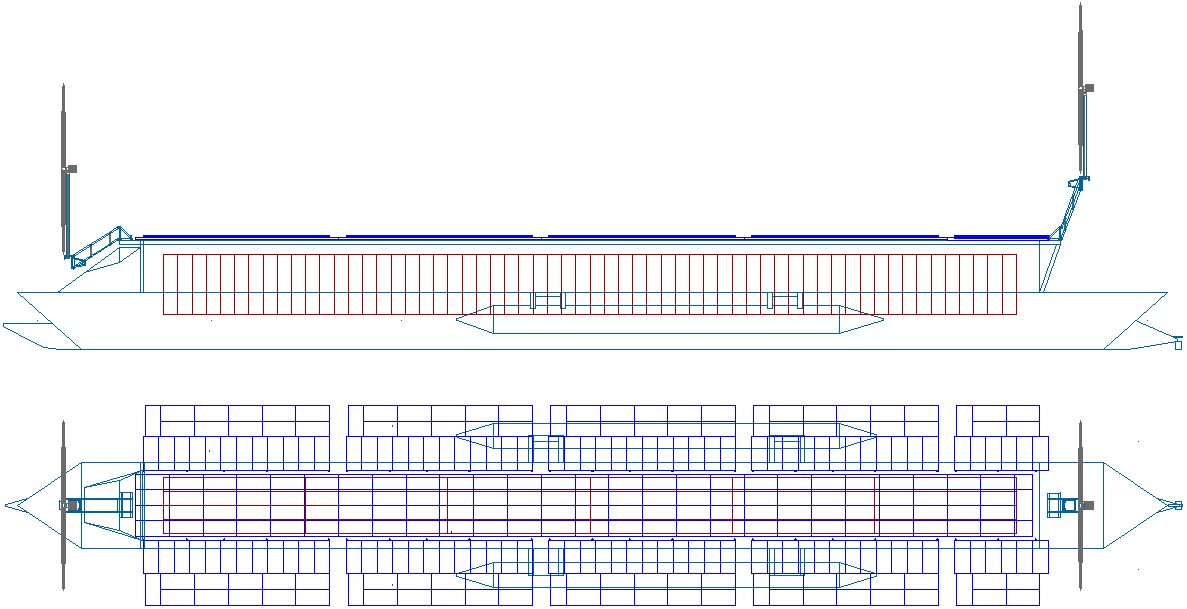 ZERO CARBON - The same prototype 50 meter container ship as a second draft with containers shown in red (rust inhibitor) paint. They can be loaded from the rear if overhead loading is not available. An enhanced solar and wind turbine rig like this could generate 108kW (145hp) of energy peak. The average energy available 24/7 is likely to be around 62.4kW (83.6hp) and 70.7kW (94.8hp) or more in the trades. Rigged for passenger transport a vessel like this might weigh in @ 90 tonnes. An increase in solar panel area and bigger wind turbines will improve performance considerably and is ultimately necessary, but development will be longer and more costly. Draft designs like this will go through a firm of naval architects and ultimately, with input from a classification society - where there is no class at the moment for such vessels.
If this vessel performs as expected within budget, the age of zero carbon shipping is getting closer - for this is zero carbon motoring. As more development funding becomes available, projects can be more ambitious. We would like to have been able to convert a redundant steel hull for simplicity and speed, but conversion is likely to be more expensive than custom build and may take longer, and we need an aluminium hull if at all possible, not steel, if we are to push the boundaries. We are though open to suggestions, so keep them coming.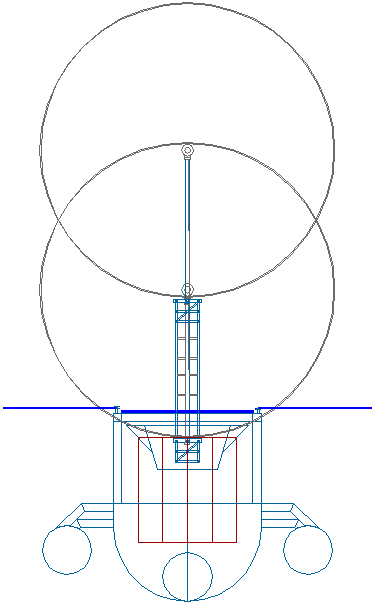 CONTAINER SHIP END ELEVATION - In this drawing the solar wings of a 50 meter container vessel are shown folded out horizontally as though the sun was overhead. The rotary sails provide a significant area, but may be increased. The turbines can be raised and lowered to cope with different running conditions as seen on the right. The main hull is cylindrical for minimum wetted area, while the outriggers provide stability, again with a small wetted area for a low drag hull. The superstructure on the right has been lowered to reduce frontal area and air drag. Another important feature is that the turbines may be furled for parking in ports or during storm conditions. Please note that these drawings are Design Copyright © October 17&19 2019.
The revolutionary Concept of Containerization was introduced way back in the late 18th century by James Brindley of England. He designed the box boat Starvationer with 10 wooden containers to transport coal. On April 26, 1956, the first commercially successful container ship Ideal X (a converted T2 tanker of World War II) was launched by Malcom McLean. This caused a revolution in the world of shipping, leading to the modern era of container ships.
| | | | | |
| --- | --- | --- | --- | --- |
| RANKED | SHIP NAME | No. BUILT | LOA | |
| | | | | |
| 1. | | 5 | 399.9 | 23,756 |
| 2. | | 5 | 399.9 | 21,413 |
| 3. | | 3 | 400.0 | 21,237 |
| 4. | | 2 | 400.0 | 20,954 |
| 5. | | 10 | 399.0 | 20,568 |
| 6. | | 10 | 400.0 | 20,388 |
| 7. | | 1 | 399.0 | 20,182 |
| 8. | | 3 | 400.0 | 20,170 |
| 9. | | 4 | 399.8 | 20,119 |
| 10. | | 5 | 400.0 | 19,870 |
1995 COP 1, BERLIN, GERMANY
1996 COP 2, GENEVA, SWITZERLAND
1997 COP 3, KYOTO, JAPAN
1998 COP 4, BUENOS AIRES, ARGENTINA
1999 COP 5, BONN, GERMANY
2000:COP 6, THE HAGUE, NETHERLANDS
2001 COP 7, MARRAKECH, MOROCCO
2002 COP 8, NEW DELHI, INDIA
2003 COP 9, MILAN, ITALY
2004 COP 10, BUENOS AIRES, ARGENTINA
2005 COP 11/CMP 1, MONTREAL, CANADA
2006 COP 12/CMP 2, NAIROBI, KENYA
2007 COP 13/CMP 3, BALI, INDONESIA
2008 COP 14/CMP 4, POZNAN, POLAND
2009 COP 15/CMP 5, COPENHAGEN, DENMARK
2010 COP 16/CMP 6, CANCUN, MEXICO
2011 COP 17/CMP 7, DURBAN, SOUTH AFRICA
2012 COP 18/CMP 8, DOHA, QATAR
2013 COP 19/CMP 9, WARSAW, POLAND
2014 COP 20/CMP 10, LIMA, PERU
2015 COP 21/CMP 11, PARIS, FRANCE
2016 COP 22/CMP 12/CMA 1, MARRAKECH, MOROCCO
2017 COP 23/CMP 13/CMA 2, BONN, GERMANY
2018 COP 24/CMP 14/CMA 3, KATOWICE, POLAND
2019 COP 25/CMP 15/CMA 4 TBA
2022 COP 26 - Will they have applied the brakes?
LINKS & REFERENCE
https://www.mrbox.co.uk/container-dimensions/
https://conexboxes.com/shipping-container-dimensions/
https://en.wikipedia.org/wiki/Intermodal_container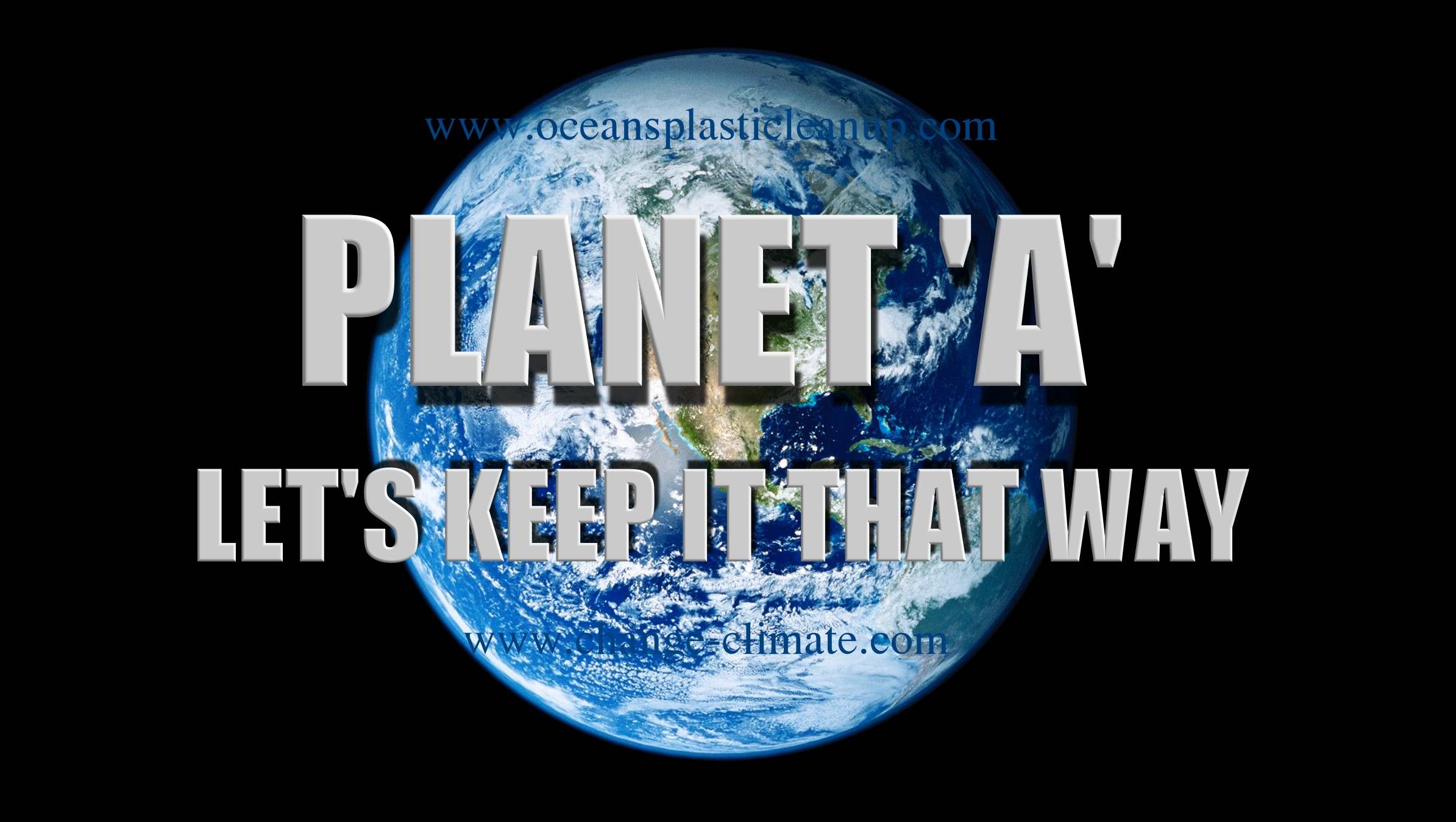 EXTINCTION OF SPECIES - From blue planet to scorched earth because vested interests prevented politicians from putting the brakes on. Economics stopped them thinking about the safety of life on earth, including the future of our children. They'd rather die richer, than live, gambling with the lives our their offspring and every other species on planet earth.
Please stop playing with fire, there is no Planet B.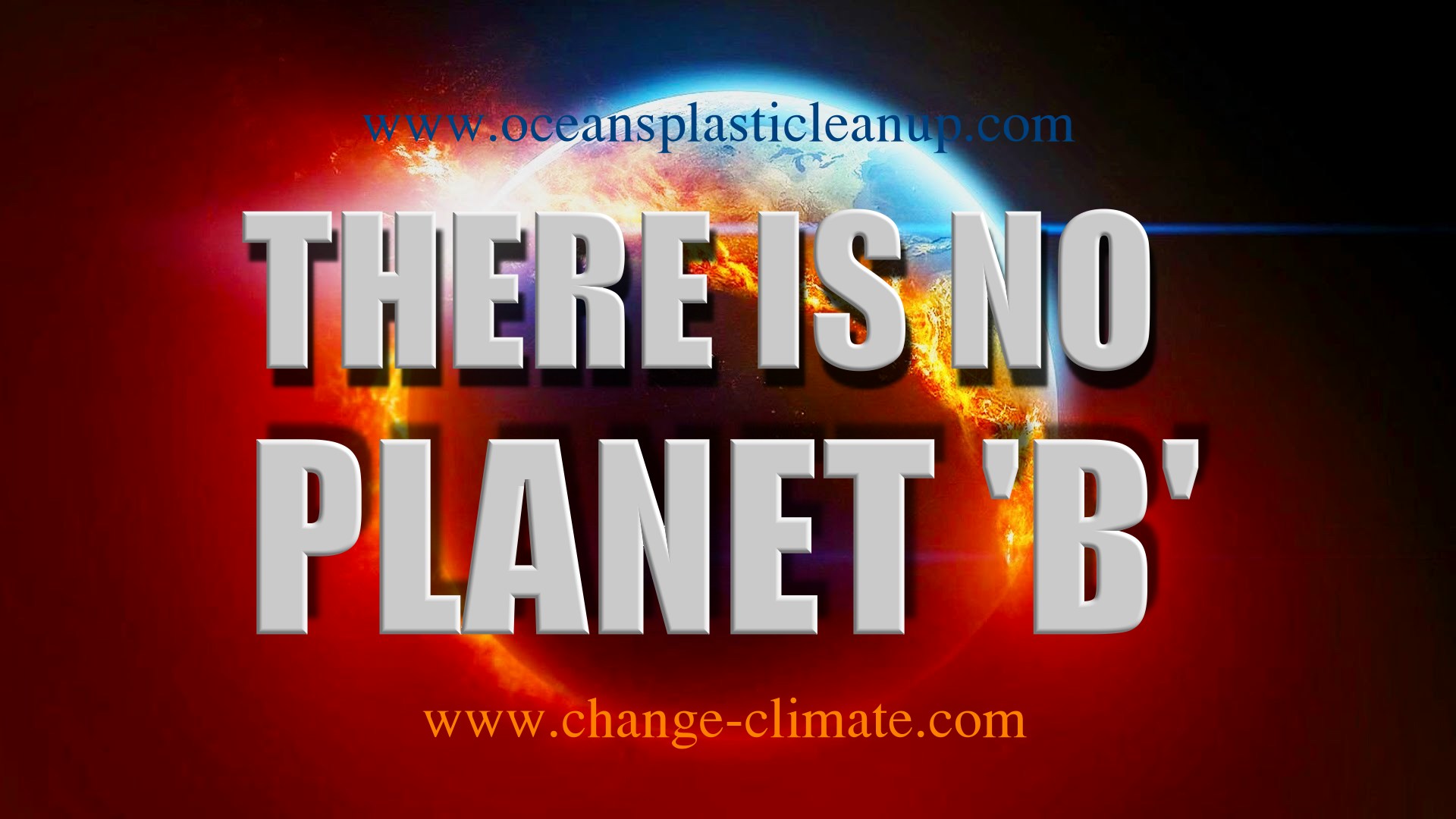 HOW MUCH IS THE EARTH HEATING UP - As of early 2017, the Earth had warmed by roughly 2 degrees Fahrenheit (more than 1 degree Celsius) since 1880, when records began at a global scale. The number may sound low, but as an average over the surface of an entire planet, it is actually high, which explains why much of the world's land ice is starting to melt and the oceans are rising at an accelerating pace. If greenhouse gas emissions continue unchecked, scientists say, the global warming could ultimately exceed 8 degrees Fahrenheit, which would undermine the planet's capacity to support a large human population.
This website is provided on a free basis as a public information service. Copyright © Cleaner Oceans Foundation Ltd (COFL) (Company No: 4674774) 2019. Solar Studios, BN271RF, United Kingdom. COFL is a charity without share capital.