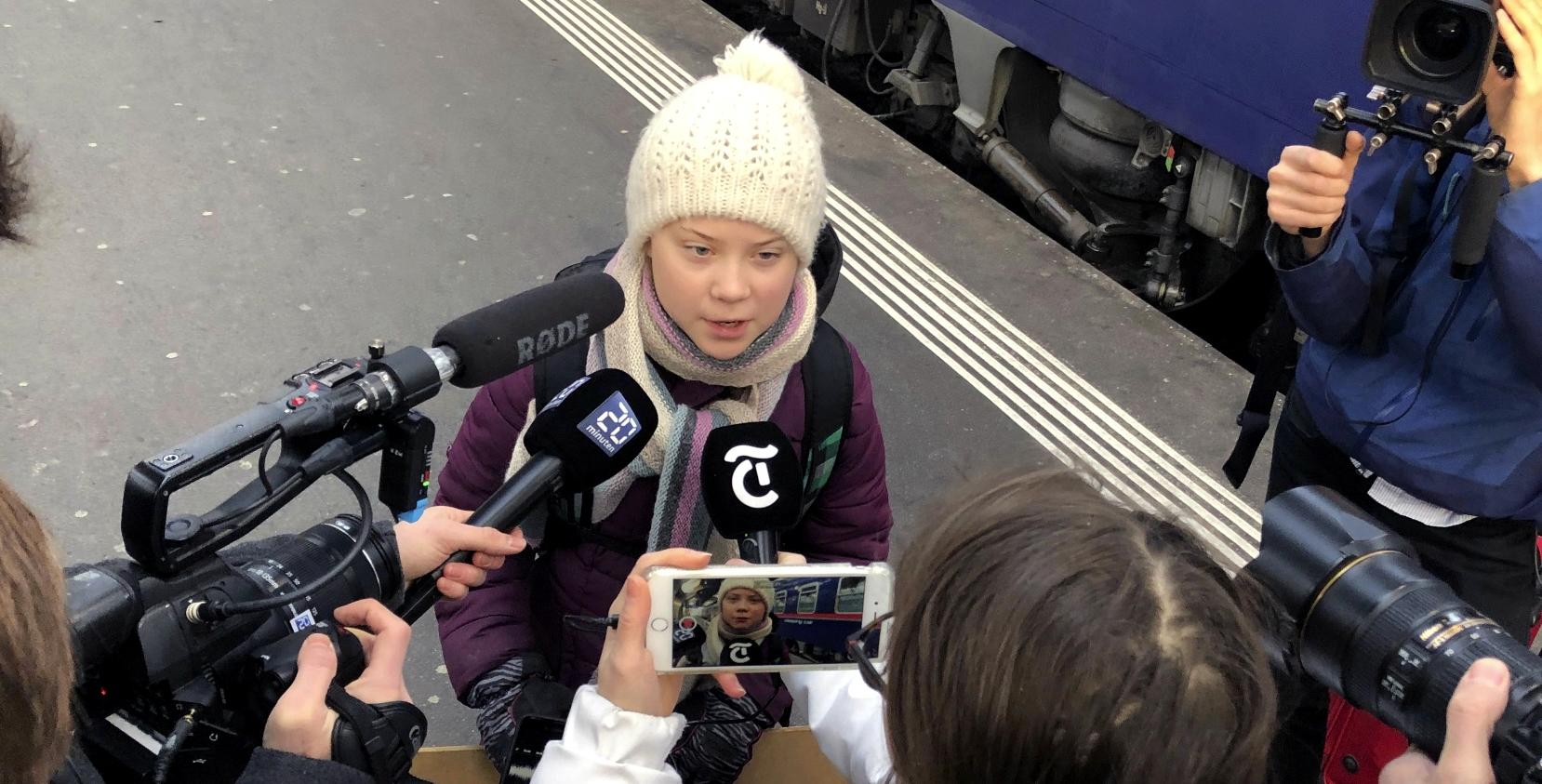 DAVOS - Greta Thunberg media scrum, before she went in to give the assembly a roasting
EVENING STANDARD 29 JANUARY 2019 - Greta Thunberg: 5 things about climate change from 16-year-old schoolgirl

Powerful world leaders who suited up and flocked to Davos to meet for the World Economic Forum were given a dressing-down by a 16-year-old pupil last week.

Greta Thunberg, an environmental activist from Sweden, declared "our house is on fire" during an impassioned and sobering speech about climate change.

And she has caused quite a stir around the world with her scathing attacks on the very people she was addressing.

But who is this determined teenager, and why should we be listening to her?
Who is Greta Thunberg?

Greta Thunberg first made headlines in August 2018 when she started a school strike to picket outside the Swedish parliament (Rikstag) to raise awareness of global warming.

In fact, Greta missed about three weeks of school, and did not return until after the Swedish general election on September 9. Her demands were simple – that politicians reduced carbon emissions in line with the Paris Agreement.

Since her first strike, she has become famous for her activism, and has even been invited to give her own TED talk.

In December 2018, the schoolgirl addressed the COP24 United Nations climate change summit and offered scathing words to the leaders she was addressing – accusing them of leaving the burden of climate change with future generations.

Although well-travelled, Greta refuses to fly, and travelled for 32 hours by train to get to Davos where she made her now viral speech to world leaders.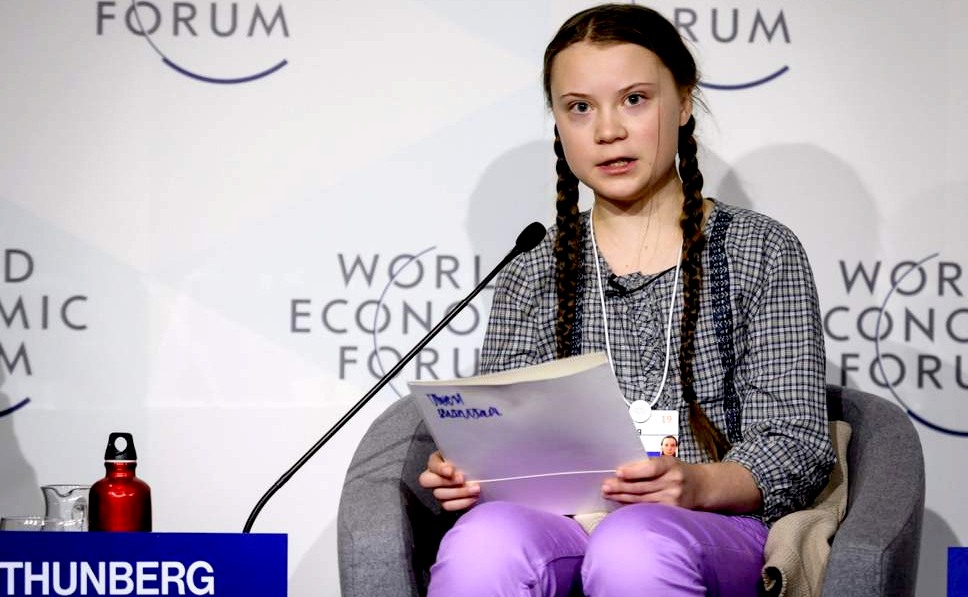 What can we learn from Greta Thunberg's speeches?
1. We are running out of time, but it is not too late to save the planet

During her Davos speech, Greta said: "Yes, we are failing, but there is still time to turn everything around. We can still fix this.

"We still have everything in our own hands. But unless we recognise the overall failures of our current systems, we most probably don't stand a chance."
2. The decision to adopt clean air and eco-friendly policies is perhaps more simple than we thought

Greta has always been open about her Asperger's syndrome, which she believes helps her commit to her cause and see things more simply.

Speaking to The New Yorker, Greta said: "I see the world a bit different, from another perspective.

"I have a special interest. It's very common that people on the autism spectrum have a special interest."

Her outlook on climate change became clear in her speech at Davos, when she said: "You say nothing in life is black or white. But that is a lie. A very dangerous lie. Either we prevent 1.5C of warming or we don't."
3. We need to start taking climate change more seriously

Speaking to the BBC during her first school strike in September, Greta said she hoped her efforts would attract media attention.

The activist added she wanted people to "open their eyes, see the crisis and treat it like a crisis, and do something about it."
4. Greta Thunberg's determination knows no bounds

When Greta first went on strike outside the Swedish parliament, she was moved on by police because protests on the premises are not allowed.

She later found another spot nearby to continue her protest but received further complaints.

Speaking to the BBC, she said she would probably be called to a hearing about her protesting, but added "I'm not bothered about it."

During her speech to world leaders at the UN summit in December, she also accused them of "behaving like children."
5. "You are never too small to make a difference"

Words spoken by the climate activist herself at the UN summit in December prove that every little change one person makes will help protect our environment.

Since her strike action gained global attention, Greta has inspired students around the world to follow suit, in the School Strike 4 Climate Action.

In November, thousands of students halfway around the world in Australia took the day off school to attend protests calling on the government to take action on climate change. By Jessica Taylor


WEF TRUSTEES
| | | | | |
| --- | --- | --- | --- | --- |
| Mukesh D. Ambani | Marc Benioff | Peter Brabeck-Letmathe | Mark Carney | Orit Gadiesh |
| Fabiola Gianotti | Al Gore | Herman Gref | Angel Gurría | André Hoffmann |
| Jim Yong Kim | Christine Lagarde | Ursula von der Leyen | Jack Ma | Yo-Yo Ma |
| Peter Maurer | Luis Alberto Moreno | Indra Nooyi | Queen Rania Al Abdullah | L. Rafael Reif |
| David M. Rubenstein | Klaus Schwab | Jim Hagemann Snabe | Heizo Takenaka | Min Zhu |
INTERNATIONAL ORGANIZATIONS 2018
| | | |
| --- | --- | --- |
| WORLD BANK | FINANCIAL STABILITY BOARD | INT MONETARY FUND |
| UNITED NATIONS | FOOD & AGRICULTURE ORG | INT LABOUR ORG |
| WORLD TRADE ORG | ORG ECONOMIC COOPERATION & DEV | WORLD HEALTH ORG |
| WORLD FOOD PROGRAMME | INT RENEWABLE ENERGY AGENCY | INT MARITIME ORGANIZATION |
| WORLD ECONOMIC FORUM | UNESCO | UN HUMAN RIGHTS COUNCIL |
SIX STEPS TOWARD A COOLER PLANET
1. TRANSPORT: Phase out polluting vehicles. Governments aim to end the sale of new petrol, and diesel vehicles by 2040 but have no infrastructure plan to support such ambition. Marine transport can be carbon neutral.
2. RENEWABLES: Renewable energy should replace carbon-based fuels (coal, oil and gas) in our domestic and industrial electricity usage, heating and transport.
3. HOUSING: On site micro or macro generation is the best option, starting with new build homes that are affordable, built of wood as a carbon lock with solar water heating.
4. AGRICULTURE: We need trees to absorb carbon emissions from a growing population, essential air travel, and to build new homes. Reducing food waste and promoting less energy intensive eating habits such as no meat Mondays.
5. INDUSTRY: Factories should be aiming for solar heating and onsite renewable energy generation.
6. POLITICS: - National governing bodies need to adopt rules to eliminate administrative wastages, to include scaling down spending on war machines, educating the public and supporting sustainable social policies that mesh with other cultures.
....
https://www.standard.co.uk/futurelondon/cleanair/greta-thunberg-davos-air-pollution-climate-change-a4053121.html
https://www.cnbc.com/2019/01/15/world-economic-forum-2019-who-is-going-to-davos-this-year.html
http://www.jamaicaobserver.com/business-observer/bolsonaro-to-headline-davos-meet-in-trump-s-absence_154730?profile=1442